5Church
A TALE OF THREE CITIES
by Matt Dobie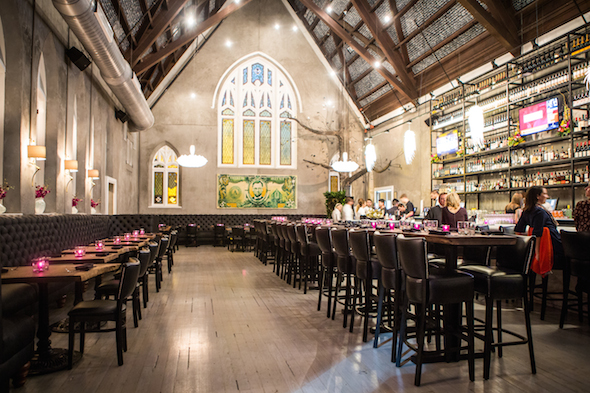 In November 2015, Charleston restaurant goers were introduced to 5Church, a chic upscale spot boasting a modern aesthetic, complete with contemporary art, elaborate chandeliers, and adventurous New American cuisine. What you may not know about this swanky eatery – located, quite fittingly, in an old church on Market Street – is that it is the second of three 5Church establishments. A third opened in midtown Atlanta last summer, and the original opened in 2012 in Charlotte, where our story begins.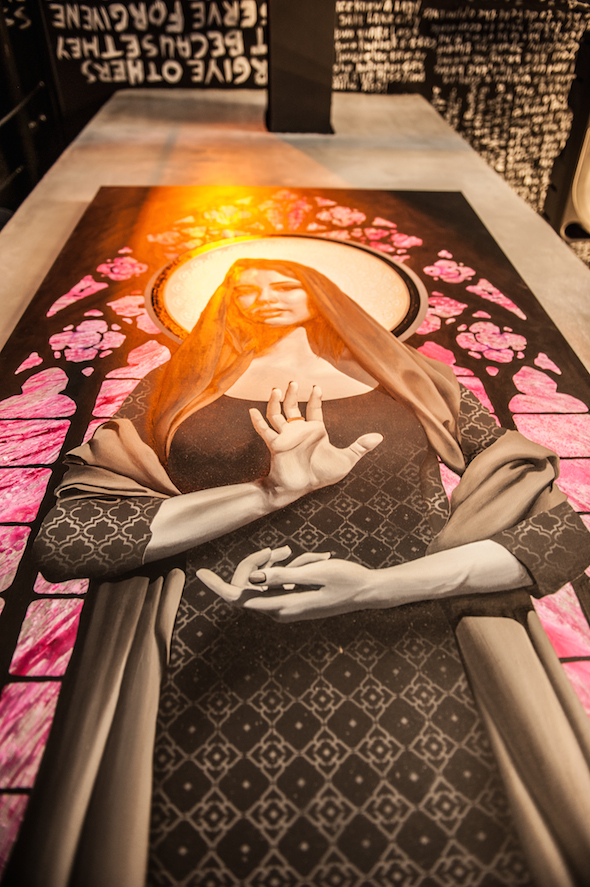 Business partners Patrick Whalen, Ayman Kamel, and Alejandro Torio were working on an as-yet- to-be-named restaurant project and in need of a chef. "The way we found Jamie [Lynch] was luck really," says Whalen.
At the time, Lynch was working at a small restaurant in suburban Charlotte. Through mutual acquaintances, Lynch's résumé found its way to Whalen's desk. "He'd trained under Andrew Carmellini and Daniel Boulud and Charlie Palmer—some really big names in the culinary world," says Whalen. "I almost didn't believe it to be honest." To have a culinary talent with Lynch's pedigree working under-the-radar in suburban Charlotte seemed a trifle unlikely to Whalen, but as happenstance would have it, there he was, ready and willing to join the project.
As the enterprise proceeded, the visual aesthetic of the restaurant had to be fleshed out. Whalen, Kamel, and Torio enlisted the help of local artists to make their vision a reality.
They tapped fabricator Leonard Greenberg, who designed a huge, haunting steel tree installation sprawling across the dining room. Artist Jon Norris painstakingly painted the words of Sun Tzu's The Art of War on the restaurant ceiling. And even Lynch's tattoo artist, Rodney Raines, got in the mix. Working with artist Matt Hooker, Raines created a giant, stylized $5 bill, experimenting with our currency's iconic imagery and incorporating aspects of the Queen City.
When 5Church opened in downtown Charlotte on the corner of 5th and Church – hence the name – it became an immediate success, and it wasn't long before expansion was a realistic possibility.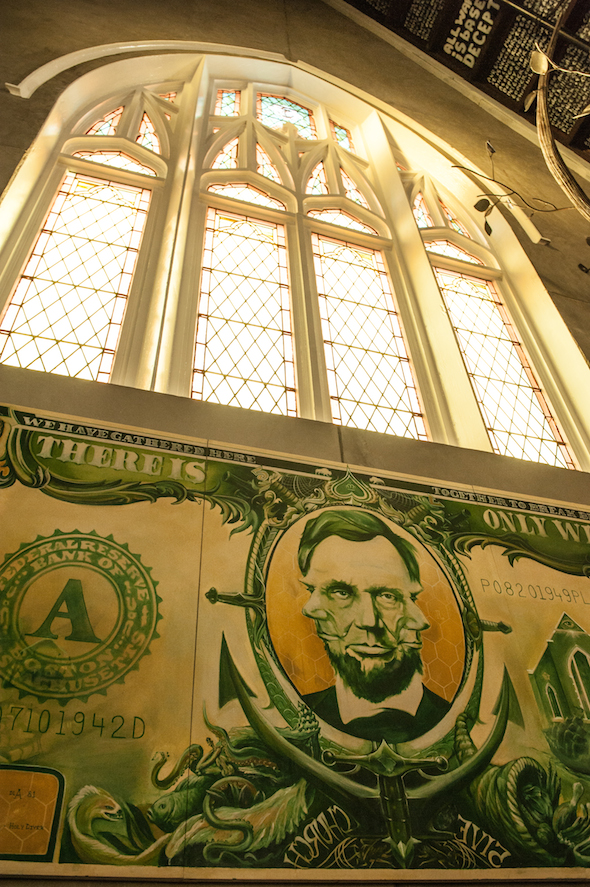 "I'm just in love with Charleston," says Whalen. "We just wanted to be part of the best. And in the Southeast, the best restaurant town per capita is Charleston." In opening a new location, the owners wanted to strive for continuity. So Greenberg came in and designed another steel tree. Norris scribed The Art of War on the ceiling again. And a new $5 bill had to be created. "[Raines and Hooker] have done a $5 bill in each city," says Whalen. "And each time it's different and tailored to that city. It's a really neat process watching them do it."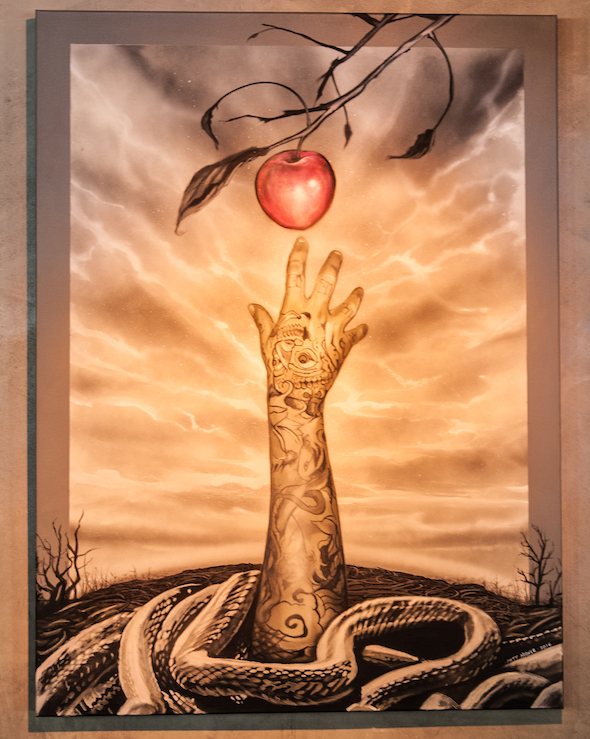 That continuity of imagery is certainly important, but for Whalen, utilizing local talent is of equal necessity. "We have a small group of [artists] that we've used at least one piece in all three cities," says Whalen. "That being said, each of their pieces have been different in each city. And in the two expansion cities, Charleston and Atlanta, we have sourced local artists to help fill in some of the gaps."
In Charleston, they called upon local graffiti artist Ishmael—who has since relocated to Asheville. "He did two pieces for us in Charleston," says Whalen. "One a past-present-future of Charleston and another one of the city jail."
Yes, the art is specific to its city, but a common thread ties it all together. Same could be said about the cuisine.
Executive chef Lynch is happy to do the homework and curate a truly fitting menu for each city. "The first thing I do is look into local history," says Lynch. "In Charleston, for instance, there's a lot of African influence. So I look into cooking techniques and spice blends from Northern Africa, what kind of legumes they use, things like that. And then what you find when you start looking around the area, a lot of those products are available locally. So then we find those products, work with them a little bit, and then start to develop menu ideas around that. Obviously Charleston has a ton of fish, so we love our seafood over there."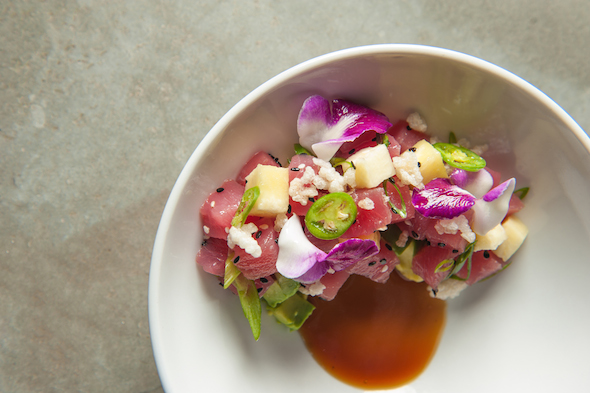 As for Atlanta, the big city vibe frees Lynch up to experiment. "For me, Atlanta's like the New York of the Southeast," he says. "So I can go a little further out on a limb with the style of food that we're doing. The approach to the menu items is similar, but we try to play a little more with technique to make the food more interesting.
It's that dedicated, playful spirit that runs through every facet of 5Church. They're open to experimentation and want to share that philosophy with their customers. It's been a part of Whalen's vision since the beginning. "We're constantly playing with expectations," he says. "You're immersed in a way where you really don't know what to expect. It's intended to be a surprise."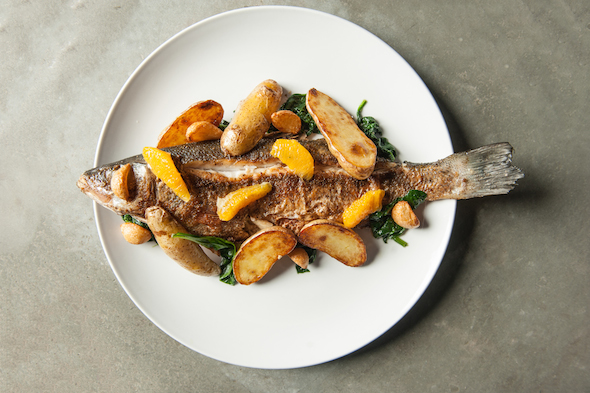 5CHURCH
Charleston: 32 N. Market Street | 5churchcharleston.com
Charlotte: 127 N. Tryon Street | 5churchcharlotte.com
Atlanta: 1197 Peachtree Street NE | 5churchatlanta.com
Stay Connected to the Arts: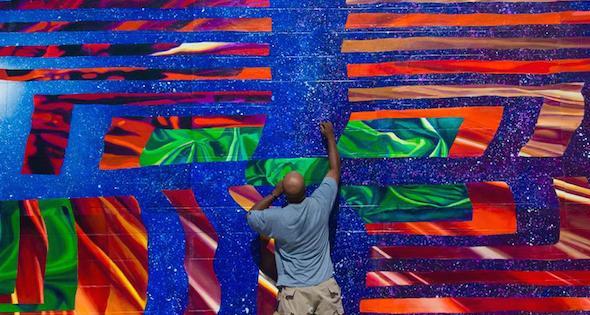 ArtFields: The Small Town Catching the Art World's Attention
Spring Arts Festival Guide
---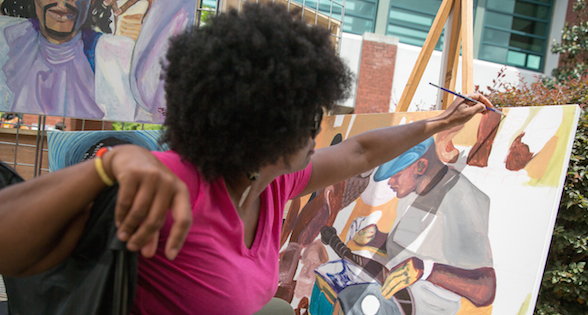 North Charleston Arts Fest: Getting Kicked-Up a Notch
Spring Arts Festival Guide
---
Artisphere: Engaging the Upstate
Spring Arts Festival Guide
---

Posted in Culinary on April 12, 2017 (Spring 2017) by Matt Mill.