Camela Guevara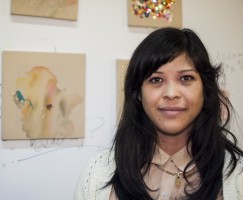 Local artist, Camela Guevara, seamlessly blends visual art, fashion, and time-honored sewing techniques in pursuit of her own unique artistic vision.  After graduating from the College of Charleston three years ago, where she studied printmaking, sculpture, and painting, Guevara began using the print studio at the Redux Contemporary Art Center, and soon after, managed to grab one of their coveted studio spaces.  Once in the studio, she moved away from printmaking and into more abstract, mixed media work.  The pieces are small and intimate, and incorporate elements of sewing, beadwork, embroidery, and washes of color.  Describing her process, Guevara says, "I apply a layer of diluted dye to the stretched material, which moves unpredictably as it dries, and try to keep it pretty minimal to provide just the bones of what the image should be.  Then I add the beads one by one to accentuate the movement.  It's really meditative—I like to put on some music and just see where it takes me!"
Guevara learned to sew as a teenager, altering her own clothes and creating small accessories.  She currently works as a seamstress at the Charleston Garment Manufactory, a custom sewing workroom that provides sample sewing and garment development services for local designers, and she is also a founding member of the One Love Design House, a fashion and design collective that will offer sewing classes, on-site cut-to-measure clothing, bridal production, special community events, and more here in Charleston.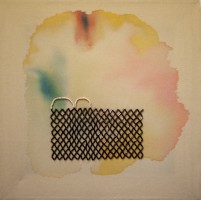 Guevara has always been passionate about fashion and elements of wearable art, but her own creation of non-functional fashion, or "fashion for the walls," allows more room for experimentation.  "Pieces can be more delicate and I can concentrate on just an aspect of decoration and flatten it out since it doesn't have to stand up to the scrutiny of being worn," she explains.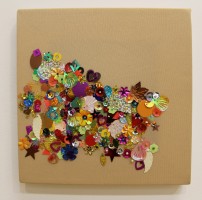 In addition to her work with the Charleston Garment Manufactory and One Love Design House, Guevara also co-writes a blog (gemsounds.com) and is a founding member of Charleston's new CSA (Charleston Supported Art) initiative.  Our suggestion— keep your eyes on Camela Guevara—we predict a bright future for this creative dynamo!
words: Jessica Dyer
images: Collin James and provided
Posted in Visual on December 22, 2013 (Winter 2014) by admin.