Chambers Austelle
BIRDCAGE
by Matt Dobie

This past summer, while teaching at Redux's Kids Camps, artist Chambers Austelle was inspired by her young students to bring a new attitude to her personal practice.
"I'm just going to go in like these children, and I'm going to make sure that I'm exploring and playing and having fun," she says.
The result is her new body of work Birdcage, a collection of mixed media works in the vein of classic portraiture featuring women isolated in their home environs surrounded by their mid-century furniture and stylish house plants.
The imagery is both beautiful and haunting. "It can't be just pretty," says Austelle. "There has to be something a little off about it."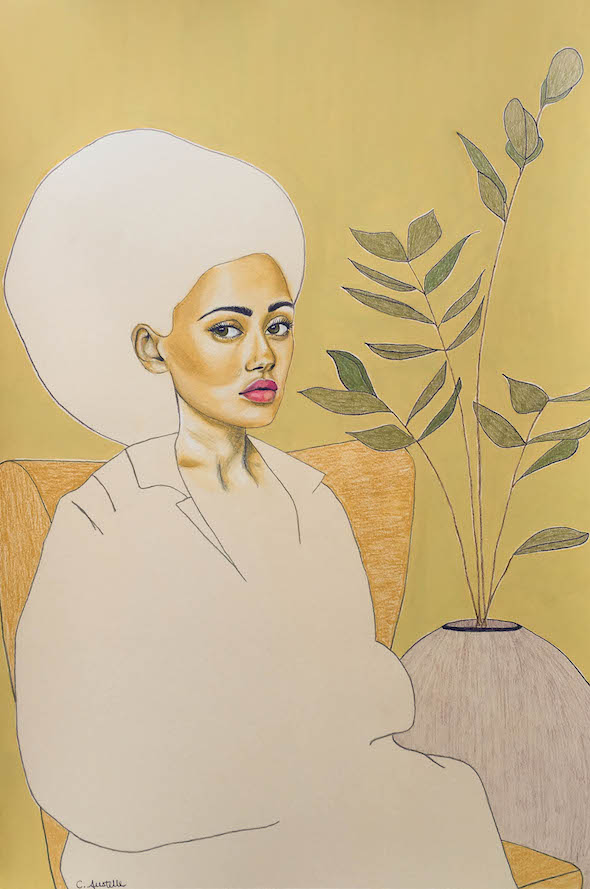 It's not a departure from Austelle's previous work, rather more of an evolution. She still uses vibrant colors and female subjects, but, for the first time in her professional career, she employs the use of chalk pastels and wax pastels in concert with her old standby, acrylic paint. "Giving myself the time to let the work develop and flow, it was kind of easier starting with completely different materials," says Austelle.
And her concept still centers on society's view of women and their relation to beauty. But unlike her previous work, inspired by fashion photography and the plight of the modern woman, there is a historical context. "I started thinking of it as a progression," says Austelle.
"After the war, there was the baby boomer period, and it was like it was a woman's position to be in the home. Our culture has developed and obviously things have changed, but so much of that mindset and culture is still seen and expected in our everyday life and world."
And so Austelle's portraits could ostensibly be that of a 1950s housewife or that of a modern woman. This duality made all the more interesting by the revival of mid-century home décor. "Using this furniture in my works, people won't be like, 'oh that's 1950s,' because it's so popular today as well. Which really parallels the message I'm trying to convey."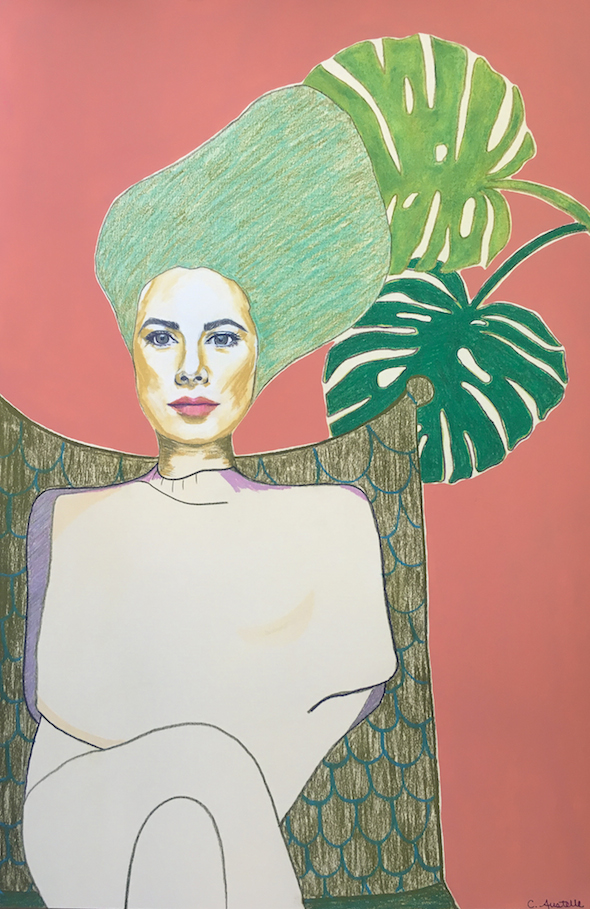 Birdcage will be the inaugural exhibition at Charleston's newest contemporary art gallery, Beresford Studios, and the freedom given by gallery curator, Neal Rice, affords Austelle the opportunity to create her own world within the 400 square foot space.
"This is an issue that so many people are living with constantly," she says. "So let's not just have it be this work on the wall. Let's do an installation. Let's really have this idea come to life."
The installation aspect isn't a separate piece of art; it's the environment as a whole. It's the mid-century pink couches (passed down from Austelle's grandmother), it's the fashionable houseplants, the oldies streaming out of the speakers, even the vintage mirror perfectly positioned so that, "If you're sitting on the couch, you see yourself literally being one of the paintings."
Austelle's stunning works of art not only delight the eyes and cause pause for deeper concentration, they also promote a dialogue that's as important today as it was 60 years ago.
---


UPCOMING EXHIBITION
Birdcage | FEBRUARY 10 – 26, 2017
Opening reception: FRIDAY, FEBRUARY 10TH | 6PM
Beresford Studios, 20 Fulton Street, Charleston
beresfordstudios.com


---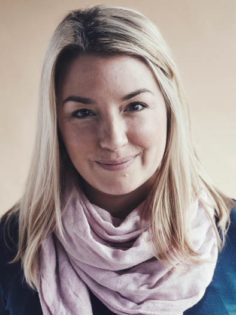 Chambers Austelle
Stay Connected




Visual Artist Profile
Environmental Sanctuaries: Herb Parker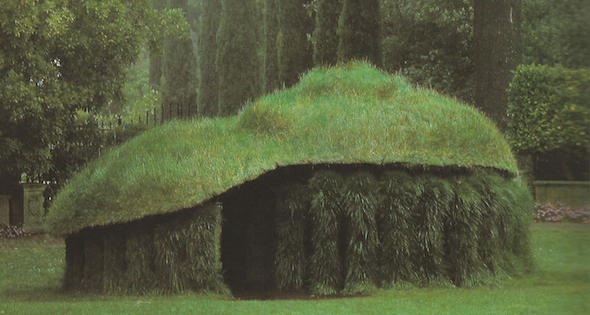 ---
Collectors Series
The Home of Bright & Allison Williamson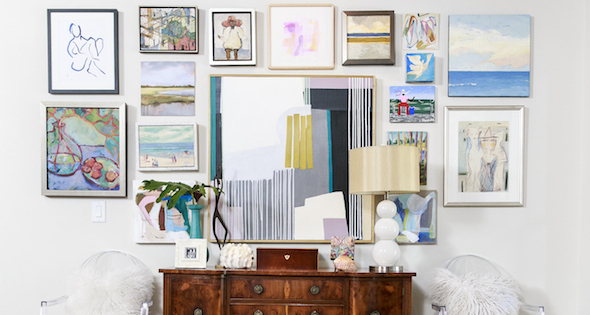 ---
Visual Artist Profile
Found Objects: Matt Wilson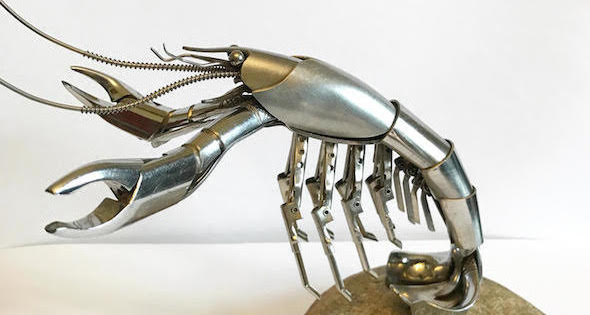 ---

Posted in Visual on January 12, 2017 (Winter 2017) by Matt Mill.