Collector: Paul Langston
Nature & Nurture: The Home of Paul Langston
As a young man, Paul Langston had the very good fortune to be introduced to artist Jonathan Green and his partner, collector and dealer Richard Weedman.
Green is arguably one of the most influential African-American artists of our time, documenting the Southern Gullah- Geechee culture in a bold, celebratory style that is sought after the world round. Langston met Green and Weedman years ago while tagging along with his parents on a visit to their home and gallery in Naples, Florida. At the time, Langston was living in Palm Beach, and a very special friendship blossomed out of it. "They were good to me. I was like their little adopted son," Langston says.
FOLLOW YOUR HEART…AND SAGE ADVICE
Weedman gave Langston one of the best pieces of advice on collecting that he tries to live by:  buy what you love, but when you can, collect artists who have been collected by museums, published, and had solo shows. Much of Langston's collection is comprised of Haitian, Cuban, Jamaican, and Mexican folk art, many of which were purchased from Weedman. Works by Jonathan Green and Weedman's mother, Dorothy McCray, make up some of the prized pieces in his stunning collection of African, Latin American, and South American art, antiques, and natural history specimens.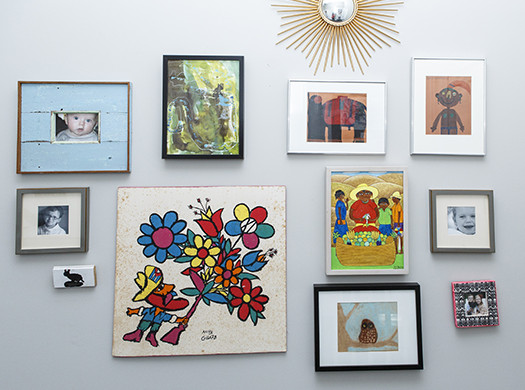 Seymour Bottex is a Haitian artist that Langston has collected at Weedman's recommendation. The Bottex painting is the anchor of the gallery wall outside the children's rooms. Painted in his signature style, and complementing the other outsider artwork throughout the collection, it adds to the cohesive and authentic feel of the home. "One reason I started with Haitian art is it is more affordable," he says. But they've been a good investment; most of his pieces have appreciated nicely since he purchased them.
Currently, Langston owns three works by Jonathan Green. He did have four, but Weedman actually sold one on his behalf; it was the down payment on Langston's first home.
NATURE/NURTURE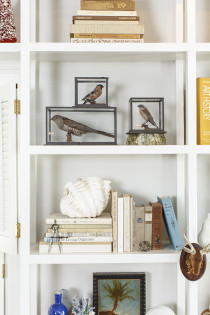 Growing up in Mount Pleasant, Langston's love for the outdoors developed naturally. "Being outside my whole life, anything in nature," has always drawn his eye. He learned to hunt and shoot by helping out during his father's hunting expeditions. He still has the side-by-side 20-gauge shotgun that his father sent him out into the dove fields with. His father required he learn to hunt safely by watching for several years before he was allowed to actually shoot; Langston was brought along to fetch and clean the birds. Now he prefers fishing to hunting—although he did kill a turkey last year.
His collection is a grown-up expression of his love for the natural world. Langston has Megalodon sharks teeth, eight or nine in total, scattered around the house; swords made of swordfish bills; stunning pieces of coral;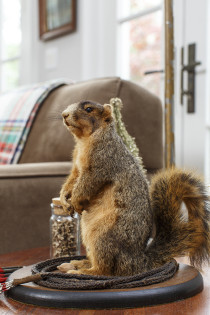 a blue whale vertebrae that looks like a small stool or seat; bowls full of clam-like shapes that are actually petrified mud from the interior of ancient clamshells. Nestled among all these artifacts are modern surprises, like a lovely Mickey Williams painting tucked into the shelf. Williams is another Lowcountry native whose dreamy landscapes are sprinkled throughout Langson's home.
Antiques and natural history artifacts are as significant in his collection as the art. Bug boxes, small taxidermy creatures, a hornet's nest, a Loggerhead turtle shell, butterfly boxes, and antlers abound.
The taxidermy creatures all have names— Merritt the fox squirrel, he came from Asheville; Snowflake the ferret and Chip the common European squirrel usually get tucked into the Christmas trees during the holidays.

THE HUNT
Langston has an amazing gift to recall the story behind where he acquired each piece. There are some antique works that he doesn't know much provenance on, but it's not for lack of trying. Working with appraiser Bart Mullin of Read & Mullin, he's tried to track down as much information as possible on his collection. Knowing the story seems to be half the joy for him.
One of his favorite local antique dealers is Arsenal in South Windermere; he's on a first name basis with all of his favorites—'I got this one from Sarah,''this came fromTommy down in Florida,''Courtney at Curiosity,' 'Stephen's cousin Lance,' so forth and so on.
CULTURE SHIFT
Two Benin African bronze sculptures house modern- day lamps, flanking the sofa; the coffee table rests on top of two carved elephant pedestals, atop a zebra rug. As you move through the house, folk art and cultural artifacts meld effortlessly into the home. A large part of that is due to Langston's ex- wife, interior designer Jen Langston, and her friend designer Michael Amato, who laid good bones for Langston to work with.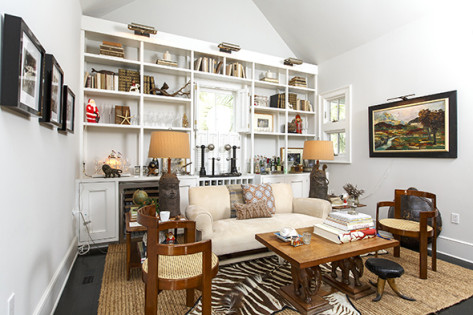 Langston's home is full of life and energy; between his daughter Jorie, his son Kase, Wiley the dog, the cat, the fish, two parakeets, bunnies, and chickens, it's a wonder the Langston home stays so pulled together. It seems incongruous how designer-polished yet comfortable their home is, between the modern aesthetic and the antiques, the taxidermy and the folk art. Perhaps it's simply a reflection of the easy, comfortable nature of Langston himself. He's a natural collector and storyteller; the collecting begets the stories.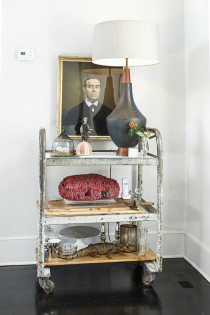 Langston is a wealth of knowledge of on how to transform dirty old junk into stunning items, like the metal rolling cart that came out of a machine shop in Asheville. After he cleaned off all the grease, Langston took it to Tile & Stone Design Studio on Morrison Drive, where they fitted it with an elegant marble top. Stacking old cutting boards for lower shelves, it now houses an incredible piece of red pipe coral, an antique taxidermy Caiman, and a solemn antique portrait he found in Asheville presides above. Langston jokes that the portrait is his 'Uncle Amos.' "My dad's got a big family, and I said 'Dad, who does that look like?' and he said 'That looks just like Uncle Amos!'"
Jorie, or Jojo as he calls his daughter, has four beautiful works of art by Haitian artist Louisiane Saint Fleurant that Langston purchased from Weedman, and two very talkative parakeets. In Kase's room is a Dr. Bob folk art painting that Langston found in New Orleans."'Be nice or leave' is his phrase…he's a drunk who lives in New Orleans," Langston laughs. The children's rooms have an incredible mix of vintage pieces that complement their own style. Jojo has a stuffed animal collection that dominates the bottom bunk of her room; Kase has a rock collection, but skateboarding now rivals for his time and attention. Collecting comes naturally to the kids.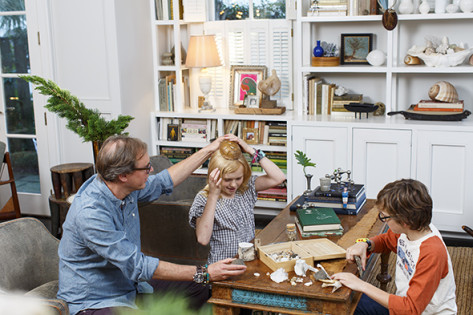 THE HUNT CONTINUES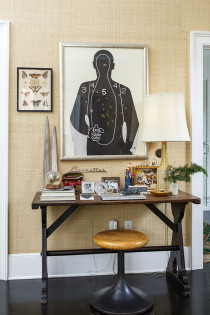 "I look pretty much anywhere I go, and I try to bring something back from every trip." Recently, Langston took Jojo to see Taylor Swift in concert in Lexington, Kentucky (surely qualifying him for Dad of the Year). Jojo loves horses, so they found a little cottage on a horse farm to stay in through Airbnb and went to the horse races at Keeneland racetrack. "That was a ball…She was pretty good. We'd go to the horse paddock and she'd look at them and say 'that one's not happy,' or 'that one looks comfortable,'…she would pick three of them that way…she got first [place] twice." Langston returned with a delicate little coffee pot and a mortar and pestle that beautifully round out the china cabinet.
On a father-son trip to Nashville, Langston and Kase visited the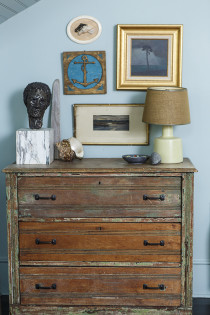 American Pickers store; they love the History Channel TV show of the same name. He was a little disappointed at how small it is…"It was teeny! You'd think they'd have a big ole place," he said. They plan to head back to Nashville for a hockey game; he hopes to come home with a better trinket this time.
There's something dreamy about this gem of a home, unassumingly tucked away in the Old Village of Mount Pleasant. Part natural history museum, part antique-curiosity shop where folk art and mid-century modern furniture blend seamlessly to create a fascinating, yet family-friendly home…somehow, perhaps with a little bit of nture's magic, it all works. There's literally no place like this home.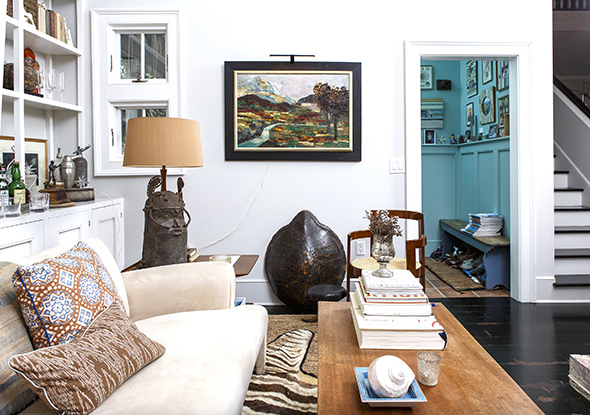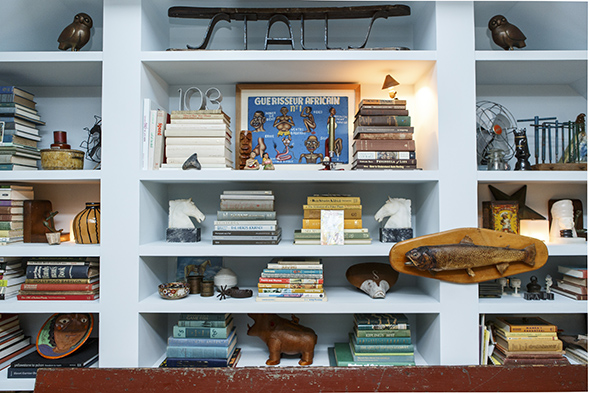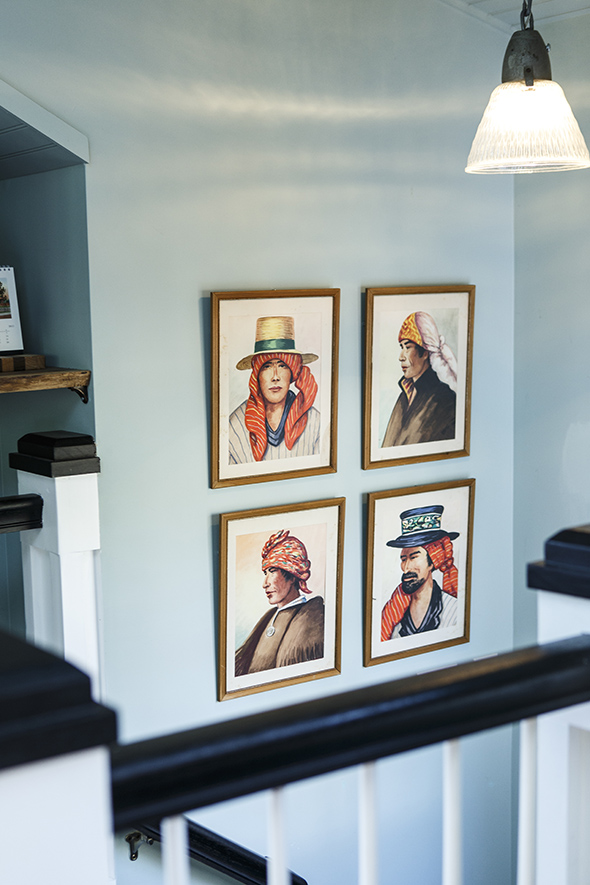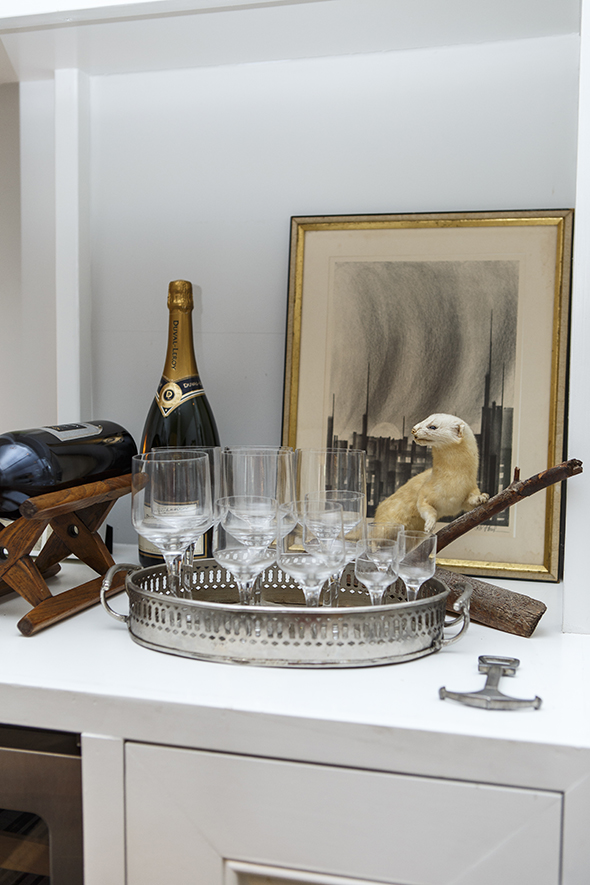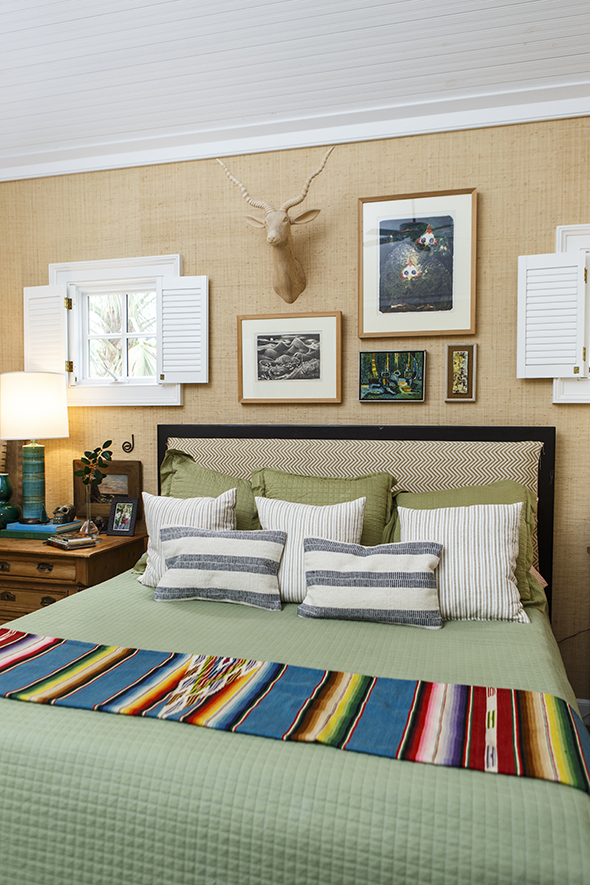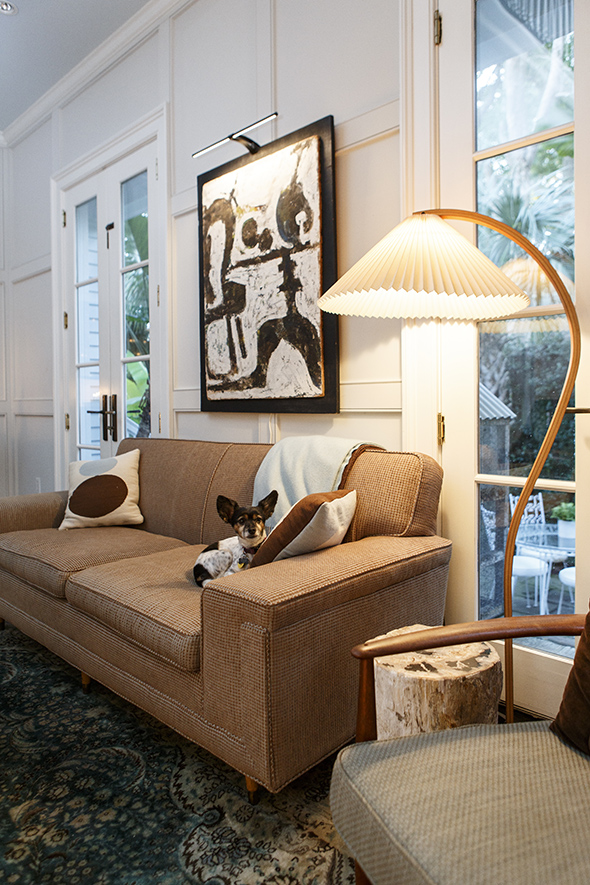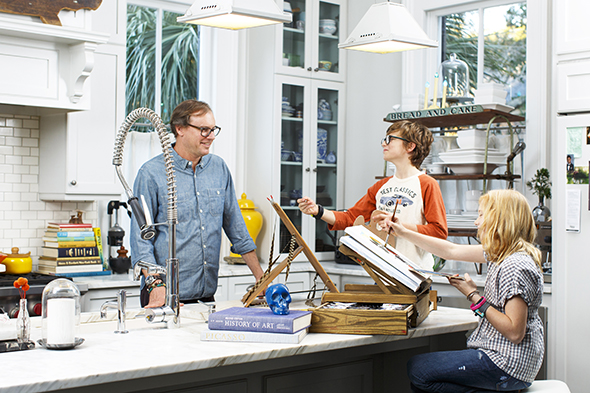 Posted in Visual on January 19, 2016 (Winter 2016) by Matt Mill.