Collectors: The Home of David Boatwright & Molly B. Right
by Stacy Huggins | images by Karson Photography
In a rare instance of shared reflection, Molly B. Right and David Boatwright are taking a moment to really look at the artwork they've collected in their life together.
These practicing, professional artists have created an airy, quirky, and vibrant retreat on Folly Beach where they can escape the stress and heat of downtown Charleston life.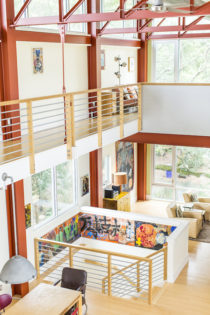 You too can escape the stress of your daily life and spend a week pretending that Boatwright and Right's home is your own Folly Beach vacation getaway (via VRBO.com). Many rental beach houses are decorated in such a way that makes you want to head outside as soon as you walk in. Boatwright and Right's home is the entire opposite: the indoor living spaces are just as inspiring as the outdoor spaces. You may just spend all your beach vacation inside, marveling at the artworks and oddities.
They purchased the home in 2007; it's easy for them to remember — it was a banner birthday year for Boatwright and also the birth of their 100+ lbs Goldendoodle named Django. They treat their time at Folly Beach as a vacation, spending their days walking on the beach, swimming, cooking dinner, and going to local legend Bert's Market, "Going to Bert's a lot!" Right laughs.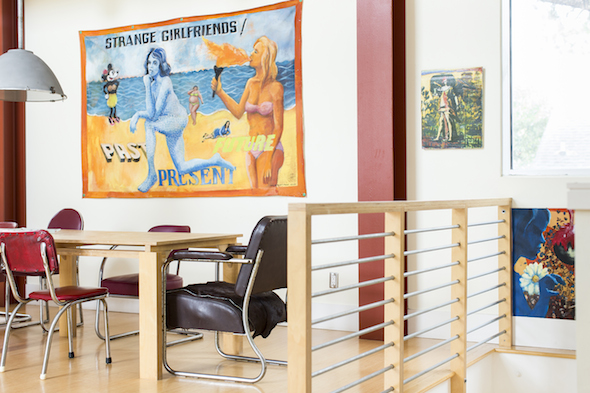 "I'll probably come in every day to the studio and work…but it's really nice to wake up there, and have a walk on the beach early in the morning or go for a swim," says Right. Her studio is located at the bottom of the Karpeles Manuscript Museum, where she creates her bottle cap paintings—massive portraits created entirely from vintage bottle caps. Right's paintings have an inherently sparkling quality that make her portraits simply magnetic.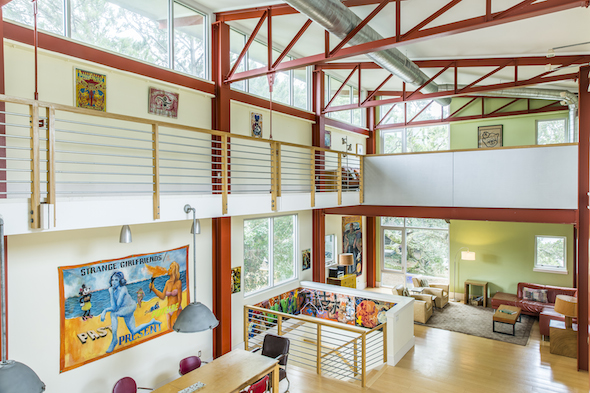 Boatwright's studio is also downtown, on Heriot Street (pronounced like 'Harriet'). "I call it 'He Riot Street'," he jokes. Boatwright paints large-scale works on canvas, wood, bricks, stucco, or anything that will hold still long enough. His outdoor murals are ubiquitous in Charleston at this point. His artwork is featured prominently on the exterior of many of Charleston's restaurants and businesses Hominy Grill, which started it all, Xiao Bao Biscuit, Amen Street, Mira Wines, GrowFood Carolina, Palmetto Brewery, Poe's Tavern, the City Market, and more.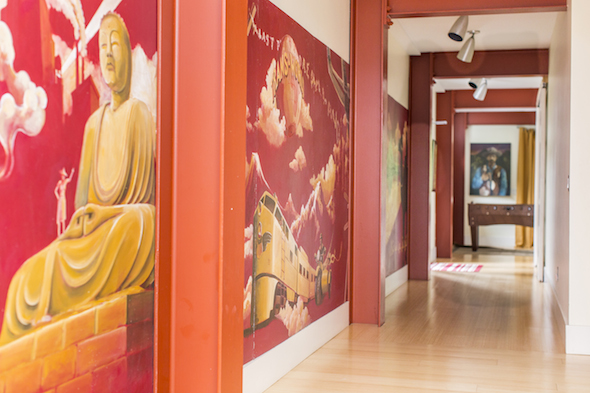 Their home is filled with both their own artwork and the artwork of many close friends. While many might be nervous about having such an incredible collection of meaningful work in a rental home, thankfully they've had nothing but positive experiences.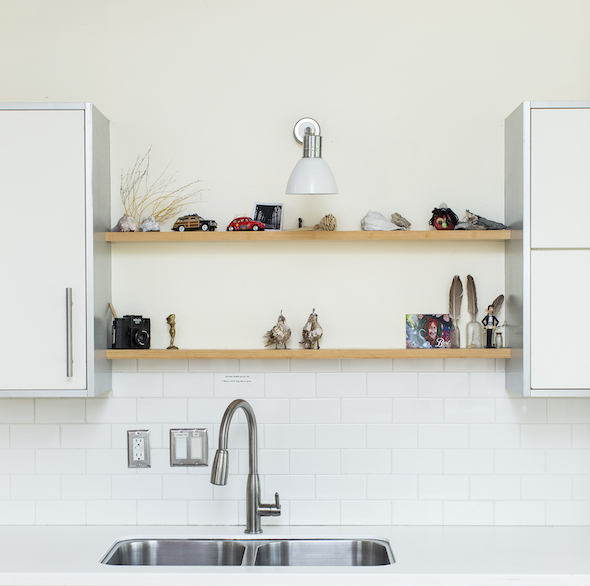 ACCIDENTAL ACCUMULATION
"Stuff winds up at the house over time. Sometimes people leave things. We have a lot of toys around the house from when our children were smaller, but people often just contribute stuff to that shelf, like that Polaroid of the pier," says Right.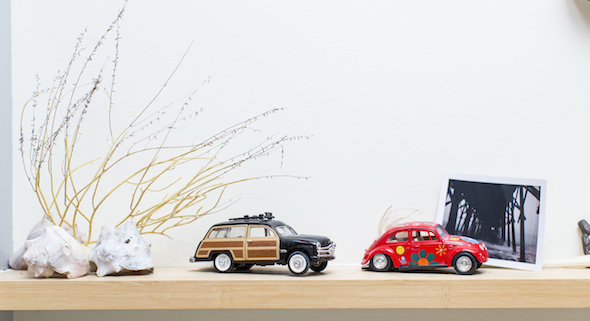 MOLLY'S PORTRAIT OF DAVID
Right's bottle cap portrait of her husband was a housewarming gift on the occasion of this beach house. Boatwright says initially he was embarrassed to have two portraits of him on display but thankfully he has gotten over that. Right's portrait is stunning in composition and color, with a low-angled perspective that draws your eye right to his eyes, which look up, off into the distance, perpetually above and beyond the viewer. It's quite distinguished.
Boatwright often paints a self-portrait to commemorate his birthday; hanging in their den is one such portrait where Boatwright is dressed as a cowboy, painted on another banner birthday. "I don't know why I'm a cowboy. It seemed like the right thing at the time," he says.
There's another painting in the den that makes Right think of quitting smoking; others see a popsicle or a dreidel. It's all in the eye of the beholder.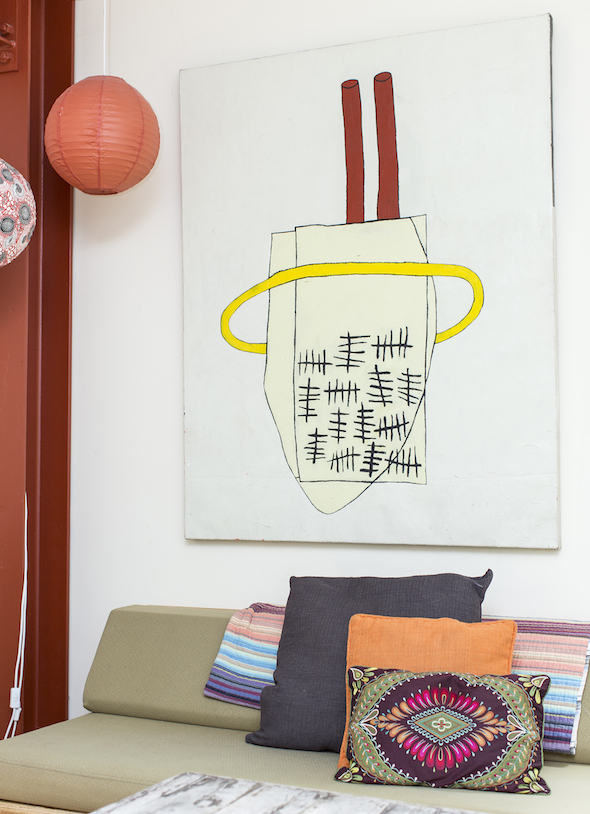 GHOSTS OF RESTAURANTS PAST
Boatwright was commissioned to paint a series of panels for Raval, a popular King Street bar, when they renovated their back room—which closed only a month later. "There were too many shenanigans going on back there," she says. "They were gonna get busted," he adds. "I got them back through some horsetrading…I did some new work for them, thinking I could turn around and resell them, but," he laughs, "they ended up in the beach house." The giant crimson panels illustrate a global theme, with many of the images taken from his collection of old National Geographic magazines.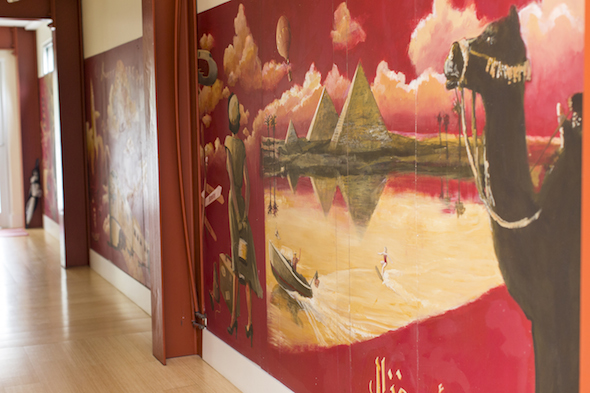 Another mural that Boatwright produced for Raval wraps the top of the main floor stairwell; this one has more of a street art/ graffiti feel to it.
Upstairs, a collection of screenprinted posters by Johnny Pundt features other defunct Charleston businesses like Cumberland's and Village Tavern, beloved music venues in downtown and Mt. Pleasant respectively that sadly are no more.
SURROUNDED BY FRIENDS
"This was a painting from my art school roommate [Dennis Tremalio] in San Francisco back in the day. We've stayed in touch, although don't see much, he lives in Amsterdam," says Boatwright. "I got that painting off him, he had a show in New York…it's a huge painting, 10 or 12 feet wide, eight feet tall."
Friend and artist Kim Allsbrook gave them a housewarming gift of a diptych featuring companion male and female characters that she silkscreened and painted on sheetrock—which was left over from the construction of the house.
Another painting by Allsbrook hangs upstairs, this one a collaborative work with local artist Charlie McAlister.
Done in McAlister's signature, outsider art style, flames are consuming the central figure; even the hair looks like fire. Surrounding the figure is a defiant manifesto, and at the bottom is another inscription: "I not all that nice but please call…" The numbers do not follow any traditional telephone number pattern, giving you the sense that there's not really any hope for this fellow.
The Golden Pig was a birthday gift from friend and local graphic designer Gil Shuler. "I'm a Golden Pig and that was a Golden Pig year…Chinese astrology…every so often it's a Golden Pig year, and that's super lucky," he laughs. "I like that. It's just funky. It's hand done on cardboard," Boatwright says.
As they look collectively on the work hanging in their home with fresh eyes, they seem surprised by how great their collection really is. Right remarks, "I've been thinking 'oh, we should probably take that down and get rid of it,' but no, we should put it in a frame."
An early painting by Kevin Earl Taylor features a rat in profile with the inscription "North American Rodent" above that they acquired at Taylor's going away studio sale in 2005 when he took off for San Francisco. Taylor, a Charleston native, has gone on to great success in San Francisco and Berlin with his stark, realistic paintings that often feature animals portrayed in startling compositions.
COMING TOGETHER
The unifying factors lie in both their funky, modern aesthetic and their friendship with the other artists featured in their home. As artists, collecting the work of their friends has just come naturally, as gifts from friends and trading or purchasing the work of other artists they respect.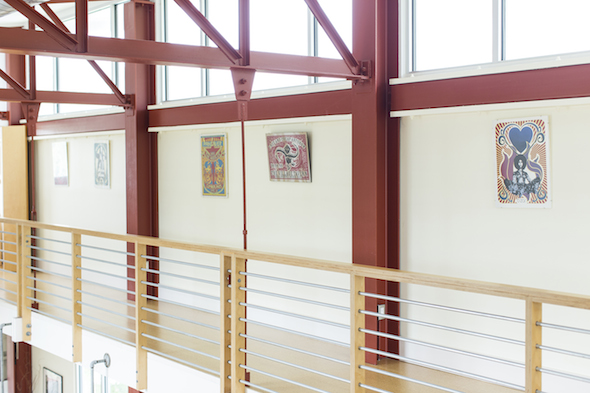 Boatwright and Right met many years ago when he was working on a redesign of the retail shop where she was working at the time. It took another 10 years for them to get on the same page—even though she had a crush on him. "Men don't pick up on it," she wisely observes.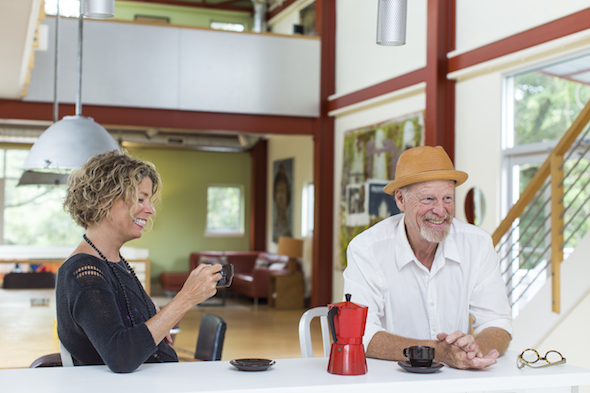 Years later, Boatwright was working on a film when he hired Right to work with him—Boatwright studied film and had an accomplished career before diving into paintings and murals. It may have taken them a decade to finally get together, but all these years later they seem just as love-struck with one another.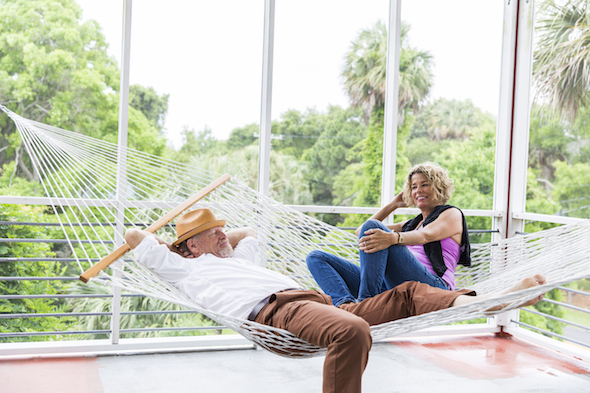 Their connection through love and art has created a home that Boatwright and Right enjoy sharing with all of their guests. Their laid-back Folly Beach getaway attracts many repeat guests who love the modern, bright, open space and the good vibes that just naturally surround these two warm and intriguing local artists.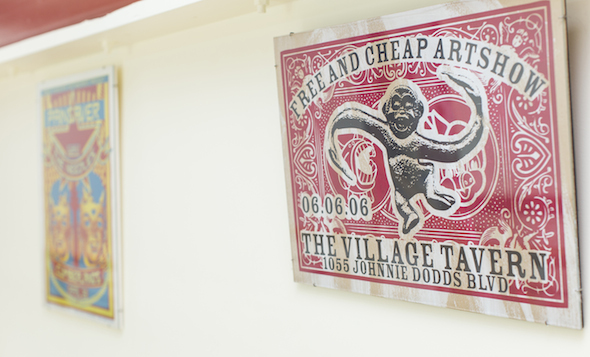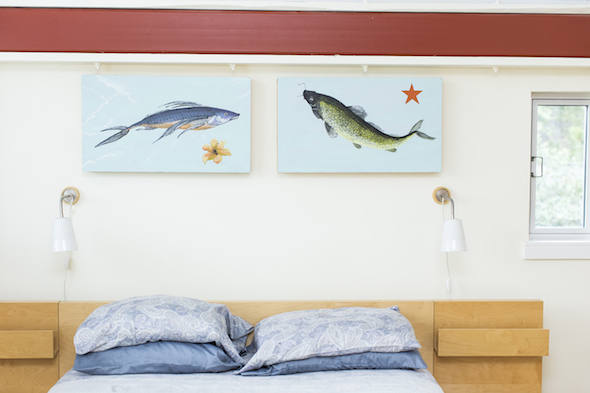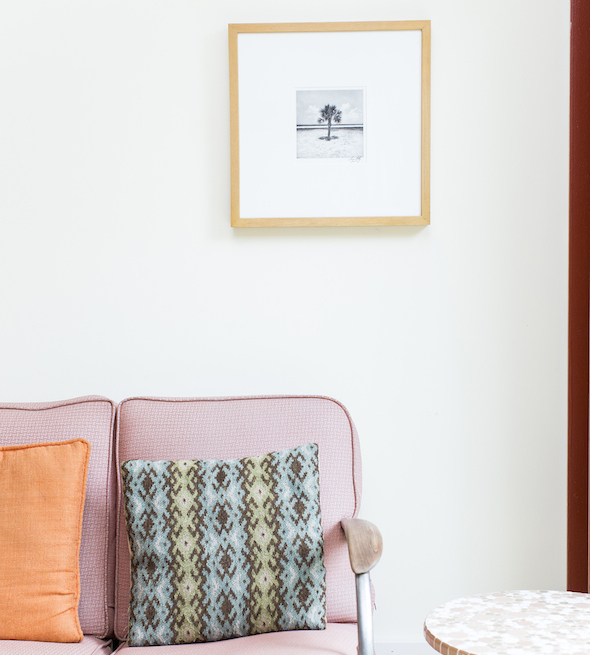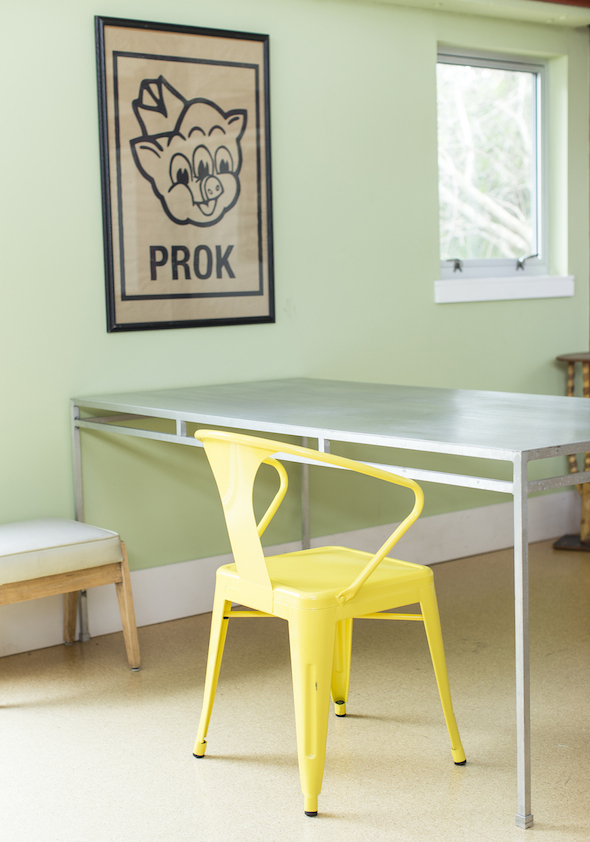 ---
by Stacy Huggins | photography by Karson Photography
From ART MAG 2016 Summer Issue
---
---

Day Tripping
The Best Museum Art Shows of the Summer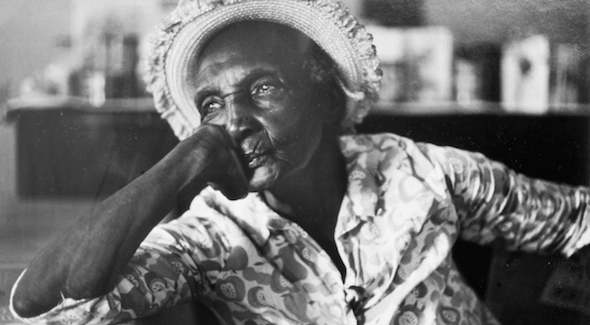 ---
Artistic Expression
Harold's Cabin Gets a New Life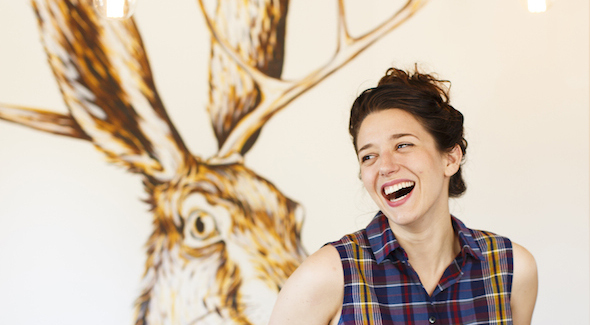 ---
A Fine Pairing
Palette & Palate Stroll

---
Stay Connected:


Posted in Visual on July 11, 2016 (Summer 2016) by Matt Mill.