Creative Entrepreneurs: Lisa Abernathy + Lauren Becker
Blue Heron Acupuncture & Apothecary, started by Lisa Abernathy and Lauren Becker, is the result of two creative entrepreneurs who have been eager to bring Classic Chinese Medicine to Charleston.  The dynamic duo have spent years nursing their dream of having a practice together and recently found the perfect spot for this holistic gem in the busy Upper King District of downtown.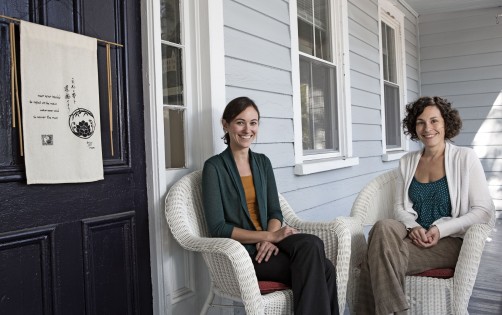 The two met in medical arts school and immediately hit it off.  "We are a nice yin-yang balance to one another," Abernathy says.  "Together, we both create a calm, grounding environment, while still infusing it with energy, passion, and inspiration."  What started out as a fun idea one night quickly turned into "passing business documents for each other to sign in class, a bit like schoolgirls passing notes," Becker laughs.  And Blue Heron Acupuncture & Apothecary was born!
Offering acupuncture, herbal medicine, nutritional counseling, Chinese massage, essential oils, and collaborations with other healthcare providers, Blue Heron aims to not only treat patients with a variety of Chinese medicinal techniques, but to get them interested in long term self-care.
"We have a lot of workshops and classes outside of our normal practice that people can attend to learn the techniques and how to maintain their health," Becker says.  In just a short time, Blue Heron has already become a go-to place for healing and relaxing for Charleston locals seeking a more holistic health and wellness practice.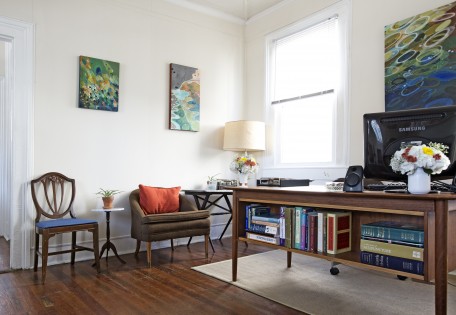 In addition to her medical practice, Abernathy is also a visual artist.  She noticed an interesting link between creativity and Chinese medicine when she was earning her degree. When creative pathways that she never knew existed started opening up in her brain, Abernathy instantly knew that Eastern techniques were something extraordinary and that she wanted to create a space that would support local artists and businesses, while simultaneously catering to patients' individual needs.
"We want people to be inspired by this place," Abernathy says.  "We wanted to make it something beautiful."  Abernathy and Becker also feel that having art on the walls is important for their practice as it often helps those who are on a healing journey to see things in new ways.
words: Kyle Victory
 images: Tom McCorkle
Posted in Mixed Media on December 22, 2013 (Winter 2014) by admin.