Harold's Cabin Gets a New Life
ARTISTIC EXPRESSION
by Stacy Huggins | images by Karson Photography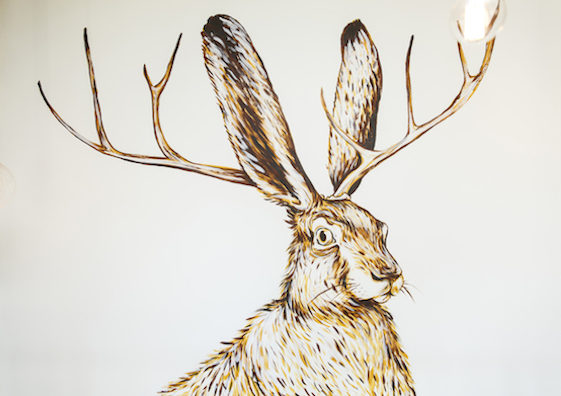 Storytelling is a powerful tool.
When John Schumacher and his partners at Yarrum Properties stumbled across the historic Congress Street corner store, it was really the story behind the space that convinced them to tackle this head-to-toe remodel and transform a vacant, haunting building into a vibrant restaurant and mercantile.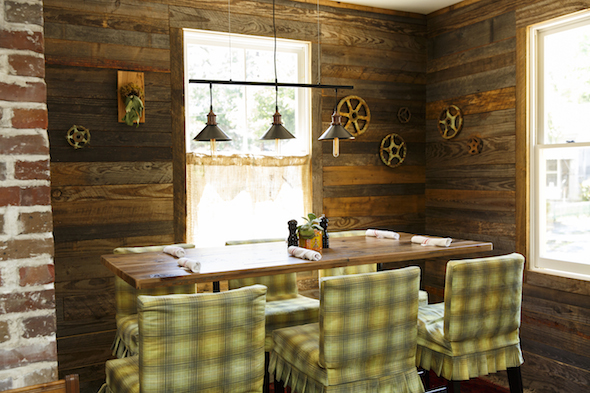 "The story it had to tell was the tipping point," says Schumacher. Harold's Cabin was originally opened in 1929 on the site where young Harold sold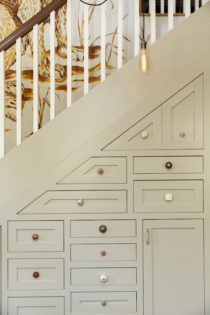 snowballs to the Hampton Park Terrace neighborhood residents. Snowballs came in two sizes: a small for three cents or a large for five cents. No one but the future senator Fritz Hollings bought the large because they were just too expensive. Hollings was an early, loyal patron. That type of customer devotion would define the family business that served the community until Harold's retirement in the 1970s. The business eventually expanded from neighborhood corner store to a two-story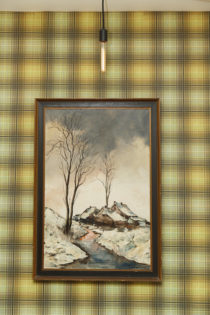 mercantile and lunch counter on Wentworth Street.
When they decided to revive this location, Schumacher and his partners took their time to honor Harold's legacy and add their own chapter to the story, paying special attention to every detail. The vibe is an eclectic family cabin, with all the hodge-podge odds and ends that should be present. As the restaurant began to take shape, local artists were tapped to create artwork for it, and as word spread, more artists reached out wanting to contribute their own piece to the legacy.
CREATING A NEW LEGACY FOR HAROLD'S CABIN
"My entire life, regardless of what I've been doing, has been influenced by art," says Schumacher. He enjoys street art and knew he wanted a mural by childhood friend Marsha McDonald. McDonald obliged with a stunning woodland landscape located centrally in the first floor, where every patron will undoubtedly encounter it. Pine trees and cardinals stand out against a tonal raccoon background pattern, a nod to the restaurant's rascal of a mascot.
A few steps up is the lower dining room, which seats about 20, and is home to Resurrection, a large scale painting by Stephen Elliott Webb. Webb expanded his usual palette to incorporate the rusty reds and browns of the decor. "They were literally resurrecting history to recreate this restaurant and bring the legend back. I tried to…recreate wood grain…to replicate the wood they had so carefully salvaged to put on the walls," says Webb. The salvaged wood was sourced from a barn in McClellanville, SC. Webb used old wooden stencils of the letters to form "Harold's Cabin" on his canvas and built paint up around them; removing the stencils left a three-dimensional buildup of paint.
"The legend of Harold's Cabin has been resurrected, and I wanted to capture that in an abstract painting."
DREAMS CAN BE REALITY
Another mural connects the first and second floor dining rooms, with an animal as mythical as it is wonderful: a jackalope, painted by Becca Barnet. Barnet is perhaps best known for her taxidermy artistry; several of her antler mounts and butterfly boxes grace the walls, creating a natural history learning moment to accompany your meal. Schumacher felt that a jackalope was the perfect species for the imagination it represents: "It's the same reason some people believe in Santa no matter how old they are," he quips.
Barnet's masterful artistry is quite the marvel, as the execution required some inventive techniques. Barnet completed the freehand mural in about 12 hours or so, and she had to lash her paintbrush to a dowel and stretch over the stair railing from the second floor in order to reach the wall. You can see why Schumacher was so impressed with Barnet's work.
Schumacher is also quite fond of the aviary vignette behind the second floor bar, comprised of a painting of a blue-footed booby hanging beside a folk art piece by Billy Martin depicting two red birds. Martin is a visual artist who's best known as a gifted percussionist with the band Medeski Martin & Wood; the blue-footed booby is as real as the jackalope is mythical. Contrasting counterpoints like these seem perfectly suited to exist in this inspired space that bridges the everyday with the wholly imaginative and legendary world of Harold's Cabin.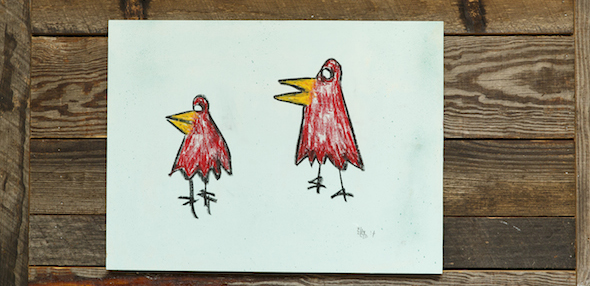 ---
by Stacy Huggins | images by Karson Photography
From ART MAG 2016 Summer Issue

Harolds Cabin
247 Congress Street, Charleston
843.793.4400
haroldscabin.com

A Fine Pairing
Palette & Palate Stroll

---
Culinary Artist Profile
Chef Greg Garrison of Prohibition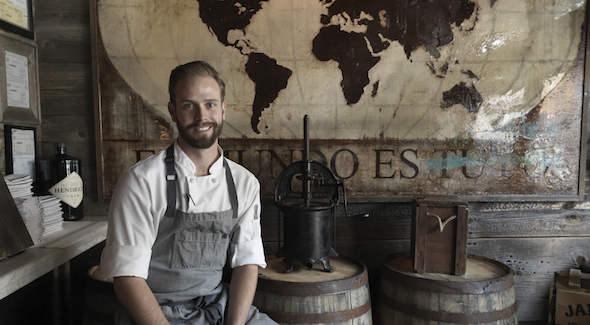 ---
Culinary Recipe from Chef Greg Garrison of Prohibition
Johnston Country Ham with Melon, Root Beer, and Marigold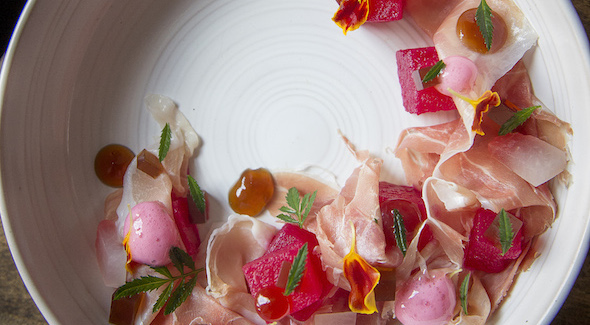 ---
Stay Connected:


Posted in Visual on July 11, 2016 (Summer 2016) by Matt Mill.