Hoodoo Moon Bash
Nov. 8
Halsey Institute of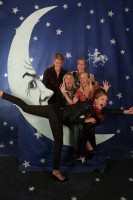 Contemporary Art
161 Calhoun Street
halsey.cofc.edu
843.953.4422
The Halsey Institute of Contemporary art will host their 9th annual "moon themed" membership celebration with
their Hoodoo Moon Bash. This will include Hoodoo readings and consultations by Dr. O, and Cajun-style festivities with music by Minimum Wage. Membership dollars support the Halsey Institute's programming budget and supplement the funds received through grants and donations from the College of Charleston. This is a great way to acquire your own
Halsey membership while attending a super fun party inside this pristine gallery space. Make sure to get your picture taken at their classic crescent moon photobooth!
Posted in Events on September 20, 2013 (Fall 2013) by oliviapool.