Jeff Querin and Stephen Wayne of 34 West
A 1991 Acura Integra hatchback rolling down I-80 crammed with costumes, disassembled set pieces, and two twenty-something actors were the humble beginnings of 34 West Theater Company.
What started as a touring group, now, 16 years later, has blossomed into a brick-and- mortar space bringing laughs, drama, and topnotch entertainment to the Lowcountry.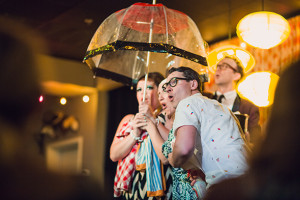 34 West co-founders Jeff Querin and Stephen Wayne soon ditched the hatchback and upgraded to a van (with Stow 'n Go seating no less). They quickly put thousands of miles on it, traveling back and forth between venues in Ohio and New York City, but they've always envisioned having their own space.
Now they have it. A cozy, quaint joint located at 200 Meeting Street. "When we found this place, it was a yogurt shop," says Wayne. "And when we designed it, we wanted people the moment they walked in the door to already be experiencing the show."
Ambiance is a focus for these guys. From the old-fashioned candy jars to the original yogurt shop booths, it's all designed to warm the hearts of patrons, just like the shows themselves. "We produce shows that make you feel good," says Wayne. "We want people's theater experience to be the highlight of their week." In fact, one patron, so overjoyed by the performance, felt compelled to run up to the stage after the show and tell the players, "I'm getting a divorce tomorrow, and this is exactly what I needed!"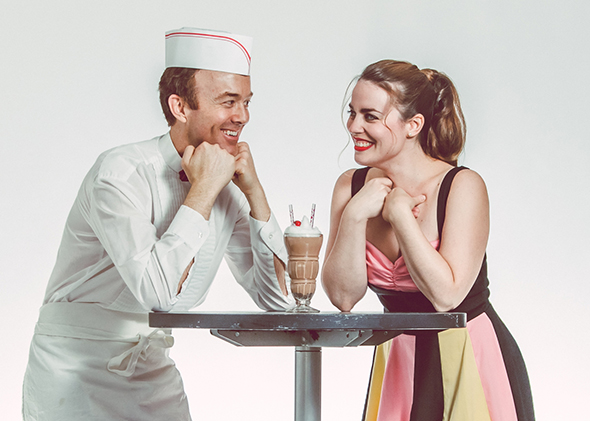 On top of acting in every production, Querin and Wayne write the material, each contributing their own expertise to the writing process.Wayne holds a BA in English and can easily pump out dialogue, but Querin's contribution is more structural.
"I'm horrible at logic," says Wayne. "Jeff knows story structure. He knows where it needs to go next. I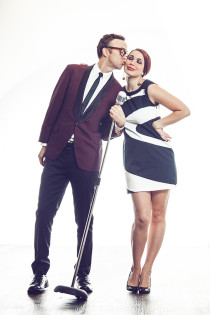 can write a scene or dialogue or jokes all day, no problem, if I have that structure."
Their plots primarily follow the Hero's Journey, but don't think that puts them in the realm of predictability; they're always poised to surprise. As Querin puts it, "There's intense freedom in structure."
A unique brand of tongue in cheek humor and high-energy performances, 34 West Theater Company is wonderfully innovative, relying on clever sound design, great acting, and heartfelt story telling. And they've found a home here in Charleston. "Ironically, from the moment we began, we talked about coming here," says Querin. "It's been 16 years in the making."
---
34 West
200 Meeting Street, Charleston
34west.org
Posted in Performing on January 19, 2016 (Winter 2016) by Matt Mill.