Mary Fishburne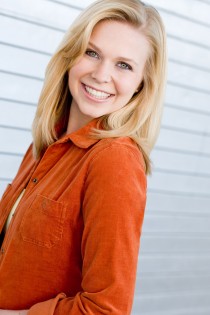 From Rock Hill, SC, to Nashville, TN, to New York City, to Charleston, SC, Mary Fishburne's dreams have taken her through some incredible transitions and realizations. She is a marvelous singer and actress, but she works very diligently to hone her skills, and pushes herself to explore new territory. Even when it scares her.
With hard work and perseverance, Fishburne found success in New York, but life brought her back to the South. Initially, she thought that was the end of her acting career, but it turned out to be just the beginning. Fishburne landed one of the biggest roles of her life in Charleston, starring as the ever-optimistic Nellie Forbush in Footlight Players' production of South Pacific.
Fishburne has always found her comfort zone in musical theatre. She donned a massive wig and sang her heart out as Rosamund in The Robber Bridegroom with Threshold Rep. We were thrilled to see her branch out with What If? Productions' The House of Yes, which received much popular and critical acclaim. It was her first 'straight play,' but you would never have known it. She credits the play's success to director Kyle Barnette and fellow cast members for their incredible talents and support. "It was a true ensemble piece," she says.
This fall, Fishburne stars in Tell Me On A Sunday, the one-woman rock opera featuring the music of Andrew Lloyd Weber. "In my opinion it's his best music; it's so simple," says Fishburne. While the thought of being the sole person on stage the entire time terrifies her, she says, "I have complete faith that my director Sheri Grace Wenger will make it beautiful." We can't wait to see her as Audrey in What If? Productions upcoming Little Shop of Horrors, opening January 24, 2013.
"The talent and quality of theatre here is unmatched by any other major US city in my opinion," says Fishburne. "Each of the theatre companies has a unique mission, and there is enough audience to go around," she goes on. "I'm inspired by talent and challenge, and there is plenty of both here!" We quite agree.
See Mary Fishburne in Tell Me On A Sunday with Midtown Productions (Sept 20 – Oct 13), The Man Who Came to Dinner at The Village Rep on Woolfe (Dec 7 – 29) and Little Shop of Horrors with What If? Productions (Jan 24 – Feb 3, 2013)
words: Stacy Huggins
Posted in Performing on October 10, 2012 (Fall 2012) by Art Mag.