OVO by Cirque du Soleil
IN A PERFORMANCE, WHO ARE THE REAL STORYTELLERS?
by Emily Reyna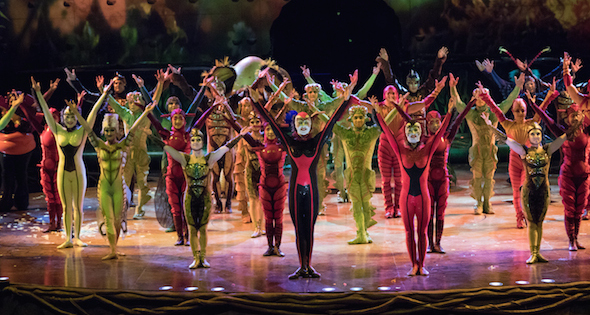 You will never see a Cirque du Soleil costume on the runway. Even if you did, it was never meant to be presented – it was created for performance. This is the difference between designing for fashion and designing for costume design, especially when the design is worn by world-class acrobats.
This August, Charleston will get a chance to see OVO by the Cirque du Soleil and experience a unique combination of artistic forms and function. The very storyline and essence of OVO is one of tension: two sides in constant flux – chaos and soft emotion, life and death – told by a vibrant community of insects who experience all the emotions and elements of life. But in a performance focused on acrobatic movement and not words, who are the real storytellers? Creator or creation?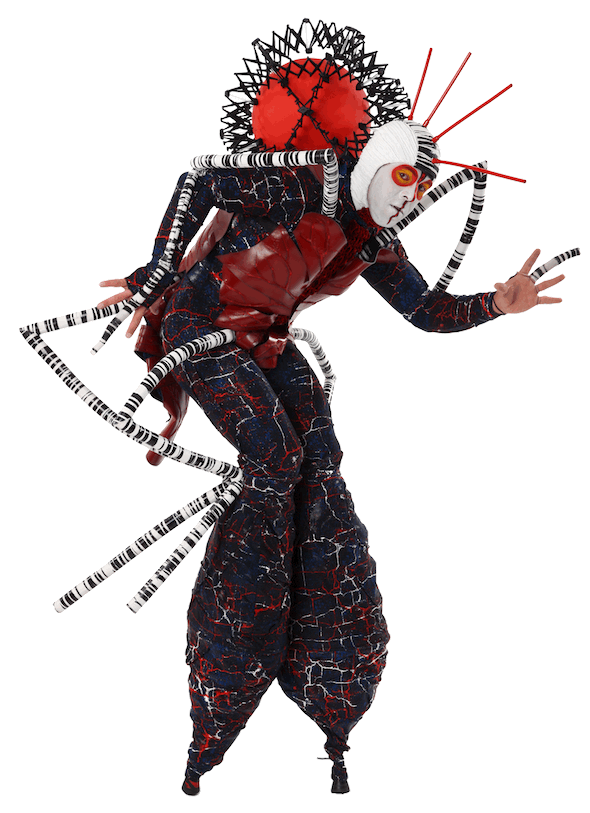 Stage set, movement, and most importantly costumes create a dialog and develop a story in a Cirque du Soleil show. Each show forms a unique creative system with its own creative team, headed by a creative director, costume designer, makeup designer, and head of wardrobe.
Head of wardrobe for OVO is Luana Ouverney. She began as a local hire in Brazil, where she did hand sewing and ironing under the wardrobe assistant. That was in 2010, and now as head of wardrobe she performs costume coordination, quality control, monitors makeup, and works with the artistic director to ensure every performance is up to par, clocking in around 50 hours a week.
ARTISTIC TENSION
A creative team faces many challenges when designing for an acrobatic performer, both artistically and technically – a designer wants their art to show in the design of the costumes, but still meet the technical needs of each individual performing artist. "A lot of designers start the creation of the costume with the artists, but they don't really think of the day-to-day life and entire lifespan of the costume," says Ouverney.
In order to resolve this artistic tension, the creative team of OVO keeps the acrobats front of mind during the design process. "They want to work with the performers to see the needs of the artist from the beginning. On a daily basis during the shows, you may have to think of a new fabric to use or have to improve on an existing costume. I hear a lot of feedback from artists, and although it is very important to look good, you must be practical," Ouverney explains.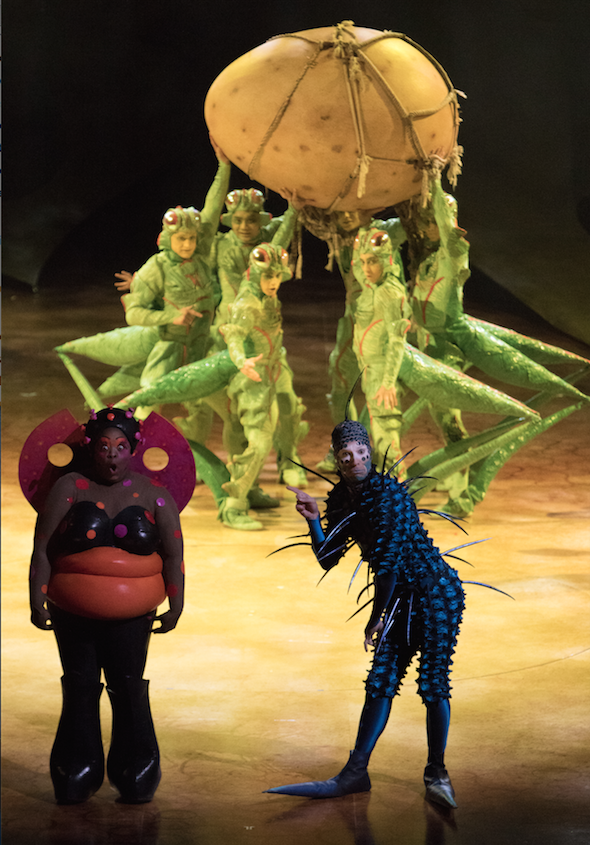 For example, "The crickets need the most care, especially since their legs are removed during the second half of the show," continues Ouverney. "They are made of foam to look like actual cricket legs overlaid with fabric that stretches easily but in turn causes a lot of friction, resulting in holes in the legs."
Just as each performer is involved in the creation of the costume by helping problem-solve on the day-to-day, they are also trained to apply their own makeup. "I think it's important to mention the part of makeup," says Ouverney. "Cirque du Soleil has a signature to its makeup, which is essential to the story. It's amazing how the costume designer works with the makeup designer to conceptualize a story that the public can understand. That's what I like about OVO – it's a simple idea. Some shows are so artistic and conceptual it's hard to tell what is going on and know what the idea is. But in OVO it's very easy to tell, maybe because the characters are insects, but either way, it is very unique."
A HIGH FASHION BUG'S LIFE
Superheroes, biodiversity, and geometry really inspired costume designer Liz Vandal in her designs and visual direction for this performance. Superhero elements were translated more literally with armor-like pieces on insect bodies. Geometric shapes completed the visual composition for each garment.
Vandal took both modern and historic cues from fashion designer Pierre Cardin, whose work is filled with linear and geometric patterns. She mixed in classical Renaissance elements like slashed sleeves, and for the foreigner character of the fly, she created a multi-dimensional blue fabric with spiked sleeves on each side to contrast with his lover, the ladybug, who is a rich red hue with a smooth, round shape.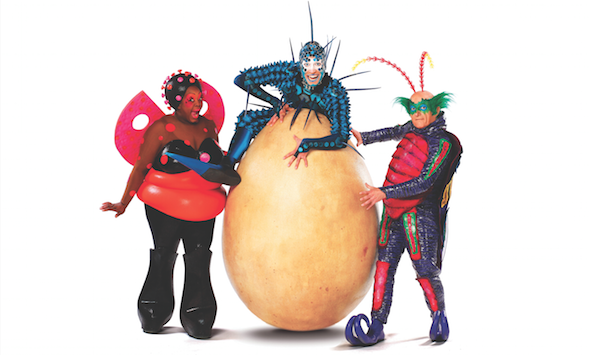 For every show that tours the US and around the world, innovative design is crucial to the creation process. This takes place at the headquarters of Cirque du Soleil, located in Montreal, where the story comes together with high-end materials and technology. "The creation process is amazing back in Montreal. They invest highly in technology, using three-dimensional printers with the highest quality of fabrics. You can really see how each director was inspired. It's great to see how far creatively and artistically the costume designer can push the designs," explains Ouverney.
That's what brings this circus into the 21st century – the way Cirque du Soleil cultivates a true team of artists who labor together to produce high-quality productions from cutting edge technology. "It's nice to not have limits for your imagination," says Ouverney. "You want the audience to forget about the outside world and get into their own world of imagination. It's pretty amazing to combine the functionality of the costume and make it aesthetically beautiful with a story behind it."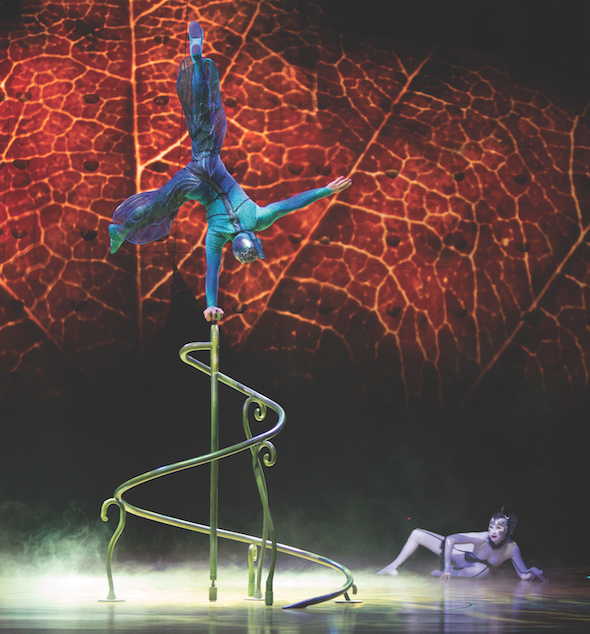 OVO BY CIRQUE DU SOLEIL
August 9 – 13 | North Charleston Coliseum
northcharlestoncoliseumpac.com | @nchascoliseum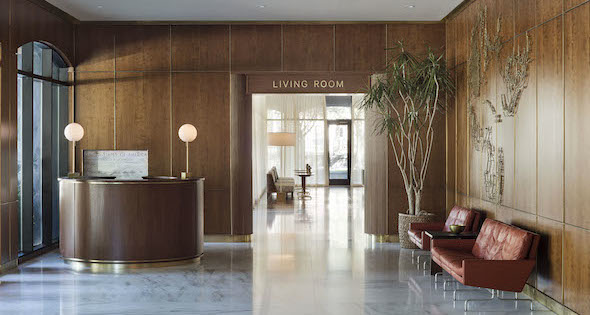 Designers: Workstead
Defining the Southern Modernist Idea
---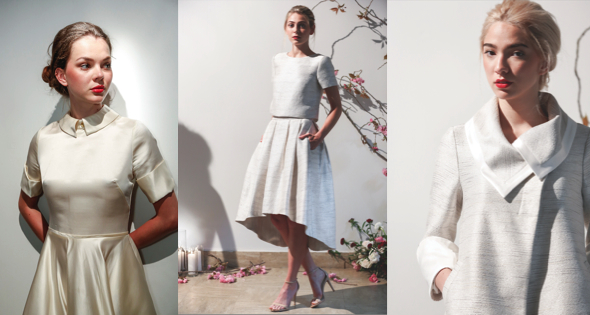 Designer Danielle Mason Hosker
Bringing Her Background in the Arts to the Creation of Her Designs
---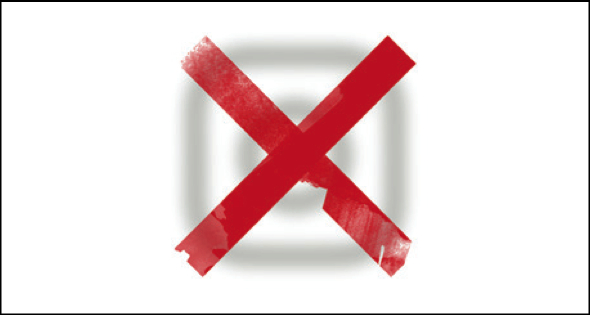 Is Your Instagram Reach Down? You Could be ShowdowBanned
Tools & Resources
---

SaveSave
SaveSave
SaveSave
Posted in Performing on July 18, 2017 (Summer 2017) by Matt Mill.