Rachel Kate Gillon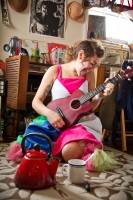 Rock princess Rachel Kate Gillon came from music capital Nashville, Tennessee to Charleston, where she studied art. After majoring in studio art with an emphasis in sculpture at College of Charleston, Gillon has returned to her roots: music.
Gillon provides the gritty vocals for The Shaniqua Brown, a roof-raising rock and roll band interested in "hootenannies and ho-downs, bourbon and beer, tuneage and tinseltown." The Shaniqua Brown's high-energy performances leave the audience sweat-soaked and stoked. If you're going to one of their shows, bring your dancing shoes and be ready for a guaranteed good time.
Gillon has another project called The Local Honeys, a sweeter, softer incarnation, incorporating unusual instruments like the ukulele, tambourine, glockenspiel, in addition to guitar, bass, drums, and occasionally the stand up bass. Filmmaker Justin Nathanson created a series of short films of Gillon and band-mate Sarah Bandy singing and playing their lovely songs on King Street in front of the Riviera Theatre.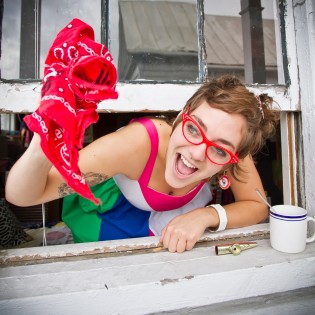 She is writing music again and playing more solo shows – a return to how it all began. "It's a lot of pressure – just me and my guitar," she says. During the day, Gillon works at Collective Recording Company, keeping the day-to-day schedule flowing smoothly and recruiting new talent. She also moonlights at the Early Bird Diner, a local favorite that has employed many a talented artist and musician.
"I think my visual art background comes out in my hair and clothes now," she says. Gillon is known and loved for her crazy outfits. She frequents thrift stores, scouring them for the perfect finds, and alters her clothes to make them more exciting. "Part of the fun for me is digging through all that stuff for the 'hell yeah, I just found that and it was really cheap!' moment," says Gillon.
In person, Gillon is a down to earth, talented gal who makes you feel at ease. On stage, she is energetic and engaging, and we highly suggest you catch The Shaniqua Brown's show at The Pour House on January 26, and see the spectacle for yourself!
words: Stacy Huggins
Posted in Performing on February 27, 2012 (Winter 2012) by Art Mag.