Recipe : Stone Crab Gnudi
From Chef Jeremiah Bacon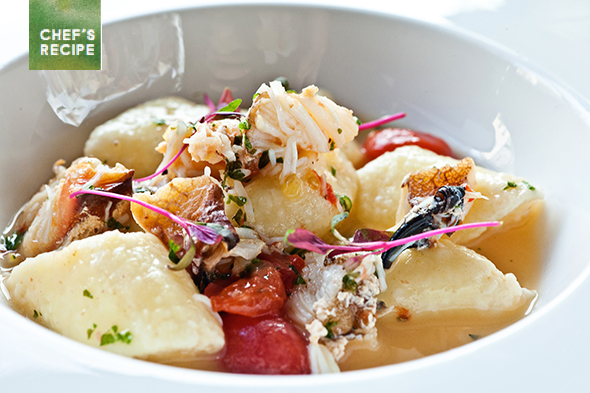 GNUDI INGREDIENTS:
1 qt Ricotta
4 Egg Yolks
2/3 C. Flour, Sifted
1 Pint Pecorino, Grated with a Microplane Salt
METHOD:
Combine all ingredients using the paddle attachment in a stand mixer until combined. On a generously floured surface, roll out 1⁄2 cup of dough in a long rope shape about 1 inch thick. Use a paring knife to cut dough diagonally on the bias about every 1 1⁄2 inches. Repeat rolling and cutting process with remaining dough, making sure that surface is well floured to prevent sticking.
INGREDIENTS FOR ASSEMBLY:
Each plate receives:
2 Tbs. fully cooked and picked clean Stone Crab
1 1⁄2 Tbs. Beure Monte
1 tsp. Preserved Meyer Lemon (brunoise of the peel only)
2 blanched and peeled Cherry Tomatoes
1 pinch Chopped mix of Fines Herbes
Lemon Juice and Salt to taste
METHOD FOR ASSEMBLY:
Cook Gnudi in water at a medium boil for approximately 3-5 minutes. Remove with a slotted spoon and place several dumplings in a sauté pan with beurre monte, preserved lemon and tomato just to heat through. Add the stone crab and adjust flavoring with lemon juice and salt to taste. Finish with a healthy pinch of finely chopped fines herbes.
---

Posted in Culinary on January 19, 2016 (Winter 2016) by Matt Mill.