The Black Fedora Comedy Mystery Theatre is located in a tiny spot on Church Street. Newbies to the Charleston area, the small shop produced nothing but big laughs on a weekend night.
Saturday night, my date and I slid into our table at the cozy theatre. The seating is limited but that didn't stop over 50 people from packing into the intimate space for a taste of live comedy. Immediately, at your table you are presented with solving your first mystery: Can you name all the detectives on the wall? The room was abuzz with patrons trying to name the various spies, detectives and investigators whose pictures were framed on the wall. Trying unsuccessfully to steal answers from our neighbors, we could only come up with Nancy Drew and Scooby-Doo.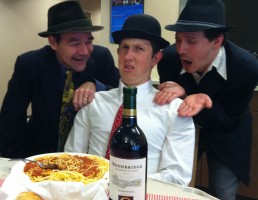 Ordering wine and setting in, we could not wait for it to start. We waited for Heist, Heist Baby the newest Black Fedora show, to begin. An interactive murder mystery production, audience memebrs are encouraged to volunteer as an actor. A glutton for theatre and dramatics, I was one of the first to volunteer and happily took my role as "The Gorgeous Coroner." I skimmed over my lines, sipped more wine and waited for my entrance in Act II. My date chose to sit back, relax and try to crack the case. buy fosamax online https://www.mabvi.org/wp-content/languages/new/fosamax.html no prescription
Although Heist, Heist Baby is Black Fedora's most recently added show with brand-new actors, their dynamic was impenetrable.The troupe is comprised of four actors and each of them our equally skilled at filling a room with laughter. Act I starts when "a priest, rabbi and a clown" walk into a bank. After that, the show continues with snappy lines, infectious audience laughs and crazy antics. Not one person could hold back their laughter as the actors took us on a journey of murder and mystery. With a short intermission, Act II brought more volunteer actors which meant more laughs as "actors" missed their entrances and their lines. As a new show, there were one or two times where even the Black Fedora troupe tripped on their lines. The audience loved it! Thier hiccups turned into golden ad-lib that everyone craves from a live theatre performance.
buy effexor online https://www.mabvi.org/wp-content/languages/new/effexor.html no prescription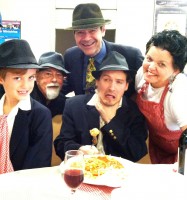 All in all, a Saturday night of comedy was the perfect remedy for a rough work week. At the end of Act II, you find out who committed the murder: someone from the Black Fedora crew or a volunteer actor. I thoroughly enjoyed participating as an actor and would recommend it to anyone that goes to Black Fedora. And you should! Unfortunately, you'll have to go see Heist, Heist Baby yourself. As The Gorgeous Coroner, I will never tell "whodunnit."
buy lasix online https://www.mabvi.org/wp-content/languages/new/lasix.html no prescription
words: April Adams
images: Provided
Posted on April 5, 2014 by admin.
Categories: Review, Uncategorized
Tags: Church Street, Heist Heist Baby, The Black Fedora Comedy Mystery Theatre And Shoppe