Arthur Brouthers
A Charleston native, Arthur Brouthers is known around the city as a DJ–namely as the music director for Charleston Fashion Week. But after a move to Charlotte a decade ago, and with the inception of Charlotte's Culture Initiative (think Charlotte's version of Kulture Klash), a shift from music to visual arts began in Brouthers' creative life.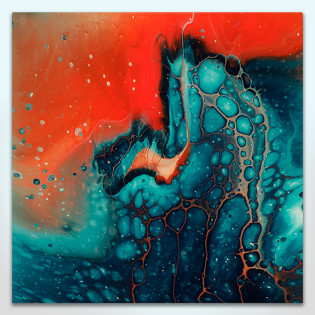 As a full-time artist with a studio and gallery representation in Charlotte, Brouthers is planning his introduction as a visual artist in Charleston with a pop-up show on August 8th on Upper King Street. Hosted by HedHi Media in their slick studio space, Ecosystems will consist of 25 works in varying sizes and media, some on wood, some on paper.
Brouthers' artwork is very geological in nature. After spending weeks layering paint on panels, his pieces resemble what takes rocks millions of years to become. He says, "that was the whole idea in the beginning. I started making an abstract view of that. People say it looks like cell structures and little ecosystems, and that's where the title of the show is coming from."
He explains the tedious process: "it's a lot of pouring. On one large piece, I could use up to a gallon of paint. I wait for one layer to dry and then a couple days later I go back and pour another layer."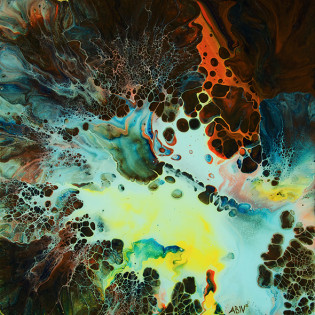 The wait time is important, like in natural, geological formations. Then he calls upon the elements to help out the creation: "I use different sources of heat to dry, placing a heat lamp on top of it or on the side."
Brouthers continues, "then the final layer, I go in and try to make bubbles without losing the organic flow of the piece, because I try to make it not resemble anything manmade."
The end result—the bubbles on wood panels and paint—starts to take on the look of dead wood, namely pecky cypress, which is apropos, because Ecosystems is a two-person show with Bill Long, a woodworker represented by Rebekah Jacob Gallery. Of Long, Brouthers says, "he's a family friend who inspired me to create art as a teenager, because he was always whittling away at things."
Long uses actual pecky cypress as a medium, and for the show he and Brouthers plan to collaborate on several pieces.
This melding effect especially takes form in Brouthers' recent piece Shifting Opus. A wood-like formation takes over the bottom half of the panel, while swirls of fluorescent orange and the blue-of-a-new-night-sky dominate the top. Shifting Opus, like a lot of Brouthers' work, seems to unite all things universal and natural.
Pop-up Art Show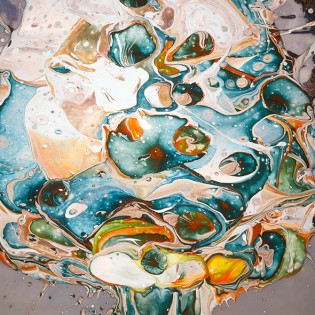 Ecosystems
Arthur Brouthers and Bill Long
Saturday, August 8 | 6 – 10 pm
HedHi Media
654 King Street, Suite D, Downtown Charleston
words: Elizabeth Bowers
Posted in Visual on July 1, 2015 (Summer 2015) by admin.