Carolina Makers
"This show could have been 10 times bigger than it is," says chief curator Paul Matheny. "The number of craftsmen and makers is growing in South Carolina, because people appreciate living with handmade objects," he says, likening it to a renaissance or a revival of interest and appreciation for handcrafted objects, tradition, and most especially, the maker behind the object.
The Carolina Makers exhibit, presented by Time Warner Cable, is a major exhibition featuring makers from across South Carolina, but whittling that list down was a challenge. Matheny decided to hone down the expansive roster of potential artists by focusing on makers who are carrying on traditional methods in wholly new ways, like Madame Magar reinvigorating indigo, or silversmith Kaminer Haislip creating contemporary designs utilizing traditional methods.
Brackish Bowties is another new maker that got Matheny excited. They've taken a staple of the South Carolina wardrobe, the bowtie, married it with another tradition of the south, hunting, and created an uber-sophisticated new animal. Their chic bowties speak to the hunter, the good ole boy, and the Southern gentleman.
The concept for Carolina Makers has been brewing in Matheny's mind for some time, and with the wealth of connections he's made since beginning work on the exhibition, it's totally possible we'll see some spin-off exhibitions in the future. Matheny explains, 'Art' can be sacred, but we experience it in a different way when we can actually use it. Middleton Made Knives are a wonderful example, where the highest caliber of aesthetic and functionality are fused into one glorious tool.
Another artist Matheny mentioned is paper artist Jocelyn Chateauvert. Her sculptural handmade paper objects are a hand-in-glove fit for Matheny's criteria for the exhibition. Chateauvert creates functional objects, art objects, and jewelry from metal and paper, infused with the essence of the Lowcountry, bridging the gap between wearable and fine art.
The sheer number of instrument makers in SC was one of the biggest surprises for Matheny, a craft where "how it sounds trumps how it looks," he says. However these music makers are just as visually beautiful as they are orally. Matheny and his team have developed programming around the exhibition during their 'Second Shift Tuesdays' from 6 – 8 pm. On the "Second Tuesdays" of each month, members of the Musicians and Songwriters Guild of SC will perform inside the gallery; on the"LastTuesdays,"the SC Bluegrass and Traditional Music Association hosts acoustic jam sessions that welcome the public to bring their own instruments. This is your opportunity to make a joyful noise in a place where making a ruckus is usually forbidden.
Another local recognized for his inventive reinterpretation of his art form is metalworker Sean Ahern of Ahern's Anvil. He can render anything from chandeliers to furniture to fine art in metal. Ahern blends sculptural and functional in his rocking chair that is included in the exhibition. Form and function operate side-by-side in the highest expression.
Capers Cauthen of Landrum Tables has created the ultimate sidekick for the fisherman, while Joseph Thompson Woodworks has taken a creative approach to the chair with contemporary lines and a minimalist aesthetic, all out of wood.
As a curator, Matheny has culled together an excellent exhibition of contemporary makers reimagining traditional crafts. This celebration of the maker is a huge opportunity to educate the public as we expand our definitions of 'art' and 'craft.' The beautiful reality of the contemporary craft in Carolina Makers is that it is art, and fine art at that.
FEATURED MAKERS:
INSTRUMENTS
• Greg Alexander, guitars, Columbia
• B. A. Ferguson Guitars, Hartsville
• Jack Bouknight, JMB Guitars, Newberry
• Jim Campbell, Dark Corner Stringed Instruments,Travelers Rest
• John Charles Herin, Pegheds,Winnsboro
• Damir Hor vat, Hor vat Fine Violins and Bows, Columbia
• Lewis Price, Pricetone Instruments, Sumter
• Bob Ripley, S & B Woodworks Guitars,Taylors
• Frank Sox, mandolins, Lexington
• Steven Walter, guitars, Greenville
• W.E. Leitner, violins and guitars, Lexington
TEXTILES AND CLOTHING
• Brackish Bowties, Charleston
• Clay Burnett, basketmaker and handweaver, Columbia
• Leigh Magar, Madame Magar and Magar Hatworks, Johns Island
• Sally Peek, Nana by Sally, Columbia
• Rusty Sox,Titanic Alley, Columbia
• The Cordial Churchman, Rock Hill
METALWORK
• Sean Ahern, Ahern Anvil, Charleston
• Kaminer Haislip, silversmith, Charleston
• Quintin Middleton, Middleton Made Knives, St. Stephen
FURNITURE
• Capers Cauthen, Landrum Tables, Charleston
• Michael McDunn, Michael McDunn Studio, Greenville
• Mike Murphy, furniture, Beaufort
• Dan Shelley, Carolina Willow, Marion
• Joseph Thompson, Joseph Thompson Woodworks, Eutawville
• Jaryd Walley, Mobili Farm Tables, Greenville
OTHER
• Jocelyn Chateauvert, jewelry, Charleston
• Clark Ellefson, Lewis+Clark, Columbia
---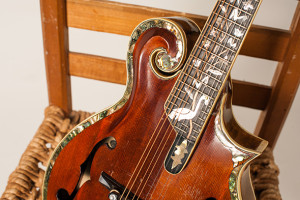 Carolina Makers
April 18, 2015 – February 7, 2016
SC State Museum
301 Gervais Street, Columbia, SC
803.898.4921
scmuseum.org
@scstatemuseum

Posted in Mixed Media on October 2, 2015 (Fall 2015) by Matt Mill.