Chef Michael Toscano of Le Farfalle
by Stacy Huggins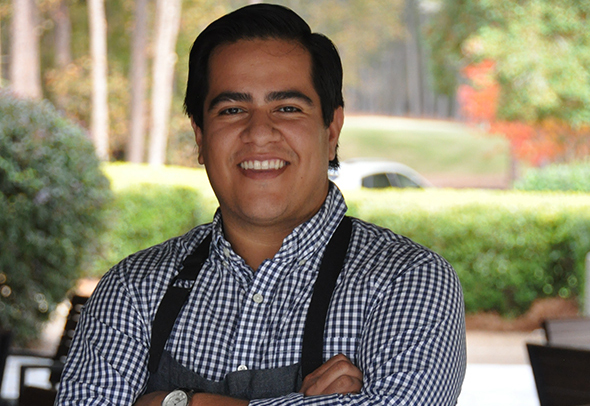 "I become obsessive when I'm passionate about something," says Chef Michael Toscano.
That statement can be applied to seemingly all areas of Toscano's life. He is a driven and talented man who has accomplished more at 31 years old than many can hope to in an entire career. With his wife and co-owner Caitlin at his side, Toscano has brought his vision for high-level cuisine in an approachable osteria to life in Harleston Village.
Growing up, Toscano was surrounded by great food. "My mother cooks amazing Mexican food; my father is great at frying a whole fish or cooking steaks or smoking barbecue, and our fun was always surrounded by a meal…Food was always a part of my life without me knowing it," he says.
Toscano was a natural athlete, first playing competitive baseball and then seriously pursuing golf. He took a job as a cart boy at his golf course to gain unlimited access to the links. Then he started watching Iron Chef Japan, with its obscure, exotic challenge ingredients. He began taking all his questions to the club chef and soon found himself trading his cart boy duties for a spot in the kitchen. He started out washing dishes and worked his way up with the same drive he had previously applied to golf.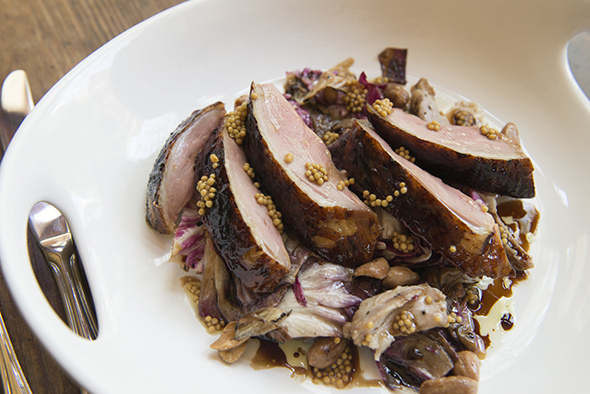 He actually turned down a golf scholarship for an American Culinary Federation Apprenticeship through Pinehurst Resort in N.C. His drive and passion catapulted him through the program, graduating a semester early to leave for New York and begin his career. He mused that perhaps this all came about because cooking came more naturally to him than golf did. "It's one of my biggest passions, putting together food and making people happy by eating my food."


FINDING CHARLESTON
Toscano was invited to cook at the Charleston Wine + Food Festival, and after returning the following two years, he was hooked.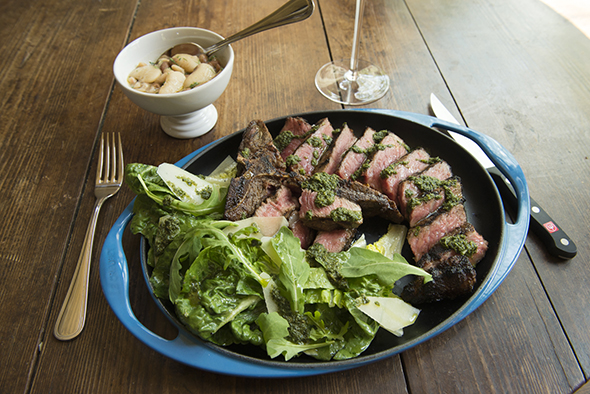 "Meeting all the chefs, seeing the lifestyle down here, the great food that already existed, it checked all the boxes I needed to move," he says. "We realized that there's life outside of New York and that we had to get out of New York City when we had our second child." That's when they decided to call Charleston home.


FINDING 15 BEAUFAIN
"We looked for eight months until we found this spot…we were starting to get a little frustrated, with little things not working out…and then we came across this space." He was intrigued by the light as the sun set against the building and knew it was the perfect space. Toscano jumped on the space immediately and locked it down within a week's time.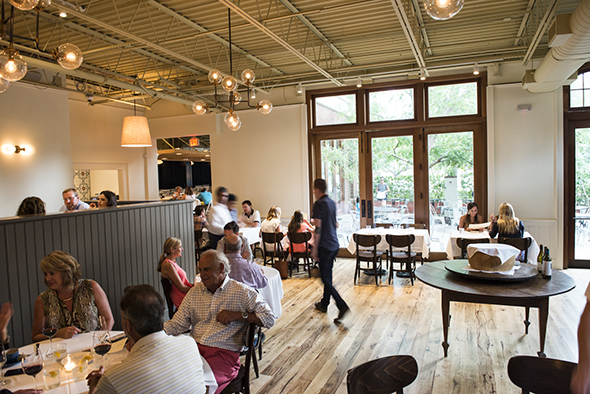 Michael and Caitlin first began working together when they opened Eataly in New York City. "She was the general manager and I was the chef. They gave us a hard time about [working together], like 'it doesn't work,' and 'you can't do it.' We had the best time ever."
"Granted we run the business together, but it's separated enough where we're not both in the kitchen. I'm doing my part, she does her part. The part that I'm not doing…who do I trust more than her? It's perfect; it really works out."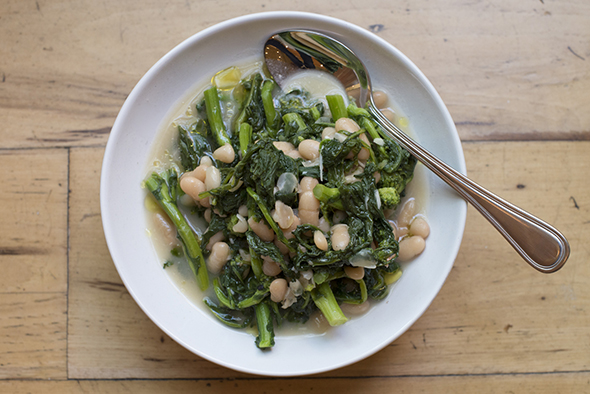 Toscano brought the majority of his kitchen team from New York, including bar manager Brad Goocher, which made the process much more smooth. Charleston wasn't a hard sell either. "They were all ready to get out and see something different," he says. He views his kitchen as an incubator and training ground for future chefs, where they'll experience every aspect of the kitchen and leave ready to step into any fine dining kitchen anywhere.
GM Anthony Merlino had been living in Charleston for three months when he ran into Toscano, and they hit it off straightaway. They knew about one another in New York, where Merlino ran the Baccarat Hotel, but never formally met. It was a hand-in-glove fit.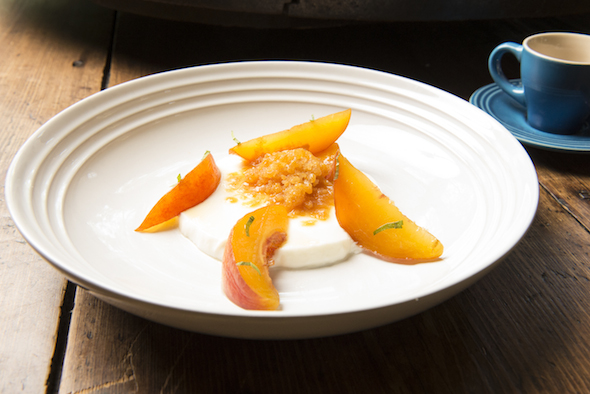 Le Farfalle is the manifestation of "how Caitlin and I like to dine, the kind of food I like to cook," and he's pleased with the huge range the space and menu offer. "It can be your every night restaurant or your blow-out anniversary meal, whatever you want it to be…that's exciting for me," Toscano says.
The restaurant's transformation is stunning for those of us who recall the long ago days when Vickery's inhabited this location. The main entry brings you through the garden for an enchanting entrance into the bright and airy, contemporary bar and dining rooms. Le Farfalle feels luxe but unpretentious; even the music choice is a little unexpected, sprinkled with some post-punk tunes that make the whole experience more accessible.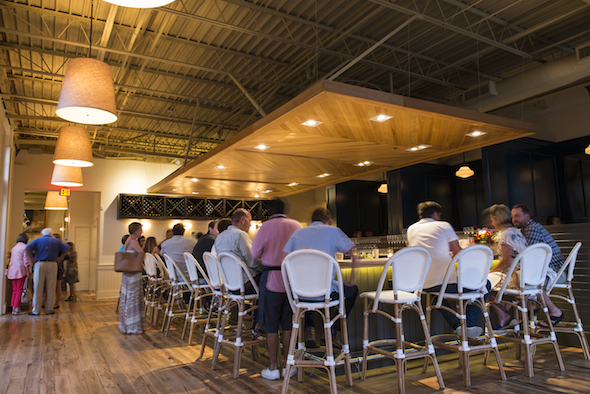 FAMILY AFFAIR
Michael and Caitlin build their family time right into the restaurant. "That was the big draw of coming here, having the kids grow up in the restaurant."
After school, the children come to Le Farfalle, where they regularly have dinner as a family. "That just wasn't possible in New York…to have them come in and this be their home also, it's huge for us."
Welcome home.
---

OUR RECOMMENDATIONS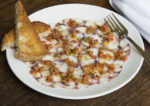 The Octopus Carpaccio is a bright, fresh, garlicky delight, a pleasing combination of flavors that is easy to share and impossible to put down.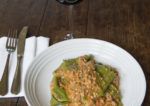 Order the Fazzoletti Verde with Ragu Bolognese for a robust and deep flavored sauce that's in perfect contrast to the stunning bite and texture of the pasta. Pair with a big red wine for culinary Heaven on earth.
---
by Stacy Huggins
From ART MAG 2016 Fall Issue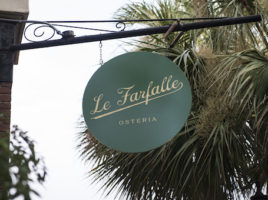 Chef Michael Toscano
Le Farfalle
15 Beaufain Street, Charleston
843.212.0920
lefarfallecharleston.com


Brewing Something Fresh
Five New Breweries to Discover This Fall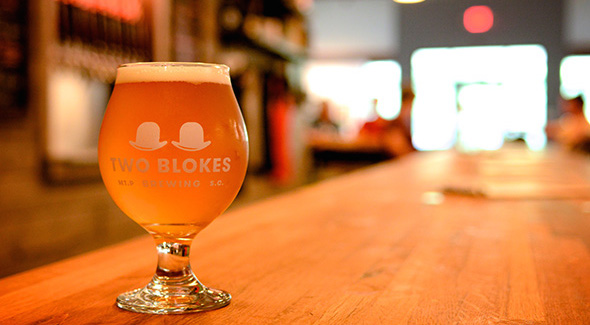 ---
Performing Artist Profile
Oliver Wood of The Wood Brothers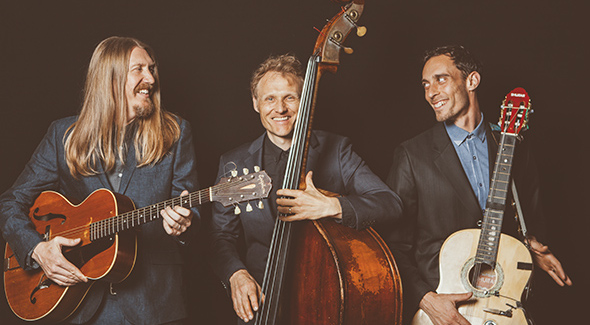 ---
Performing Artist Profile
Preserving the Origin Story of South Carolina's Jazz Musicians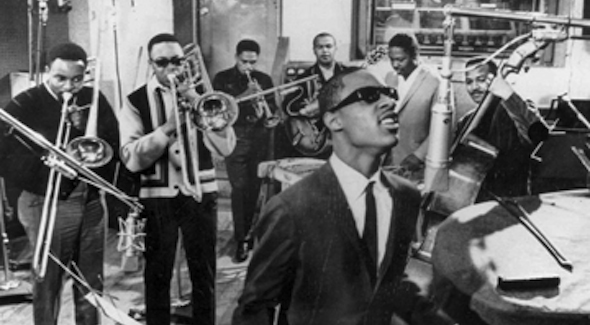 ---

Posted in Culinary on October 4, 2016 (Fall 2016) by Matt Mill.