Collectors: Bright & Allison Williamson
THE HOME OF BRIGHT, ALLISON, BEN, HENRY, AND CHIEF THE AUSTRALIAN LABRADOODLE
By Stacy Huggins Geist | Photography by Karson Photography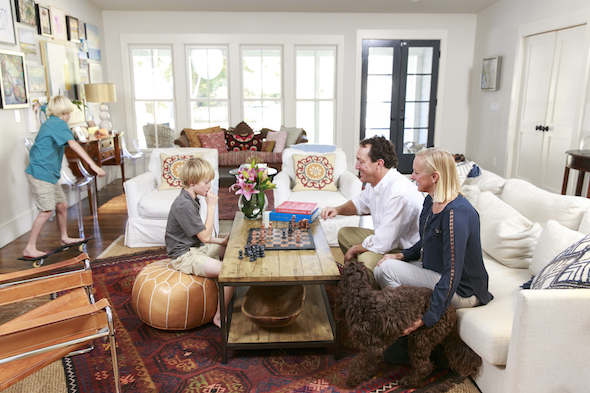 "I've always, since I was a little girl, been attracted to art."
As a child, Allison Williamson would always find a special object to collect from family trips…a piece of art, a special rock, a shell from the beach, and her children now do the same. "Sharks teeth!" one of the boys chimes in. "I started collecting things like that." Her love for art spurred her to purchase a piece of art from any travels. "It doesn't have to be expensive; you can buy a little memento off the street."


PRESERVING MEMORIES THROUGH ART
"One of my favorite pieces of art is from a trip to New Orleans, and I was determined to find a picture of some jazz musicians. The paint was wet, it was somebody on the street that was doing this, and he had four of them. I wish I'd bought all four." The scene was painted from a performance at Preservation Jazz Hall the night before; Allison and Bright had actually been at the show and seen those same musicians.
"Finding a piece of art, connecting with an artist, or finding a story — or when you travel, that will bring up a memory or connection with that point in your life — that's what I like to surround myself with."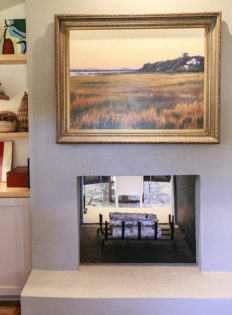 "This is where we actually got engaged, the actual spot at the old Pitt Street Bridge." Allison's mother-in-law was taking a painting class with local artist Leslie Pratt- Thomas when she saw this painting in the final stages. "She said, 'Oh my gosh, I have to buy that. That's where my son just proposed!' It's exactly like what it looked like; the sky was orange."
Opposite that special painting is a large photograph by Andrew Cebulka. Taken from a bird's eye view, the Williamson boys are lying in the surf as a wave rushes in around them. The image is relatively simple, but the saturated colors and the humor of the moment are striking. "I like blending old and new, photography and painting," says Allison.
There's a large, stunning abstract by local artist Brian Coleman that hangs prominently in the dining room that is extra special to Allison. "I loved this piece in particular and I kept looking at it. Then the Emanuel shooting happened, and he donated this to the auction at Charleston Place. I walked in and I was like 'Oh my gosh, that's the painting I've been looking at, I'm bidding on it!' It has this double special meaning, because the money went towards [Mother Emanuel Fund] and then he wrote a sweet email about why he donated this painting." Coleman's grandmother passing had compelled him to donate that particular painting. The work is certainly one of Coleman's strongest, and it simply shines against the sea of grey wall above the fireplace.
FINDING YOUR FIRST LOVE
Allison ran a Russian art gallery in Park City, Utah for five years, where she became fascinated with Russian Impressionist art, and it allowed her to build a large collection of artwork.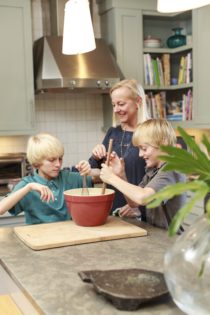 Slava Roubanov is another Russian artist whose work Allison fell in love with. His work is all over their home. "I love his work. There's always something emotional or dramatic in them," she says.
"Impressionism was the first art trend that I fell in love with. I did some classes with Parsons School of Design in Paris. We visited all the art museums and learned about the masters, and focused on the Impressionist era, so that's why I was really drawn [to Impressionism]."
Allison worked as a curator for the Don ZanFagna collection to help uncover his incredible catalogue of artwork. Decades of ZanFagna's work had been packed away from sight. After the work was properly unearthed and catalogued, three museum shows were organized. She became quite close with the family through the process, which made ZanFagna's paintings and drawings in her own collection even more special to her.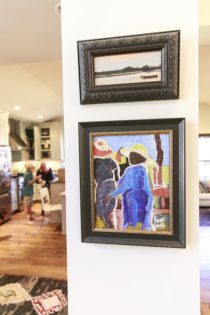 In 2010, Allison created the Charleston Artist Collective, an online gallery of local artists who create new works based on a theme each month with a percentage of sales being donated to a local charity. "It's a very diverse group of artists. I wanted to have some representational artists, some abstract, Squeakie's a Folk artist. Some of the artists find me, some I find, to round out the group that we have," she says.
Giving individual attention to each of her Collective artists is very important to her. The entire Collective meets quarterly to discuss themes, charities, and shows, but Allison's home is a revolving door; "The artists have been coming in here daily for six years!" Since our interview, Allison has opened a new brick-and-mortar space in the Old Village of Mt. Pleasant and launched Capitol Artist Collective in Washington, DC. The local artists and local giving focus of the Collective model have attracted new artists and directors from the offspring cities. It's grown from a part-time gig into a four city, full-time endeavor, and the artist roster only continues to improve.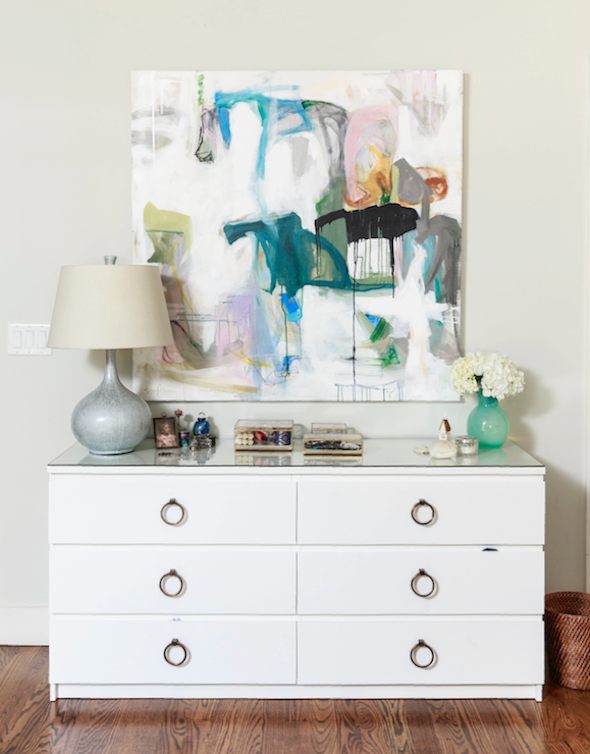 EMBRACING CHANGE
"This wall is always evolving; we constantly change it." This rotating gallery wall is filled with Charleston Artist Collective work, treated with an emphasis on approachability. Allison utilizes a wide variety of frames and styles of artwork that makes the wall dynamic, with depth and dimension, energy and balance. The eye constantly moves from painting to painting. "These don't even have frames; they have Velcro strips!" On closer inspection, Allison has indeed used Velcro to hang several of the unframed painted panels.
A clerestory of windows brings in loads of light to the central rooms of the house, bouncing off the color and lending an airy, bright feeling to it all. "When we bought it, the kitchen was right in the middle of the house. There was this little door into this dark room over there. The fireplace was double-sided, but brick. We just opened it all up; we wanted to make it a real family house. From the kitchen sink I can see the boys' room; it's a real open floor plan. Every room is lived in," Allison says.
In the entryway lives a stunning, large-scale bottle cap painting of Frida Kahlo by Molly B. Right. It sparkles and changes throughout the day as the light changes. "I was in [Molly B. Right's] studio with some clients who commissioned her to create a Salvador Dalí. I turned around while we were having that meeting, and there was a Frida on the easel…I don't think I've ever fallen in love with something so fast!" After seven months of searching for the right image to commission Right, Allison finally decided on this particular image of Frida Kahlo against green wallpaper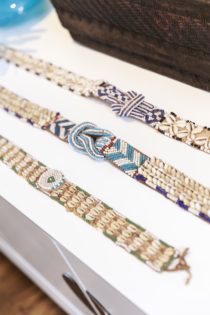 adorned with flowers. As fate would have it, Right was already working on a new Frida based that exact image, and it was just a week away from completion. "So I knew it was meant to be," she says.
"We have a lot of African pieces mixed in… they're true works of art to me." Old African wedding boxes, bracelets, belts, chokers, and sculptures are blended in among the contemporary objects underneath the bottle cap Frida and throughout the house. Before he was born, Bright's parents lived in Africa, where his father worked as a doctor. Allison has gathered objects old and new, from the family, from their travels, and expertly layered them throughout their home. Bold patterns and bright colors are cleverly contrasted with neutral objects to give balance to the space.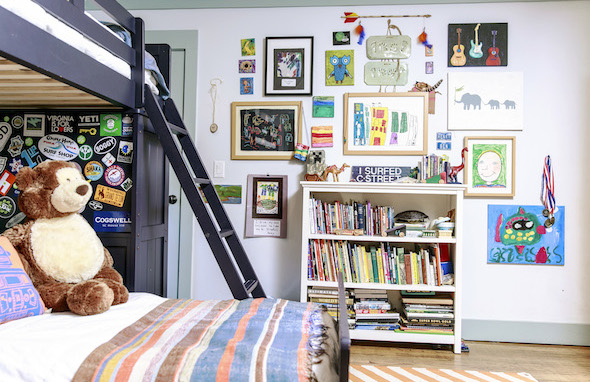 Allison and Bright's twin 10-year-old sons are boys, through and through. Their room is filled with their own collections of small artifacts, just like their mother used to collect as a child. The boys have attended camp at Huck Finn School in Mt. Pleasant, where they learn to make all sorts of things with their hands. Their log cabins, tomahawks, and miniature pinball machines fill the room.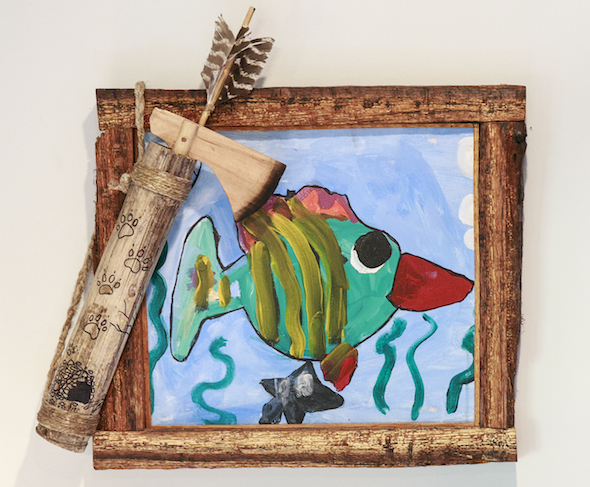 It is perhaps their philosophy to collecting artwork that makes the Williamson's home so inviting and engaging: choose images and objects that have special meaning and surround yourself with them. Each one will bring you back to a memory, and serve as celebration of the special moments and the ones you love.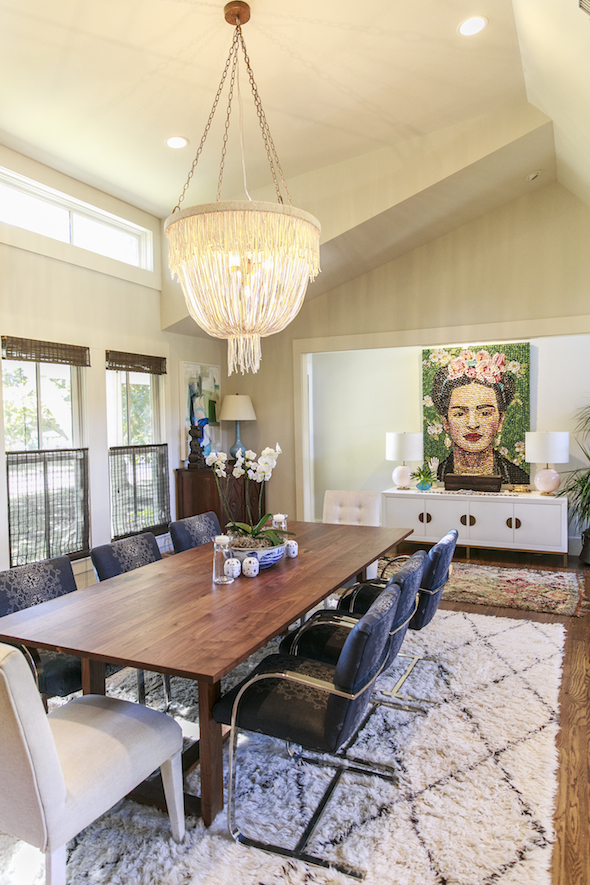 ---


---
Stay Connected



Visual Artist Profile
Found Objects: Matt Wilson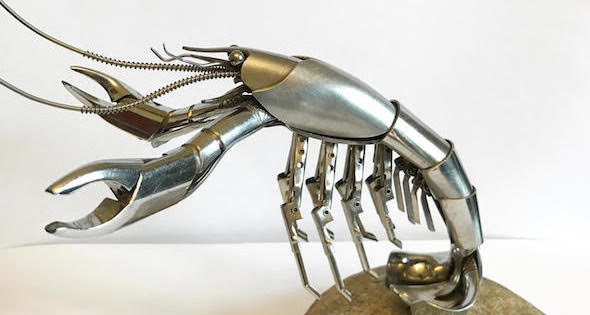 ---
35 Years of Visual Arts
Southeastern Wildlife Exposition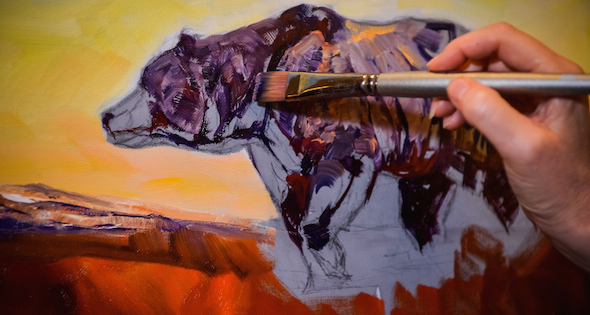 ---
Upcoming Exhibition
Painting A Nation: Hudson River School Landscapes at the Gibbes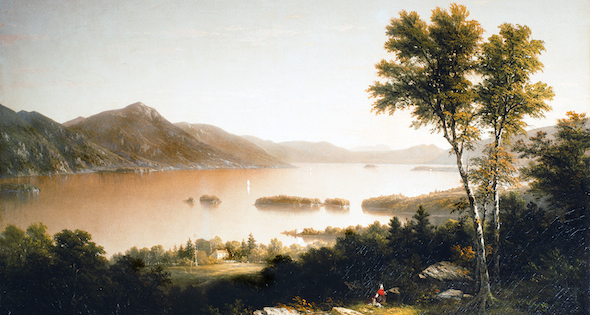 ---

Posted in Visual on January 12, 2017 (Winter 2017) by Matt Mill.