Collectors: Marion & Brandon Blount
Building a Life Surrounded by Art
Marion and Brandon Blount sit relaxed in their living room, reminiscing over how they got here. 'Here' being their Charleston single house in downtown's Elliotborough neighborhood, surrounded by art and the things that make them happy.
Before the Blounts bought the house in 2012, they lived in a very small apartment in the French Quarter. "On Church Street we didn't have that much," says Marion. "We brought our dining room table and nothing else really. When we moved in we maybe had three pieces of art."
Moving from a small apartment into a larger house, the couple struggled with how to fill it. "We want things that we're proud of and not things that just fill space. That takes time, and it takes effort, and you have to give yourself the time to understand what you like," says Brandon.
Their similar interests turned the task of decorating their new home into a passion they enjoy together. "We're both really interested in original art," says Brandon. "Part of it is just the excitement of realizing
that you're both really into it."
Marion grew up surrounded by art. Her parents are collectors, and both her mother and grandmother are artists. Spending time in Marion's family home developed Brandon's interest in buying art for their own. "It made her house feel special," Brandon recalls, "there was a lot of thought put into each piece hanging on the walls."
TASTE MAKERS
As young collectors, exposure to a variety of art expanded and defined the couple's evolving tastes, and they use travel to continue to refine their predilections. "When we travel, all we do is go to museums," says Marion. "Just being exposed to it makes you naturally curious," says Brandon.
The couple builds their art collection by bringing home a meaningful piece from every trip they take. In Croatia last summer, they bought a watercolor of the terracotta roofs to remember their honeymoon by. "That's the best vacation I've ever been on in my life," says Brandon. And that feeling is replayed each time he sees that piece. "It's one of the most significant pieces of art that we own. And it's because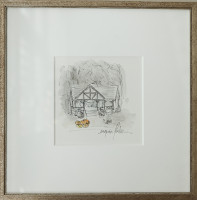 of that connection."
"I agree," says Marion. "And our little pen and ink drawing," Marion says, motioning to the drawing of a chapel that hangs by the front door. "That is where we got married," says Brandon, "that is one of the coolest things we have."
"You're going to say that about everything," Marion laughs.
But it's true. So many pieces are a physical representation of a moment that defines them and their happiness. Their house is full of these stories that make every piece significant.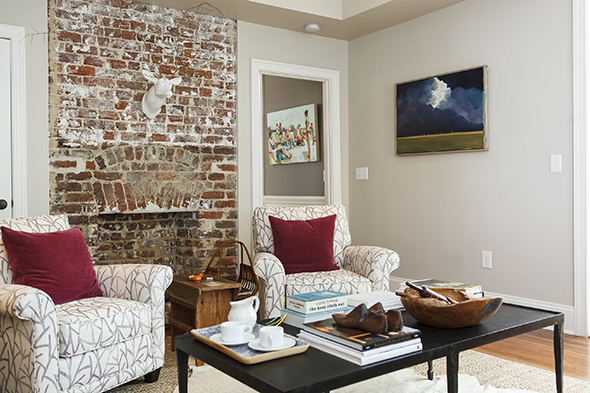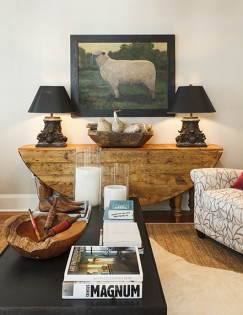 THE LIVING ROOM
In their comfortable living room, a white ceramic deer head hangs above their fireplace, affectionately named Billy-Buck, in honor of their original Billy-Buck, a cardboard deer head who met his demise back on Church Street. A large sheep painted by Marion's grandmother hangs against one wall and a landscape of Beaufort, SC, where Marion grew up, hangs on the other. An abstract face painted by Sally King Benedict hovers above the couch. This was their first compromise piece; it's abstract but still a recognizable face. It served as a tipping point for the couple and confirmed their mutual growing affinity for abstract art.


THE DINING ROOM
The Blounts eat most meals in their dining room and frequently enjoy hosting dinner parties. The room features a painting by Teil Duncan that they won at an art auction, and an Italian landscape, a gift from Marion's grandmother to remind her of her summer abroad there. Afghan pottery that has been passed down adds to the décor, but the star of the room is their collection of ceramic dinnerware that is so proudly displayed.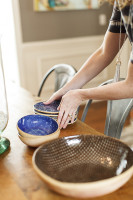 "Honestly, we didn't register for fine china because I wasn't interested in that," says Marion. Instead, the couple registered for dinnerware from Terrafirma Ceramics, a pottery studio in NewYork City. The workmanship that goes into making each plate, along with the visual patterns and textures, spoke to the Blounts.
Since then, Marion's passion for handmade ceramics has turned into a bit of an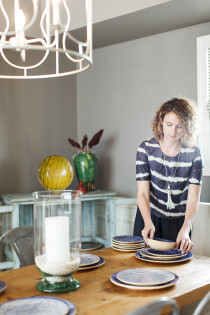 affair, and she talks about it the same way she talks about collecting art. "Selecting patterns is kind of like selecting art," says Marion, "because you're mixing these patterns, and you're like 'oh I hope these go together.'" She has handmade Montes Doggett cups that she loves to mix in with her tablescapes. "Those are unique to me," Marion says, "because they look like white pieces, but when you get closer they all have a unique ridging or pattern." The couple is also close with potter Brantley Burns, of Crest of the Potter, who is a childhood friend to Brandon. "We do have a good collection of his [pottery]," says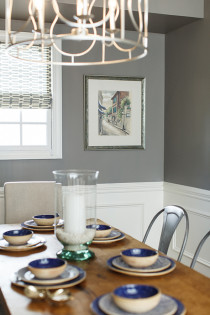 Brandon. "It all goes back to knowing somebody and having a reason to buy it," Brandon continues. "We don't necessarily seek out the best or most exquisite thing, but to know how something is made and who it's made by is a big part of the decision."
For Marion, shopping for new ceramics to build this collection is about the visual experience. It's an act of discovery for her, preferring to see, feel, and understand the process of how something is made before bringing it home. This same care and consideration she shows when shopping is reflected in the way the couple entertains. Creating tablescapes and presentation is Marion's creative outlet, and she has a palette full of options. "Pulling out what works, what matches, that's the enjoyable part," says Marion.
UPSTAIRS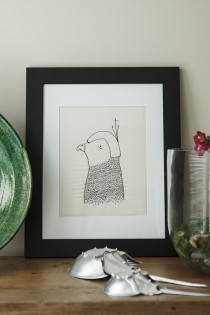 Brandon points to the stitched bird hanging at the top of the stairs. "I saw it and was immediately drawn to it," he says. Brandon won the piece by Michelle Jewell at a Redux Art Auction a few years ago. "In a weird way it reminds me of my grandmother." It triggered an emotion so intense that he had to have it, and it was the first time Brandon ever purchased a piece without Marion's input. "It made me remember something…I just had to do it," he says.
The study is filled with a mixture of paintings by Marion's grandmother, the painting they bought on their honeymoon in Croatia, a piece from a family friend, a sketch by her father, and a black and white photograph by Marion. "This gallery wall was a long time coming," Marion says. "I was hoarding small little pieces for a while."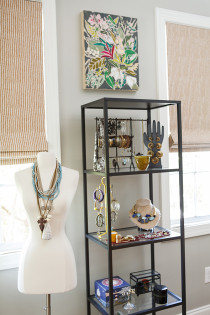 Their bedroom is open, with exposed beams and a high ceiling. The eye is immediately drawn across the room to the colorful jewelry prominently displayed; this is clearly another collection that Marion is proud of. Local designers make up a majority of the jewelry, most of whom she has a personal connection with. She even has a necklace named the "Marion" after her by jewelry designer Hayla Dewitt.
Above this collection hangs a painting of Marion's wedding bouquet that the couple commissioned from local artist Lulie Wallace. "I went to college with Lulie so there's another connection there," says Brandon.
Four framed sketches by Marion's father hang next to their bed. "These are my dad's cartoon drawings," Marion says. They're similar to what he would draw on her brown lunch bags every day growing up, complete with silly little phrases. The little pieces of art that he created for her on a daily basis surely fostered Marion's affinity for art and artists.
THE HUNT
"Early on, the things we could afford were smaller pieces," says Marion, "and now we're looking for pieces that are a little larger to fill larger walls." Taking this next step can be daunting for young collectors. A larger piece usually comes with a larger price tag, and art becomes more of an investment.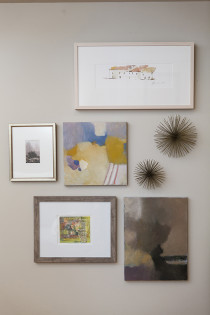 They've been looking for their next piece since January. "Part of that is definitely the financial obligation, stepping into a new realm of arts," says Brandon. The couple predicts their next piece will be the nicest they'll own.
They are actively on the hunt for that next piece, and while they've come quite close, they haven't found it yet. "I went through this Tim Hussey phase where it was all I thought about for two months," says Brandon. "I found the piece I wanted, and we just didn't pull the trigger on it." The piece wasn't quite perfect for them. "That was 'me' wanting something and not 'us' wanting something," Brandon admits. The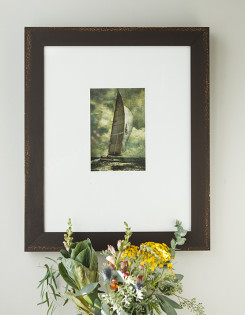 silver lining is that when you come really close to buying a painting but don't, it makes you more confident in the decision when you finally do. "The times where it has been perfect," Marion adds, "it's been such a quick decision."
BUILDING YOUR COLLECTION
Last year, they decided to buy a new piece of art for their anniversary each year."That is a fun way of knowing that you're always going to grow this collection," says Marion. It provides another level of meaning and purpose for their collection. "We're doing it for each other," says Brandon.
Walking through their house, you can tell that it's true. Everything has a story and a memory they can constantly relive. They have surrounded themselves by art that represent very high, happy moments in their life. "Whenever you're in one of those peaks in life, go grab something! It can be 25 bucks, it's not about how nice it is, it just needs to be something that you like, that you want, and that captures the moment," says Brandon.
"It's cool to have this experience of talking about it," says Brandon. Going around to every piece retelling the reason and story behind it is a powerful feeling. "It validates the fact that it's good to buy art," says Marion. "That obviously makes us happy and impacts our house."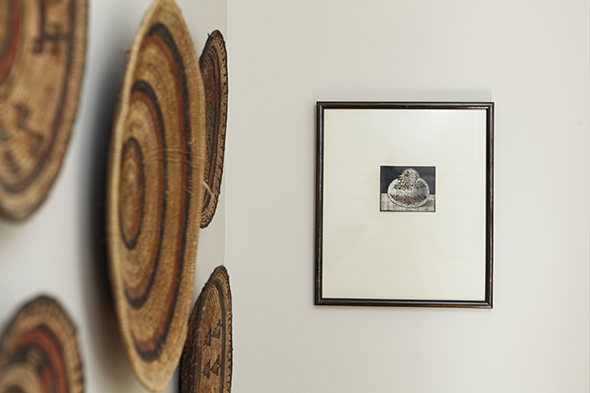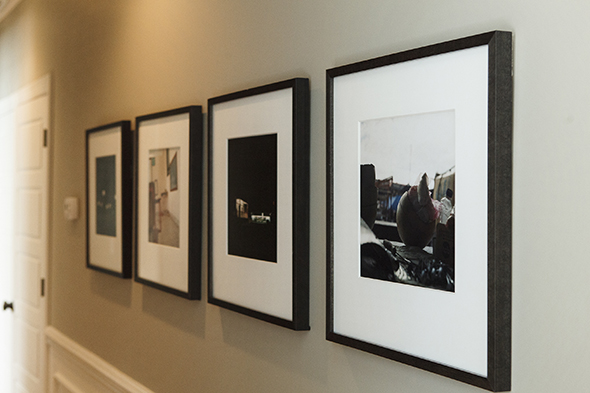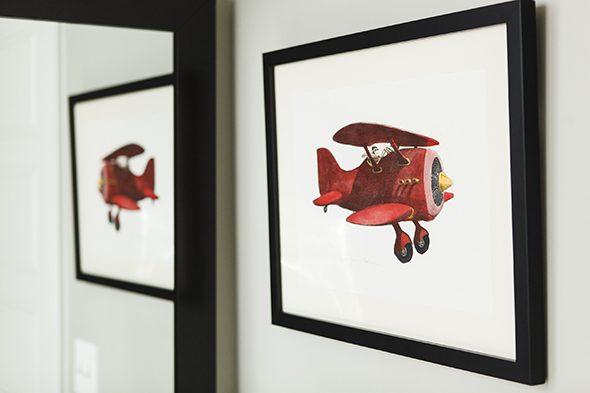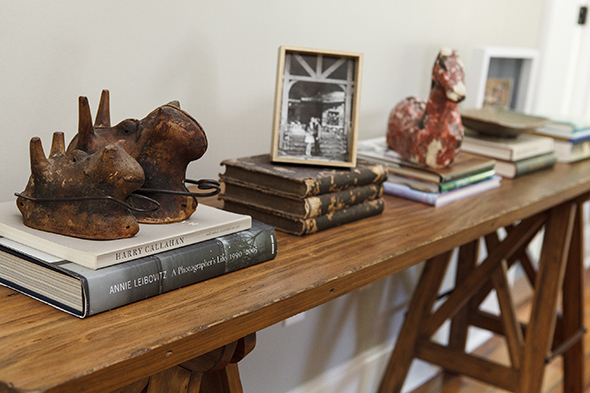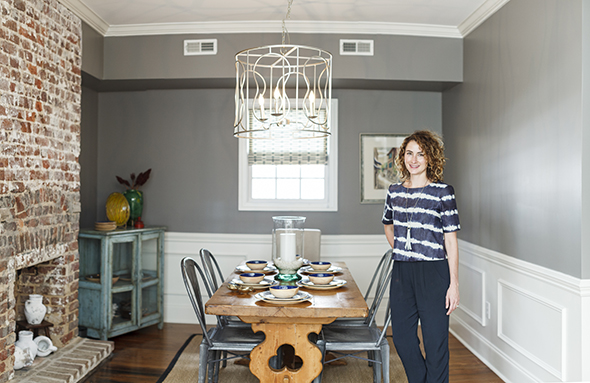 Posted in Visual on October 2, 2015 (Fall 2015) by Matt Mill.