Coney Island, 1917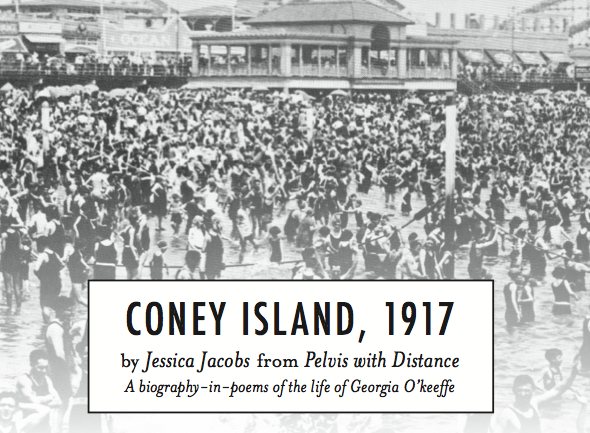 Geogia O'Keeffe, with Alfred Stieglitz
Two-thousand miles from Texas,
this is less an island than Brooklyn
dipping a prim toe into the grime
of Gravesend Bay. It is Decoration Day:
bunting and ticker tape, black-suited
bathers creaking the boardwalk.
Inland, we stroll the midway, where
grease rides the air as ochre foam
rimes the water. There is the tune
and hitch of player-pianos, penny
arcades; barkers touting the ring-toss,
the high-striker. "Two wallops
for a nickel, five for a dime. Win a Kewpie
doll for your cutie pie, an armadillo
basket for her arm." Alfred offers
his arm instead. My fingers notch
in his elbow. The sky turns
cobalt threaded with ivory. Sun full
on my face. With the heat, something
surfaces. We walk; I listen; I talk
when seems called for, but all the while it
rests in my chest: not love, exactly—not
yet—but wanting, purely felt. He touches
my shoulder, steers me to the moment
the diving coaster car meets its shadow,
and my ribs compress around breath,
forming—What? I am back in that Texas
canyon, canvas collecting sack near to tearing
with chalcedony eggs whose outer plainness
belied inner holdings — manganese, copper,
chromium, quartz. The secret to geodes,
though, is to break them. Otherwise: fused
crucible, hollow repository. I watch
his mouth but do not hear what he's saying.
---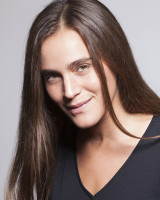 Jessica Jacobs is the author of Pelvis with Distance, a biography- in-poems of the life of artist Georgia O'Keeffe, published by White Pine Press in April 2015. She holds an M.F.A. from Purdue University, where she served as the Editor-in- Chief of Sycamore Review, and a B.A. from Smith College. Her poetry, essays, and stories have appeared widely in publications including Beloit Poetry Journal, The Missouri Review, Rattle, The Oxford American, and The Academy of American Poets' Poem-a-Day series. An avid long- distance runner, Jessica has worked as a rock climbing instructor, bartender, editor, and professor. Jessica is now serving as faculty at Writing Workshops in Greece, Sewanee Young Writers Conference, and as the 2016 Hendrix-Murphy Writer-in- Residence at Hendrix College in Conway, AR. She lives in Little Rock with her wife, the poet Nickole Brown.
Jacobs and Brown will give a reading and seminar with the Poetry Society of SC on NOVEMBER 13-14, 2015 at the Charleston Library Society. Learn more at poetrysocietysc.org.
Posted in Literary on October 2, 2015 (Fall 2015) by Matt Mill.