Alex Lira of The Lot
Chef Alex Lira's kitchen and persona is unassuming, much like the restaurant he runs on James Island adjacent to the local music venue, The Pour House.  If you are looking for that amazing gem off the beaten path that you simultaneously want to rave about but also want to keep all for yourself, this is it.  The Lot is a unique farm-to-table establishment that will blow you away.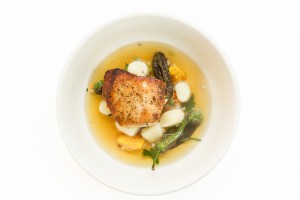 Lira came to us by way of New York, working in the kitchen at Tom Colicchio's Craft, and Marlowe & Daughters in Brooklyn, a whole animal sustainable butcher shop. 
"Working in Brooklyn, I learned that when you take out the fine dining element, there's a lot more room for focusing on the food itself," explains Lira, while he multitasks by stuffing sausage inside the kitchen and smoking meat outside. 
This holds true at The Lot, where the ambiance is laid-back, the personalities of the waitstaff are encouraged to shine, and the menu is impeccable.
"Our menu changes daily, and we don't know much ahead of time what will be in from the farm.  Once we find out, the staff meets to throw out recipe ideas.  This keeps us from monotony," said Lira.
As you might guess from his history, butchering is one of Lira's specialties.  He relies on Holy City Hogs and Keegan Filion to sustain offerings on the menu such as the house made sausages and the popular Trotter Cake—braised pork with a sunny farm egg, Dijon and a house pickled mustard seed.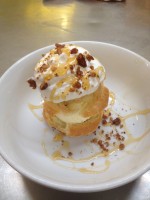 Lira loves Charleston's adventurous clientele.  For the "hippie" crowd that frequents the Pour House next door, the bar menu offers the "Stoner Favorite," a Poutine made with French fries, chicken stock, bacon gravy, and cheese curds.
Though there's a lot of it, the menu is not all pork.  Veggie lovers can get The Farmer's Pick—a selection of vegetables fresh from the farm.  Additionally, the portion sizes are strategically perfect and realistic for feeling good when you leave.  
"Brunch is a different story," Lira smiles.  "It's meant to prepare you for a good nap afterwards."  And definitely don't miss one of the exquisite homemade desserts made by Pastry Chef and General Manager Chelsea Damewood.  They are worth the trip just by themselves!
So prove Chef Lira right—be adventurous and leave the peninsula.  We promise, The Lot is worth the trip.
Fun Facts:
One of Lira's favorite out-of-the-way spots is Phuong in North Charleston.
To get reinvigorated, he takes a trip to Montreal or NYC and hangs out in the kitchens of friends.
He loves his motorcycle.
words: Christi Hardin
images: Provided
Posted in Culinary on March 28, 2014 (Spring 2014) by admin.