Jill Mathias of Chez Nous
"It's a labor of love," explained the foursome on the patio hidden behind King Street's popular wine bar.  Quite literally.  The newest restaurant on the Borough block is the brainchild of two couples—Patrick and Fanny Panella, owners of the beloved Bin 152 (a wine and cheese bar), and Chef Jill Mathias and her fiancé and Sous Chef Juan Cassalett.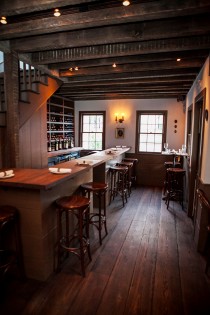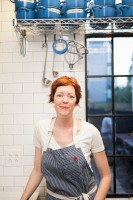 Chez Nous, translated simply "At Our Place," was originally going to be the Panella's home. Cozy and hidden in an alleyway, the nearly two-hundred-year-old-house has now been converted into a restaurant with seating for around 30 people.
"It's my dream restaurant because it's small enough that I can cook what I want," gushed
Chef Jill Mathias as she prepared a meal for their weekly meeting.  These "meetings" have been happening over the last eight months in which the team meets over the dinner table to rate dishes and discuss how to get each one to a state of perfection.  Now those sound like fun meetings!
There are guidelines—the concept focuses on classic dishes and wine selections from Southern France, Northern Italy and Northern Spain.  "You won't find any ingredients on the menu that aren't cooked or grown in these regions," explained Mathias, who spent many winters in Italy.
With décor that is true to both the original architecture and the culinary vision, the restaurant is modeled after those you would find in this particular area of Europe—a family in the kitchen, portraits adorning the walls and simple, fresh ingredients.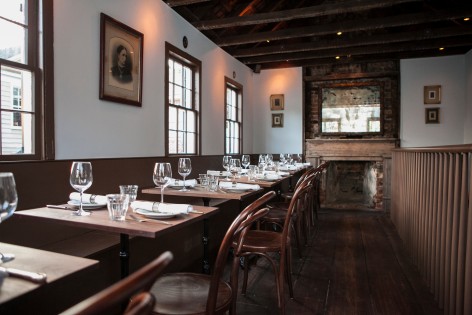 Changing daily, the menu, written on antique mirrors hung over the upstairs and downstairs fireplaces, features only two appetizers, two entrees, and two desserts, with each dish written in the native language.  During the spring, Mathias says that you can expect lots of seafood and fresh fruit-inspired Tarte Tartins on the dessert menu.
"It's been exciting to research and experiment with the different ingredients and dishes in this region," says Mathias.
We're excited too.  Welcome home, Chez Nous. 
Fun Facts:
Mathias is originally from North Dakota.
She met Chef Jeremiah Bacon while working in Martha's Vineyard.
Her most adventurous foodie experience—cockroaches in Thailand.
words: Christi Hardin
images: Karson Photography
Posted in Culinary on March 28, 2014 (Spring 2014) by admin.