Hollis Hammonds' Worthless Matter
Family history and personal experiences are often endless fuel for makers, from fine art to fine craft.  Hollis Hammonds channels both in her work, where found objects take on a post-apocalyptic amalgamation.  But how does an artist arrive at such a place? 
Hammonds currently resides in Austin, Texas, a celebrated haven to eccentric, artistic types.  She grew up in semi-rural Kentucky, the youngest of Depression-era parents.  Any child or grandchild of Depression or WWII survivors can tell you there is a considerable amount of hoarding that they are prone to.  Growing up, her "surroundings were those of Cold War stockpiling, knickknack collections, and junk-yard recycling."
The family survived a house fire when Hammonds was in her teens; the lasting imprint of these charred knickknacks and keepsakes echoes in her current work.  The uselessness of ephemera that we so desperately cling to is central to her exhibition, aptly titled Worthless Matter, a comment on "the impermanence and worthlessness of superficial possessions."
"The loss of my childhood home to fire also had a significant impact on my work, especially my more recent charcoal drawings.  I've honestly tried to strip the sentimentality out of my work, but it is so present in my subconscious, that even when I think my work is about global issues like consumerist excess, climate change, and wartime destruction, my personal sub-narrative reveals itself," said Hammonds. 
Hammonds' work often features tsunami-like waves, surely coming to envelope the viewer, or piles of found objects, as if a tornado has just struck.  Hammonds examines our material consumption and waste, "often illustrating imaginary piles of debris left after fictional natural and man-made disasters," according to her artist statement.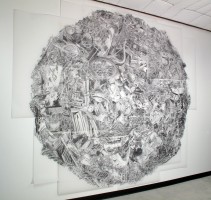 For her exhibition at Redux Contemporary Art Center in May, Hammonds will construct a site-specific installation during her brief residency.  Her work should add an interesting dynamic to the dialogue regarding the dramatic rise of natural disasters we've seen both at home and abroad, from flash flooding in the streets of downtown Charleston, to devastating hurricanes, tsunamis, earthquakes, floods, and more all over the world.
"For instance, in 2011 hundreds of tornadoes swept across the Midwest and the South in a couple of days, killing hundreds and destroying whole towns.  Although essentially tragic, I found the superficial piles of objects, homes and debris visually compelling and conceptually loaded," she said.
Hammonds' work is exceptional in terms of execution and concept. See the work for yourself and meet Hammonds at the opening reception of Worthless Matter on May 16 at Redux.
words: Stacy Huggins
Posted in Visual on March 28, 2014 (Spring 2014) by admin.