John Duckworth : AWAKE
November 7 – December 21, 2014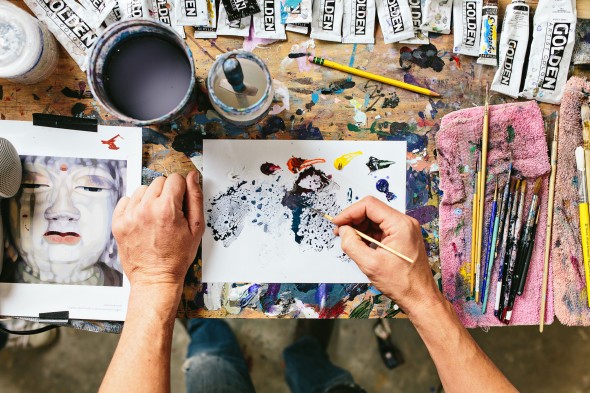 John Duckworth is about to shatter all the conditioned expectations of the traditional gallery opening.  Instead, he hopes to give you an immersive experience that will fully engage you.  There is something refreshing about the promise of a wholly different experience that casts off all the standard fare, and you'll literally, need to be all ears.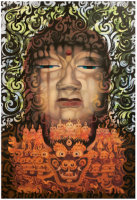 Duckworth has an ambitious plan to completely transform the entire City Gallery at Waterfront Park, a very large space by any standards.  With the help of an incredible team, Duckworth will be constructing walls in order to create small spaces, not unlike small chapels or tiny temples.  There will be eight distinct rooms, and he plans take advantage of every available space, even the stairwell.
Have you ever noticed how listening to really great music during a walk through an inspiring setting allows you to really 'see' the scenery?  There will be headphones for each visitor, to be worn throughout the entire exhibition.  Duckworth has collaborated with musicians Quentin Baxter, Lee Barbour, and Duncan Sheik to create an accompanying sound track.  His hope is that it will help each visitor "drop in," and experience the mindfulness behind Awake.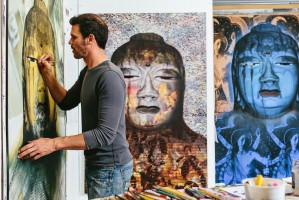 Why go through all this work?  Well the 'work' is what it's all about.  He is fascinated with Buddhism, meditation, yoga, and the pursuit of Truth that each represents.  Duckworth broke it down like this:  Tibetan Buddhism's appealing ornate imagery and the pared-down simplicity of Zen Buddhism "are two ways up the same mountain," he says.  The work must be done; whatever path is taken doesn't really matter.
And don't try to engage the artist at the opening.  Duckworth plans to be meditating during the opening reception.  If you see a line at the door to the gallery, that is because Room 1, where the 12-minute Awake video and meditation performance will be taking place, only accommodates 15 guests at a time. Duckworth hopes you'll come and experience the immersive, multi-sensory exhibition, and then head to dinner or drinks or walk the city streets with friends to discuss it.  Think of it as a theatre performance—no cell phones, no talking—but afterward everyone can rant or rave, depending on whatever Truth the "work" led them to.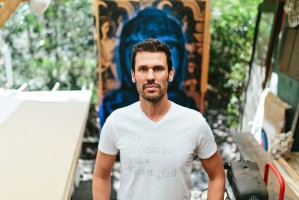 During our conversation, it became clear that Duckworth is not just mounting the same video/performance we saw at The Awakening, a one-day installation that local non-profit Enough Pie mounted in Summer 2013 at the 1600 Meeting creative working space.  That was merely a tiny experiment.  This is much more involved and the concept has evolved.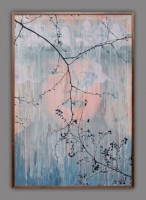 Awake will not just be a glimpse into Duckworth's life, or a taste of Buddhism or meditation.  If he is successful, you will be completely immersed in the environment he has created, and fully present in the moment.  The artist is and will be present, and he hopes you will be too.
Posted in Visual on September 26, 2014 (Fall 2014) by admin.