Kirsten Moran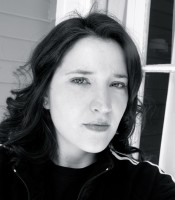 Kirsten Moran describes her recent paintings are a celebration of humanity.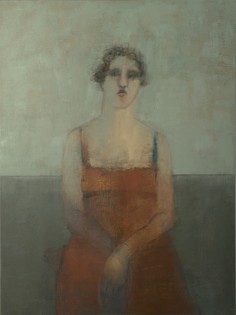 Most often inspired by the female form, Moran's muses are images of her young daughter as well as classic Roman and Greek sculptures. The ancient sculptures have particularly inspired her newest body of work. "They [the sculptures] are a point of departure and the painting gives them flesh," explains Moran. Sketches, under paintings and the thicker layers of oil and medium sculpt the features of the female faces portrayed.
An interesting juxtaposition between ancient and modern, there are also certain abstract elements in the works. "The abstracts are part of the portrait's environment; they are timeless and live together," she explains.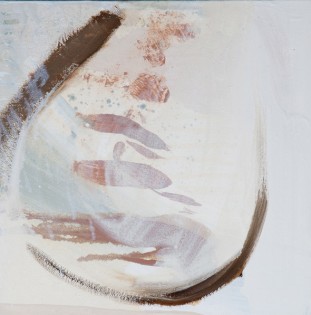 This newest collection is lighter in color and heavier in medium than her previous paintings and seems to exude a softer feminine perspective of the human spirit. As a M.F.A. candidate at the Savannah College of Art and Design (SCAD), she is challenging herself by changing her palette and taking a new approach in general. Departing from her warm-hued paintings her collectors have grown to know, Moran is now introducing white as well as cool hues of blue. This new light seems to have more inviting and engaging aspects than her more controlled paintings of the past.
"The painting is what you think it's about. If you have an emotion, go with that," suggests the artist.
Moran's studio is housed amongst her contemporaries amidst the studios at the Redux Contemporary Art Center and can be visited by appointment. Her upcoming solo show entitled "Unearthed" will be at the Flagship Gallery inside the Charleston Digital Corridor May 1 – July 30, 2012. This is a precursor to the SCAD show that she will be a part of when she graduates next Spring 2013.
Unearthed
On View May 1 – July 30
Artist Reception:
Friday, May 25, 5 – 8 pm
Flagship Gallery
475 East Bay Street
843.724.3773
Redux Contemporary Art Center
136 Saint Phillip Street
843.367.1831
www.kirstenmoran.com
words: Colleen  Deihl
Posted in Visual on March 11, 2012 (Spring 2012) by Art Mag.