Local Creatives Breathe New Life into 1600 Meeting Street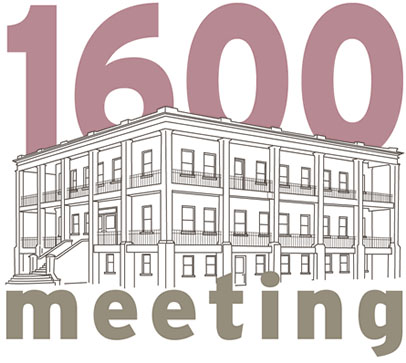 The eighty-five year old "sleeping giant" that is 1600 Meeting Street is about to be awoken by a handful of Charleston's creative entrepreneurs.  Located in the up-and-coming area of the northern peninsula, 1600 Meeting is about to be renovated into a hub of community and creativity, housing the offices of these awesome people and businesses that make our city such a fascinating place to live!
We've asked these random questions:
What song best describes your work ethic?
What was your most interesting life experience?
What is your favorite object and why?
If you were in charge of the world, what would you make happen?
Here are some of their responses…
Art Mag
theartmag.com 
Favorite object?
The Ark of Compassion painting by Randall LaGro. It reminds me to have more compassion for myself and others. My other object is my cowboy boots—from hiking to formal affairs, they're made for walkin'.
Your world?
I would make people more self-aware.  I would also want everyone to live by Don Miguel Ruiz's book, The Four Agreements.
Enough Pie
enoughpie.org 
Work ethic song? 
"This Must Be the Place" – Talking Heads.
Your world? 
Enough Pie for all!
Flyway
flywaysc.com
Favorite object?
Keys, pocket knife, tape measure, and obviously the Iphone, they are all tools that I use to conduct our daily business.
Your world? 
I would make sure everyone had enough to eat.
Old Whaling Company
oldwhalingcompany.com
Favorite object? 
My favorite would have to be the journals loaded with stories, quotes, and pictures I keep for myself, Michael, and the children. I love writing about a moment and going back to relive those great memories.
Julia Lynn Photography
julialynn.com
Work ethic song?
"Soulshine" – Allman Brothers Band.
Favorite object?
Photographs of my children when they were 2 and 6 months.
The FarmBar
Thefarmbar26.com
Work ethic song? 
"Make it Funky" by James Brown.
Your world? 
I'd ask everyone to share.  Ubuntu.
Francis Sills + Faith Evans-Sills
francissills.com
Favorite object?
Francis—My Moka pot espresso maker, because I can't live without coffee.
Faith—My camera; Taking pictures helps me see.
Your world? 
Everyone would have to eat their veggies and every school would have an Arts Program.
Melt Glass Foundry
austinnorvell.com
Work ethic song? 
"Don't Stop Believing"- Journey,  "Hot in Here" – Nelly,  "I Want You to Want Me" – Cheap Trick, "Lay Low" – Shovels and Rope,  "Push It" – Salt 'n' Pepa.
Most interesting life experience?
Walking into the glass studio at the Penland School of Crafts 10 years ago.  The sounds and smells changed the direction of my artwork forever.
Cortney Bishop Design
cortneybishop.com
Most interesting life experience?
Childbirth, and the life I have created
with my family since.
Favorite object? 
A 1920's French Mercury glass vase with hand painted flowers.
Angie Hranowsky Studio 
angiehranowsky.com
Work ethic song? 
"Skills to Pay the Bills" by the
Beastie Boys.
Your world? 
We would all walk the earth offering love
and acceptance instead of harboring fear
and resentment.
McKay Communications
mckaycomm.com
Favorite object?
My dog, Smith. He shows me what unconditional love is, each and every day.
Your world? 
More people would practice yoga. I think a lot of issues we face in the world today would dissolve organically if we began to turn inward, rather than constantly seeking "the answers" in outside influences. A regular yoga practice reminds you of this.
Good Done Great
GoodDoneGreat.com
Most interesting life experience?
For Good Done Great, the first time we helped our foundation clients make real choices of where to put their money.  Knowing that we were really helping to connect organizations with money to the meaningful projects, which produce lasting impacts in the community was awesome and humbling.
The Middleton Group
themiddletongroup.net
Most interesting life experience?
My most interesting life experience continues to be being a father.  Shaping the hearts and minds of our two children and seeing what they create is a fascinating experience.
Your world? 
I would banish bad design.
ByrdHouse PR
byrdhousepr.com
Most interesting life experience?
Studying abroad in Florence, Italy—it's the place that ignited my passions for food, wine, and travel, and I met my future husband while in school there!
Leapfrog PR
leapfrogprco.com
Favorite object?
Jackie—iPhone, as a small business owner it allows me to have a life outside of the office and be on the go.
Libba—My inspiration board, because I am equally as inspired by things put up there 5 years ago as the items I tack up today.  It's a little slice of where I've been and where I hope to be.
Lowcountry Local First
lowcountrylocalfirst.org
Work ethic song? 
"Strength, Courage and Wisdom" by India Arie.
Most interesting life experience? 
Travelling through New Zealand and Australia for a year in my 20's.  Being completely broke but still experiencing everything!
For more info on the renovation project, contact Kate Nevin of Enough Pie and Lindsay Nevin of Flyway.  843.296.1797, flywaysc.com.
words: Janae Tanti
photos: Julia Lynn
Posted in
on June 17, 2013 (Summer 2013) by admin.