Modern Wild
Nature has inspired artists since the dawn of time, from ancient sculpture to impressionist landscapes to photography. Animal portraits and wildlife scenes may be thought of as predominantly traditional in style, but these contemporary artists have a fresh perspective that proves there is wildlife art for all tastes. With a dose of whimsy, a nod to ancient and modern methods, and a hint of pop art, we're dubbing these "modern wild."
Rachelle Oatman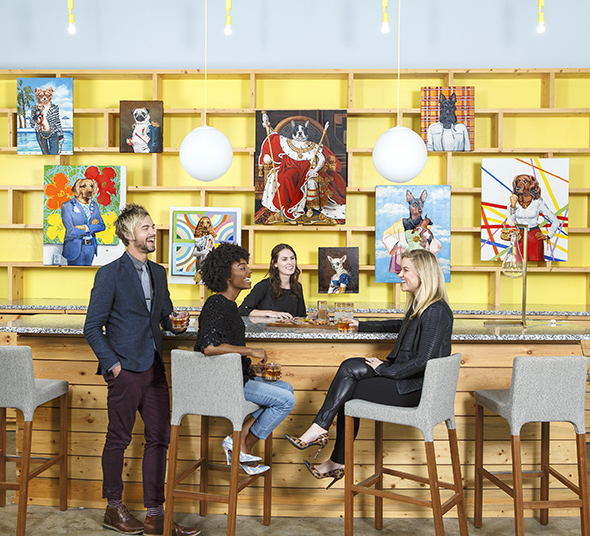 Rachelle Oatman's anthropomorphized dog portraits could put even the trendiest of us humans to shame. Combining history, high fashion, and a variety of lovable breeds, her playful scenarios are well-loved and collected internationally by clients such as Valentino and Princess Caroline of Monaco.With a creator who lives and works between Milan and New York City, it's no mystery where these classy canines get their style and savvy from.
 Colby Caldwell
Utilizing direct scans, large format digital printing, and wax coatings, Colby Caldwell's photography has shed nearly all remnants of traditional practice. His work continuously explores the myriad connections between photography and memory, and most recently has focused on the landscape's ability to record events. His lonely images of small birds and emptied shotgun shells—products of hunting found on his property—are a poignant reminder of the human footprint on the world around us.
Atelier Gallery
153 King Street
843.722.5668
theateliergalleries.com
---
Michele Kortbawi Wilk
Michele Kortbawiwilk channels her innate passion for animals into her painting, often situating her precisely rendered creatures in patterned, metallic environments that are equally unexpected and enchanting. Having worked closely with both exotic and domestic animals in her early career, Kortbawi Wilk is able to imbue a quiet intimacy into her images that sets them apart from the rest, allowing us to feel a connection similar to the one she shares with these majestic creatures.
---
By: Marjorie Rawle
Art Direction: Elizabeth Bulwinkle
Photos: Karson Photography
Posted in Visual on January 19, 2016 (Winter 2016) by Matt Mill.