Renée Stout – Halsey Institute for Contemporary Art
Are you in need of a good luck charm, in search of spiritual guidance, or help with your relationship? Conjure woman, spiritualist, seer, herbalist, and fortune teller, Fatima Mayfield is here for you. She's the alter- ego of Washington D.C.-based artist, Renée Stout, who returns, after a 17-year hiatus, to the College of Charleston's Halsey Institute of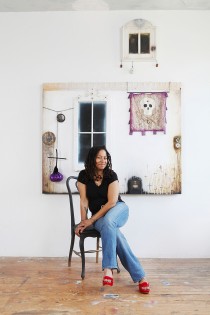 Contemporary Art with Tales of a Conjure Woman, featuring an array of work from the fictional Fatima's life and conjuring practice.
Through humor and role play, Stout is able to use this persona as a vehicle for self-discovery and examination of everyday human experiences: love and relationships, health, wealth, societal is- sues. Through a variety of media, including paintings, drawings, and mixed media sculpture, Stout creates the objects that Fatima would have need of in her environment and practice, including talismans, charms, potions, and amulets.
Stout first gained national recognition in 1993 with the exhibition Astonishment and Power at the National Museum of African Art in Washing- ton, D.C. Tales of a Conjure Woman will present a tremendous amount of Stout's most recent work and is being co-produced by the Halsey Institute, the Museum of Fine Art at Spelman College in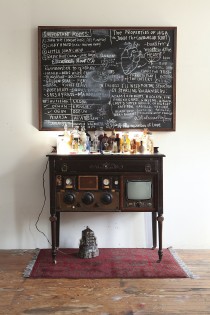 Atlanta, and the Wellin Museum of Art at Hamilton College in Clinton, New York. The show will also travel to the American University Museum in Washington, D.C. and other locations through 2015. Don't miss the opportunity to explore this unique and fascinating show during its premiere in Charleston, and attend tours and talks by the artist and other collaborators including Dr. O., local Gullah conjurer and adjunct professor at College of Charleston, and Atlanta- based award-winning poet, Kevin Young.
words: Jessica Dyer
Posted in Visual on September 20, 2013 (Fall 2013) by admin.