Sarah Boyts Yoder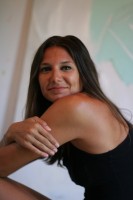 Meeting people like Sarah Boyts Yoder is the greatest part of my job. Artists are fascinating, inspiring, and stimulating creatures, who have an ability to see a larger scope of humanity and interpret that on canvas. Yoder is a perfect example of an artist's artist. Her philosophies on art, and life as a whole, made for one of the most enjoyable conversations I've had in ages.
As an artist and a mother, Yoder is an incredibly busy woman, so time in her studio is limited. Therefore she must be efficient, and says, "you must trust your instincts."
"Everything is connected, and everything is fair game for inspiration," Yoder says. She pulls from the high and the low, from children's book illustrations to art history. She sees the extraordinary in the mundane. Through repeating an image, like the patterning of a fox's ear from Richard Scarry's children's book Busytown, she is changing its meaning and elevating it to a new one.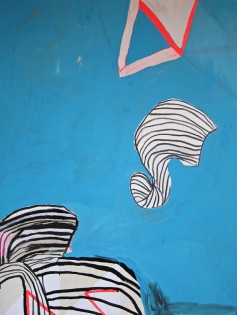 Yoder presents the beautiful and the awkward side-by-side. Her latest works on paper–collages–feature a horizon line separating two distinct and opposing images. Her large canvasses are "more sensual," she says. Yoder relishes the paint itself, the process, and the muscle memory involved in painting.
Yoder utilizes both traditional and unusual mediums in her work–from oil paint to house paint to the crazy gel pens that she finds at the drugstore. She enjoys the unpredictability of the mediums–how they will react and interact on the canvas or paper.
Her home is like her work: both serene and beautifually chaotic. Chickens roam the backyard. Inside are two small, joyful children and a husband who sacrificed his tool shed to turn it into her studio.
Meet this enchanting artist yourself at her show on November 9 at Michael Mitchell Gallery.  You'll be enchanted too.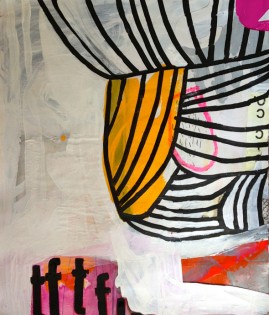 some of my favorite ideas from our time in Yoder's studio:
It is okay for things to be both precious and temporary–enjoy that special thing for what it is, but realize it can be changed
Everything is connected, and everything is fair game for inspiration
The greatest fear of an artist is that their work will not affect someone, and therefore is irrelevant
The greatest compliment to an artist is when a patron finds new meaning in their experience of the artwork
And best of all: don't take everything so seriously
words: Stacy Huggins 
Michael Mitchell Gallery
438 King Street
843.564.0034
michaelmitchellcharleston.com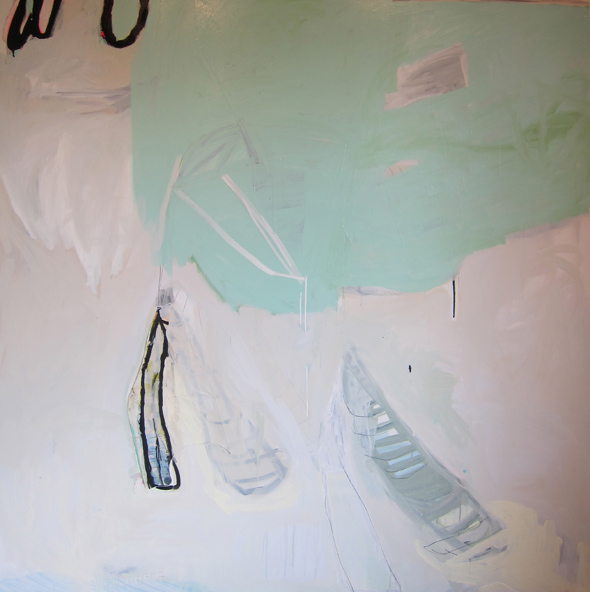 Posted in Visual on October 10, 2012 (Fall 2012) by Art Mag.