Timothy Banks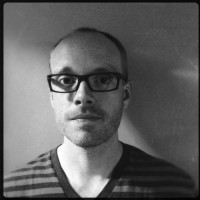 Artist Timothy Banks, illustrator/educator, is a poster child for doing what you love. When you trust your instincts and stay true to your artistic and personal identity, you will naturally find success. But Banks has worked hard for every milestone of success along the way.
Banks grew up in Asheville, NC, where he attended a small Christian school. He then studied at Bob Jones University in Greenville, SC, a devout institution with a solid art department. Banks then moved to Savannah, GA for graduate school at Savannah College of Art and Design, where he met his wife Erin.
While interning in Atlanta, Banks was frustrated trying to fit in freelance work with a full time job and still make art. When he saw an opening at the Art Institute of Charleston, Mr. and Mrs. Banks made the move without a moment's hesitation. "Charleston has helped me so much. I've finally learned to be myself," says Banks.
Illustrators sometimes struggle with being compared to cartoonists, or being considered "below" an artist. Banks has spent years "fighting imagery that comes off cartoony," and has found a cohesion between his illustration and art. "For a long time, I worried that people wouldn't like that, but they do–the work is naturally dovetailing."
"In the last six months, things have really picked up for me. I'm finally getting back to sketching–what I do best. It makes my work more interesting, more me," he says. Banks works in many mediums–digital illustration, pen and ink, watercolor, and acrylic paint.
In Banks' opinion, the definition of 'art' is expanding. The digital and web worlds are bridging digital to illustration to fine art. Banks is pleased as punch that he gets to do that from "a beautiful, smaller town in the South. Charleston is so much more nurturing. It's what I want my life to be, and I'll fight to keep it that way," he says. Keep fighting the good fight, Timothy Banks. We're with you all the way.
words: Stacy Huggins
timothybanks.com
@teabanks
Posted in Visual on October 10, 2012 (Fall 2012) by Art Mag.