Marcus Amaker is a man of many talents: he writes, he designs, he performs. Simply put, he is the Renaissance man of Charleston. Amaker recently published his fourth book of poetry, The Present Presence, and will perform his latest works on June 8 as part of the Piccolo Spoleto Festival.
Describing his inspiration for The Present Presence, Amaker says he stepped outside of himself and viewed feelings and situations from an alternative perspective than his own.  The result is a book of poems that speaks to anyone who has ever been in love, felt joy, or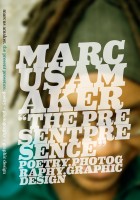 experienced sorrow. Each poem reaches in and evokes a different emotion, leaving the reader with eyes full of unshed tears and a smile on their mouths.
As part of the Piccolo Spoleto Sundown Poetry Series, Amakar will take to the stage with this latest collection of poems at the courtyard of the Dock Street Theatre at 6:30 pm. The event is free and open to the public, and we strongly encourage you to go. The performance is guaranteed to be moving and mesmerizing. A reception will immediately follow at the Charleston Artist Guild Gallery.
Buy a copy of The Present Presence online at Amazon or head to one of the many local shops that are carrying the book, including JLinSnider and Blue Bicycle Books.
We'll see you at the Dock Street Theatre! Bring your friends. And a handkerchief.
Words: Janae Tanti
Posted on June 4, 2012 by admin.
Categories: Literary Arts, Performing Arts, Preview
Tags: Blue Bicycle Books, Charleston Artist Guild Gallery, Dock Street Theatre, Jlinsnider, Marcus Amaker, Piccolo, Piccolo Spoleto, Sundown Poetry Series