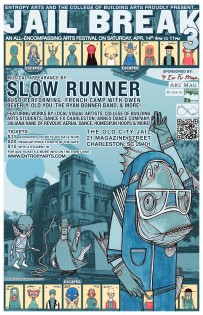 Jail Break has become one of the most fun, locally driven arts festivals, featuring the copious amounts of talent from our own backyard.  There are opportunities for visual artists and artisans of all kinds, and we highly suggest you get locked in!  (har, har)
Here's what the folks at Entropy Arts have to say about it all:
Hello Everyone,
Its that time of year again, Jail Break 3 will be held on Saturday April 14, 2012 from 4pm-11pm! Registration is now open and the forms are available on the new Entropy Arts website. We hope that you all will choose to participate again in this great local festival.
There are some changes that have been made to the participation process so please read the registration forms carefully! Artists will be asked to pay a participation fee of $25 upon submitting their application and will be asked to be available to sell their own art work and will keep 100% of their sales! The Artisan fee is $50 and can not be split between vendors.
Registration Forms:
Visual Artist Form
Artisan and Vending Form

For more information:
Jail Break Official Website
Jail Break 3 Promo Video
JAIL BREAK III takes place April 14th, 2012.  This year Entropy Arts will be partnering with  company Ear For Music for Jail Break 3. Tickets are $15 in advance and $20 day-of, $15 with a student id.  Advanced tickets may be purchased at www.entropyarts.com.  The event kicks off at 4 pm, and goes to 11pm. Artwork will be on sale by local artists and vendors.  Food trucks will be on-site and alcohol will be available for purchase.  The Old City Jail is located at 21 Magazine Street, 29401 in Charleston, SC.
 Musical Performances by:
Charleston heavy-weight, Slow Runner performing fresh off of their latest tour, Entropy Ensemble, Old You, Weigh Station, French Camp with Owen Beverly, the Ryan Bonner Band, and more.
Dance Performances Presented by The Charleston Dance Alliance:
Annex Dance Company, Julianna Hane of Revolve Aerial Dance, DanceFX Charleston featuring The Charleston Dance Project; Slow Jamz Hip Hop Crew; and The Modern Day Pin-Ups, and many more!
Artist and Group Performances by:
Homespun Hoops and a live graffiti painting by Crosby Sackett
If you have any special needs or any further questions please don't hesitate to email Sara Bennett– sara (at) entropyarts (dot) com.  Thanks so much, and we hope to see everyone at Jail Break 3!
Posted on April 5, 2012 by Art Mag.
Categories: Performing Arts, Visual Art
Tags: Call To Artists, Entropy Ensemble, Jail Break, Old City Jail, Slow Runner