This past Saturday, the Old City Jail was filled with artists of all kinds – musicians, dancers, painters, jewelry, clothing, and even sock monster makers! I'd personally like to send out a big congratulations to all the folks you made Jail Break 3 the great collaboration it was.
It's truly fantastic to see local people working together to help one another create something substantial and just a heck of a lot of fun! A special pat on the back goes to Andrew Walker of Entropy Arts and Kerri Forrest of the American College of the Building Arts. Nice job, kids. 😉  Art Mag was proud to be a sponsor!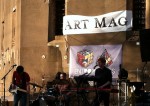 I absolutely loved the bands who played, especially French Camp with former Charleston locals Owen Beverly, Benji Lee, and Danny Cassidy.  Those boys came all the way from New York City to play in their old hometown of Charleston!  <3  It was also super cool of them to have some accompaniment from various horn players throughout their set.
I hadn't heard the band called Old You before but thought their renditions of old Jefferson Airplane songs were full of life. The female lead had an amazing voice and we're wishing them luck on being chosen as one of the bands to perform at the big Bonnaroo Festival this June.
Slow Runner was next and just absolutely rocked it. I think everyone was hoping they would just keep playing!
There were a number of dance performances inside and outside the Old Jail. One in particular (unfortunately I don't know which company it was) was on the 3rd floor of the Jail and was shaking the whole building!
Also got to see some of my favorite local vendors – Scarlett Poppy's jewelry, Janetiks Ink watercolors and jewelry, PolyesterStella's vintage nighties and jewelry, EcoLibrio's jewelry, CaleighBird's sock monsters, and I got an awesome tee from Andy from Artisan Tees!
Of course, there was a lot of great art displayed inside the Jail. Here are a few pics.
Posted on April 18, 2012 by admin.
Categories: Performing Arts, Review, Visual Art, Wearable Art
Tags: American College Of The Building Arts, Andrew Walker, Entropy Arts, Entropy Ensemble, French Camp With Owen Beverly, Jail Break, Jail Break 3, Old City Jail, Old You, Slow Runner