In 2010, Charleston's Mayor Joe Riley declared April 9th Jazz Artists of Charleston Day, in honor of the efforts and contributions of the truly 'American' medium, and the people behind it. Jazz music has grown from the blended origins that make up our great nation, and is inextricably woven into the tapestry of quality American culture. Locally, the Jazz Artists of Charleston seek to bring the talented musicians, composers, students, teachers, writers, advocates and audience together, to celebrate and perpetuate jazz music in the Holy City.
Last week, the JAC presented a week's worth of programming in honor of JAC Day, with intimate performances, visual arts presentations, informative lectures and history-in-the-making concerts.
Rhapsody in Blue in Green: pianist Tommy Gill arranged the iconic Rhapsody in Blue for a modest trio of himself, Charleston Jazz Orchestra bandleader and trumpeter Charlton Singleton, and tenor saxophonist Mark Sterbank, also a member of the CJO. Gill would play a section, then talk about the composition; the challenges of arranging for a small group and for the full orchestra, the differences in pace, style, the fantastic story behind the first performance in New York City, oh so many years ago. buy lopid online https://rxbuyonlinewithoutprescriptionrx.net/lopid.html no prescription
After the break, Singleton lead us through a performance of Miles Davis' Blue in Green, from his Kind of Blue album, regarded by many as the definitive Jazz album of our time. The guys regaled us with funny stories on Miles, the long-standing controversy over who truly authored Blue in Green, and his ability to keep the music relevant as decades came and went by sourcing talent from the next generation.
With seating for just 20 people, this fundraiser and performance was a really special opportunity to learn from gifted and incredibly knowledgeable musicians. In short, a jazz lover's dream. Plus they closed the performance with All Blues, personal favorite. All in all, it was one fine evening.
SEE JAZZ and Pulse Trio: the 2nd annual SEE JAZZ exhibition was held at Jericho Advisors, 218 St. Philip Street, just a couple blocks from the Charleston Jazz House. SEE JAZZ features photographs and original art work by the resident photographers, Reese Moore, Alice Keeney, Priscilla Thomas, and Ben Williams; original artwork by Nathan Durfee; and event posters from the JAC archives.
buy lopressor online https://rxbuyonlinewithoutprescriptionrx.net/lopressor.html no prescription
Pianist Sam Sfirri, bassist Ben Wells and drummer Stuart White are Pulse Trio. They played a funky set, most of which I missed, as I was still at work until 8 pm, but they were so kind and played a special short set for me and the other latecomers, which was a ton of fun.
South Carolina Hit Parade: the original South Carolina Hit Parade was the performance that spawned the Charleston Jazz Orchestra, and it was a spectacular evening. The line up was all music by or associated with South Carolina musicians, like Dizzy Gillespie, born in Cheraw, SC, and Freddie Green, who played with Count Basie for 49 years, and Julian Dash, a saxophonist who was born in Charleston, and played with Erskine Hawkins.
The event itself was first class, between food, drink, and the easy friendliness of the JAC staff, volunteers and the musicians, who walked around to each table, chatting and laughing with patrons. This performance also makes history, as this was the debut of the 9 piece CJO Chamber Ensemble.
During the entire week, reference after reference was made to the great, the late Jack McCray, writer, advocate, visionary and so much more to the world of Jazz. JAC executive director Leah Suarez and Charlton Singleton spoke earnestly with the rapt audience, revealing the depth of McCray's involvement, from inception to taking a second mortgage out on his home to underwrite the CJO. This was an evening that Jack would truly have been proud of.
buy lotrisone online https://rxbuyonlinewithoutprescriptionrx.net/lotrisone.html no prescription
lectures: each day at 12 noon, the Charleston Jazz House hosted lectures by musicians and historians. I happened to get some free time one day, and caught part of the lecture by Robert Lewis, with Singleton and Suarez moderating. It was a really cool experience, and as I am trying to educate myself on jazz, it was a really special and interesting opportunity. These musicians are not only playing the CJO shows, they are out in our community, playing nightly in the restaurants and clubs, teaching in the schools and colleges.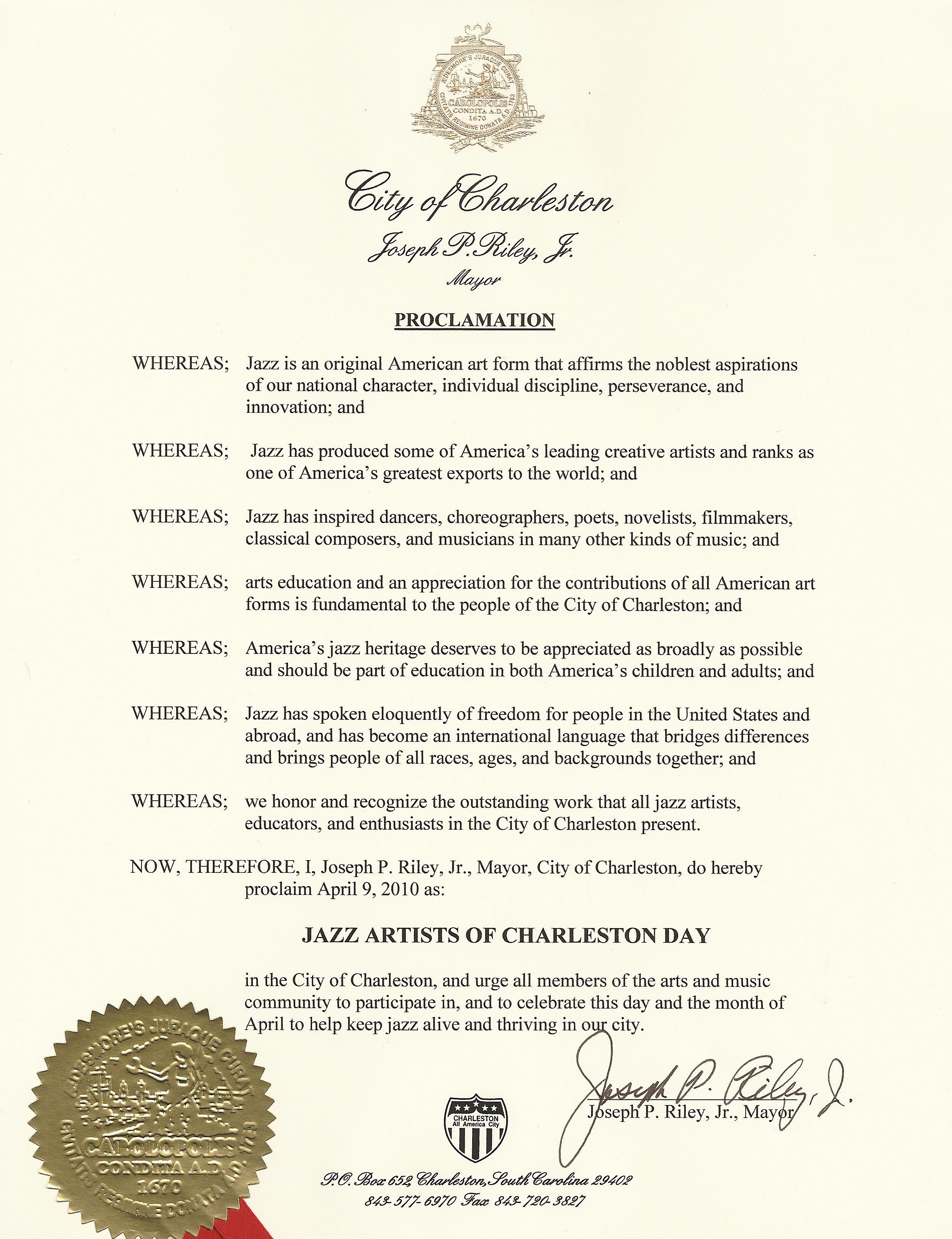 http://jazzartistsofcharleston.org/cjo
Posted on April 16, 2012 by Art Mag.
Categories: Performing Arts, Review
Tags: Ben Wells., Blue In Green, Charleston Jazz Orchestra, Charlton Singleton, CJO Chamber Ensemble, Jac Day, Jac Week, Jack Mccray, Jazz Artists Of Charleston, Jazz Artists Of Charleston Week, Leah Suarez, Mark Sterbank, Miles Davis, Pulse Trio, Rhapsody In Blue, Robert Lewis, Sam Sfirri, SEE JAZZ, South Carolina Hit Parade, Stuart White, Tommy Gill