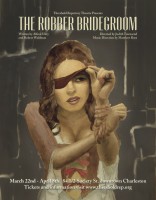 Threshold Rep, one of Charleston's newest theatre companies, has another worthy production.  The Robber Bridegroom couldn't be more different from their last production of The Lieutenant of Inishmore in style, place, and the lack of guns, guts and blood.  However some central themes and character types definitely bear comparison.
So, we've got a large cast, many of whom are on stage during much of the production.  Our story revolves around Jamie Lockhart (the robber) and Rosamund (the wealthy planter Musgrove's lovely, and only, daughter), the scheming stepmother Salome, some inept folks, and some scheming folks (particularly Little Harp and Jamie Lockhart).  And a bird.  Oh yes, a talking, biting bird.  More on that later.
Mary Fishburne plays Rosamund with the perfect combination of (false?) innocent naivety and self-awareness.  She is bored to tears with her lot in life (see the video–Nothin's up).  Fishburne was last seen as the cockeyed optimist Nellie Forbush in Footlight Players season opener South Pacific.  She was born for musical comedies.  A fantastic voice, charming stage presence and engaging expressions; Fishburne is a welcomed addition to the Charleston acting community.
Haydn Haring is the preening, plotting, conniving Salome, and she is fantastic.  Haring deftly manipulates everyone around her character and plays off the audience and corps of the cast to further each story line.  If she lived in Charleston today, we'd call her a Cougar.  And not the CofC kind.
Garrett Flood plays Jamie Lockhart, the Bandit of the Woods.  Flood was eerily charming…like a snake charmer…or the Pied Piper.  He certainly charmed the pants off little Rosamund, literally.
Real life brothers Zac and Nate Mallard don't play brothers, but that's probably because it would be impossible to fit Nate in the box that carries Big Harp's severed head (still talking!).  Zac is the rival thief Little Harp, with a lust for Musgrove's gold and Lockhart's girl.  He was impossibly convincing.  Shout out to Nate, the best singing rock we've ever seen.
The Goat Family was a wonderfully inept comedic break, particularly how the Goat brother and sister greeted one another, with a bleat and a loving head butt.  Musgrove, the wealthy planter was another wonderfully senseless character, a doting father and possibly cuckold husband to the clearly sexually frustrated Salome.
And now, my favorite for last:  Raven
Katie Holland plays Raven, the talking, biting bird who once belonged to Little Harp until he abandoned her during a foiled plot to rob and murder Musgrove.  Raven watches and warns, squawks and screeches at all who come near.  Oh she just kills me.  The facial expressions, the bird-like head tilts, the piercing calls; I could not stop laughing.  Bravo, Raven, bravo.  I would go again just for the bird.
So to tell you in one sentence why you should go see The Robber Bridegroom, it's a period musical comedy in the American South with a fantastic singer and best of all, the bird.  Go see it.
Threshold Rep
84 1/2 Society Street, downtown Charleston
www.thresholdrep.org
The Robber Bridegroom plays Thursday – Saturday at 7:30 pm, Sunday at 2:30 pm through April 8.
Posted on April 4, 2012 by Art Mag.
Categories: Performing Arts, Review
Tags: Garrett Flood, Haydn Haring, Katie Holland, Mary Fishburne, Nate Mallard, The Robber Bridegroom, Threshold Rep, Threshold Repertory Theatre, Zac Mallard