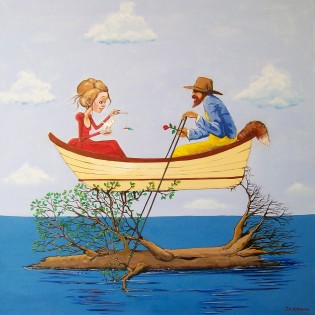 Attention all those who enjoy creative writing!
Art Mag has an assignment for you. Take a look at this amazing image by artist John Crum, brought to you by Michael Mitchell Gallery. Now, in 150 words, tell us the story. In your best moment of creative inspiration, how do you imagine this couple ended up perched in boat, on a tree, floating in the water? We're stumped, so enlighten us.
Art Mag wants to publish your submissions, either online or in the next print issue, so give this your best shot. Send your submissions to Editor Stacy Huggins or Intern Cara Beth Heath by May 29!
Posted on May 25, 2012 by admin.
Categories: Visual Art
Tags: Art Mag, Call To Artists, Call To Writers, Creative Writing, John Crum, Michael Mitchell Gallery, Writing