Spoleto is almost upon us! As we prepare for the 17 days of theatre, dance, film screenings, literary readings, and fine arts exhibits, we can't help but be excited to see some favorite Art Mag friends at the Piccolo Spoleto Outdoor Art Exhibition.
Each day of the festival, Marion Square fills with local artists showcasing their work. As you walk around the exhibits, make sure to stop by and say hi to the following folks:
Colleen Wiessman is a local contemporary abstract artist. Her use of collage and layering creates dimensional works that are breathtaking- especially in her landscape paintings. On Friday, June 1, Wiessman will hold a mixed media demonstration inMarion Square at 2:30 pm.
Fred Jamar, born in Belgium, brings a breath of fresh air to the art scene of Charleston. His oil paintings, specifically the Charleston cityscapes, are worth the walk to Marion Square.
Hilarie Lambert's oil paintings of rainy days in Paris and days at the Carolina beach highlight the beauty in the small, and often forgotten, details of every day life. Lambert will give a pastel demonstration on Wednesday, June 6 at 11 am.
Kevin LePrince is known for his alla prima style, with oil paintings hanging in the Ocean Room at the Sanctuary Hotel on Kiawah. His works capture the feel of life here in the Lowcountry.
KC Collins creates paintings that are both abstract yet true to life. In 2010, she won the Piccolo Spoleto Mayor's Choice award. Her works will have you rubbing your chin and wondering if you are looking at a painting or a photograph.
Laurie Meyer paints life in the Lowcountry in her signature "brushy" strokes along with rich colors and a palette knife to create a unique, soft style. Meyer will hold an oil painting demonstration on Saturday, June 2, at 11 am.
Rick Reinert's brilliant use of colors and sunlight transform everyday images into beautiful and mesmerizing works of art. Reinert will give an oil demonstration in Marion Square on Wednesday, June 6 at 2:30 pm.
Tammy Papa refers to herself as an "expressive colorist," drawn to bright colors and dramatic light. Her impressionist paintings often focus on the beaches of Isle of Palms and other scenes from around Charleston. Papa will hold a pastel demonstration on Saturday, June 2 at 2:30 pm.
For more information on the Piccolo Spoleto Outdoor Art Exhibition, visit the website at www.piccolospoleto.com 
words: Janae Tanti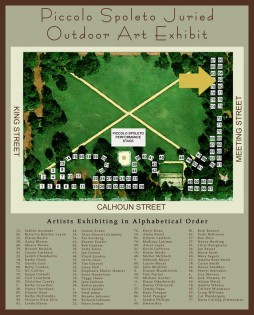 2012 Piccolo Spoleto Artist Demonstrations
Sunday, May 27
1:00 p.m. – Steven Jordan – Watermedia
Monday, May 28
11:00 a.m. – Mary Segars – Oil
2:30 p.m. – Russell Buskirk- Pastel
Tuesday, May 29
11:00 a.m. – Alice Stewart Grimsley – Watercolor
2:30 p.m. – Scott Penegar – Acrylic
Wednesday, May 30
11:00 a.m. – Scott Henderson – Digital Photo Hand Coloring
2:30 p.m. – Sherry Browne – Paper Cuts
Thursday, May 31
11:00 a.m. – Joyce Hall – Oil
2:30 p.m. – Amelia Rose Smith – Pastel
Friday, June 1
11:00 a.m. – Sheryl Stalnaker – Pet Portrait with Palette Knife
2:30 p.m. – Colleen Wiessmann – Mixed Media
Saturday, June 2
11:00 a.m. – Laurie Meyer – Oil
2:30 p.m. – Tammy Papa – Pastel
Sunday, June 3
11:00 a.m. – Detta Zimmerman – Acrylic
12-4 Painting in the Park by most of the Artists!
Monday, June 4
11:00 a.m. – Michael Nocher – Photography
2:30 p.m. – Monnie Johnson – Oil
Tuesday, June 5
11:00 a.m. – Pat Forsberg – Oil Painting Basics
2:30 p.m. – Bob Graham – Drawing
Wednesday, June 6
11:00 a.m. – Hilarie Lambert – Pastel
2:30 p.m. – Rick Reinert – Oil
Thursday, June 7
11:00 a.m. – Danita Cole – Encaustic Beeswax
2:30 p.m. – Vicki Robinson – Oil
Friday, June 8
11:00 a.m. – Amelia Whaley – Watercolor
Posted on May 23, 2012 by admin.
Categories: Visual Art
Tags: Colleen Wiessman, Fred Jamar, Hilarie Lambert, KC Collins, Kevin LePrince, Laurie Meyer, Outdoor Art Exhibit, Piccolo, Piccolo Spoleto, Rick Reinert, Tammy Papa