Whew – opening weekend of Spoleto! Main thought going through my brain – I need a clone.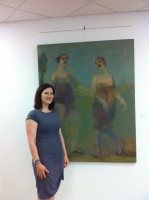 Here's a quick review of some of the things my one single self was able to get to this past weekend.
My Friday night kicked off with Kirsten Moran's opening at the Charleston Digital Corridor's Flagship Gallery. This small contemporary space is not your typical gallery. It's actually an office building where many of Charleston's most interesting small businesses and entrepreneurs congregate. Moran's palette of grays, whites, and earth tones worked beautifully there. Her dress even seemed to match her paintings!
buy zetia online https://mexicanpharmacyonlinerx.net/zetia.html no prescription
Next was the annual Artist on Fire Piccolo Spoleto Exhibit. This year's theme for the collaborative show was "Night and Day: The Sun Always Rises." Organizers Alex and Sara Radin explain it best: "Our lives are met with uncertainties. Relationships come and go. The value of the dollar rises and falls. Today, a promotion. Tomorrow, downsizing. But, there are some things that remain the same night after night and day after day. Often overlooked, they allow for our existence and enrich our lives. The rains will come. Seeds will grow. True love never fails. The sun always rises."
Of the 15 artists who created paintings, photographs, sculptures, film, installation pieces, and live music, my favorite had to be the Radin's seven year old daughter, Elianna. She was adamant about being in the show and her parents responded by telling her this is a serious show and if she really, really wanted to do it, she had to follow all the rules and do all the things that the adult artists were doing. That little ray of light said, "Sign me up, Daddy." Her exhibit was called "Shinning" and most of the pieces were about things growing as well as one powerful piece about God outshining the sun.
buy zocor online https://mexicanpharmacyonlinerx.net/zocor.html no prescription
Next up was the Spoleto performance of Animals and Children Took to the Streets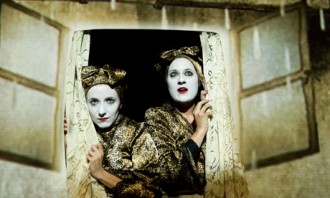 by theatre company 1927. Although the subject matter was dark – it was all about rambunctious children being kidnapped and fed drugged gumdrops that turned the children into lifeless creatures – I thought the interaction between the actors and the projections were stellar. The entire set consisted of projected scenes and animations that the actors were working with. And, well, I'm a big fan of odd things and clown white so I might be a little biased here. Check it out for yourself.
On Saturday night, I went to see "Charleston, A Love Letter," a film by Justin Nathanson accompanied with a live score by Entropy Ensemble at the Hippodrome. Although I've been hearing all kinds of opinions on the film since Saturday, I loved it and it seemed that the 300 person standing ovation at the 8pm show had some warm fuzzies about it as well. It was the filmmaker's personal "love letter" to Charleston. The original score written and performed live by Entropy Ensemble definitely made it an even cooler experience.
My night ended at the PourHouse to see one of my favorite bands in town for their CD release party – the Royal Tinfoil. With Lily Slay and Mackie Boles on vocals, and Brad, Marshall, and Tim keeping the dirty gypsy grooves going, they always put on one hell of a show. I think that's the best I've heard Ms. Slay sound. The random guy behind me kept telling me she had the voice of an angel. Support local musicians. They make your booty move. Listen to and BUY their brand new cd "Well Water Communion" buy zofran online https://mexicanpharmacyonlinerx.net/zofran.html no prescription.
Posted on May 30, 2012 by admin.
Categories: Performing Arts, Review, Visual Art
Tags: 1927, A Love Letter, Andrew Walker, Art Review, Artist On Fire, Charleston, Entropy Ensemble, Hippodrome, Justin Nathanson, Kirsten Moran, Piccolo Spoleto, Spoleto, Spoleto Festival Usa, The Animals And Children Took To The Streets, The Royal Tinfoil