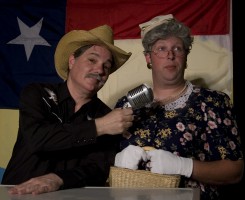 Greater Tuna played on the stage of the Charleston Acting Studio as one of Sheri Grace/Midtown Productions' Piccolo Spoleto events this month. This special show is a two-man act—two men, many characters, endless fun.
Greater Tuna written by Joe Sears, Jaston Williams, and Ed Howard, offered hilarity for a range of ages. From sheer spectacle, to interaction with the audience, to absurd and laughable scenarios, the 2 ½ hour show never stopped surprising us.
buy prednisone online https://buynoprescriptionrxxonline.net/prednisone.html no prescription
Stars Robin Burke and Robbie Thomas impressed the audience with their ability to play a range of characters, male and female, young and old, but most impressive in my opinion was the work of the dressers backstage. Those ladies sometimes had seconds to transform one of the actors into another character before he missed a cue, and their job was done well! The madness of Greater Tuna is a good time to be had, and it's no wonder that the show is popular. Congratulations to the Charleston Acting Studio on a job well done with James Island's first Piccolo Spoleto Series.
buy prelone online https://buynoprescriptionrxxonline.net/prelone.html no prescription
Charleston Acting Studio, 915 Folly Road PMB #25, 843.795.2223
Words: Cara Beth Heath Images: Nancy Santos, Peter Ingle
Posted on June 11, 2012 by admin.
Categories: Performing Arts, Review
Tags: Charleston Acting Studio, Ed Howard, Greater Tuna, Jaston Williams, Joe Sears, Piccolo, Piccolo Spoleto, Robbie Thomas, Robin Burke, Sheri Grace/midtown Productions