At Kudu Coffe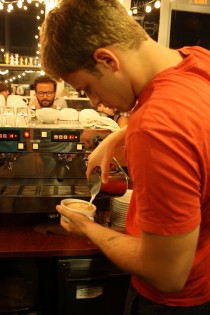 e's latte art contest last Thursday night, Art Mag learned plenty about pouring technique, the importance of symmetry, and color infusion. Also, (hint) we learned that they give away those artful lattes for free after they've been carefully judged by a panel. Kudu hosts this event multiple times a year, so keep your eyes and ears open for the next one!
A challenge: get out there and learn how to use an espresso machine, for this is the only requirement for participants in the contest's amateur round… Start practicing. No better way to be active in your community than to amaze some seasoned local latte artists with your own newly developed skills.
Check out this pic of the number one winning latte!
words: Cara Beth Heath
Posted on June 28, 2012 by admin.
Categories: Culinary, Review
Tags: Art Mag, Kudu Coffee & Craft Beers, Latte Art