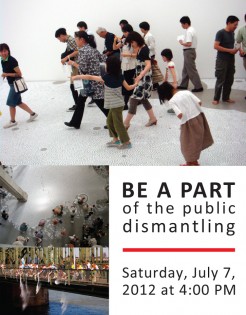 During the Spoleto Festival USA, contemporary Japanese artist Motoi Yamamoto spent 10 days installing Return to the Sea: Saltworks, a major traveling exhibition organized by the Halsey Institute of Contemporary Art, and the only visual arts feature of Spoleto. The public watched daily as Yamamoto's construction grew before our eyes. His incredibly elaborate, intricate and stunning work of art is made exclusively out of salt.
Check out our photo gallery documenting the installation process.
This process continues at 4 pm on July 7th, when the Halsey Institute welcomes the public to take part in the dismantling of the exhibit, which will include collecting the salt that Yamamoto so artfully arranged and returning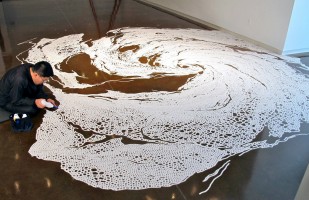 it to the sea.
The public dismantling and return of the salt to the ocean is an essential element to Yamamoto. When his sister passed away at the tender age of 24 from brain cancer, he found a bond, and a form of solace and tribute in constructing these incredible works of art with their destruction and transition to the next state envisioned from the beginning.
buy estrace online https://buynoprescriptionrxonline.net/estrace.html no prescription
From the Halsey:
Yamamoto's art might most productively be compared to the intricate sand mandalas created by Tibetan Buddhist monks. In both cases, the work is destroyed at the end of a predetermined interval and returned to a body of water thus enacting the circularity and ephemerality of life. Both are used to induce meditation and to access the deeper reaches of human consciousness. One important difference is that Yamamoto's work emanates from a powerful personal experience rather than a shared spiritual tradition.
buy feldene online https://buynoprescriptionrxonline.net/feldene.html no prescription

Yamamoto views his installations as exercises that are at once futile yet necessary to his healing. He recognizes that salt is a vital part of many living things, and that this mineral could conceivably enter and leave multiple organisms throughout the planet over the span of time. Each grain of salt contains its own history and trajectory. Something so seemingly common becomes a metaphor for the evanescence and transience of human life.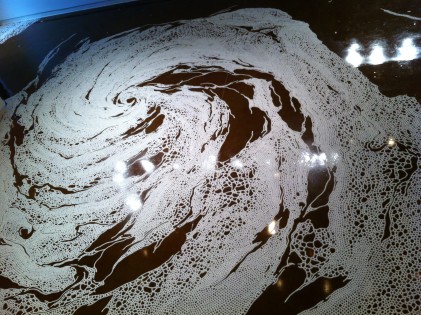 buy fildena online https://buynoprescriptionrxonline.net/fildena.html no prescription
The Halsey will provide containers, but you are free to bring your own. As a group, the Halsey family and the public will pour the salt over the Aquarium Wharf on Concord Street, completing the artwork's original intent. Don't miss out on this meaningful opportunity to participate in Charleston's international art scene.
words: Cara Beth Heath and Stacy Huggins

Posted on June 27, 2012 by admin.
Categories: Visual Art
Tags: Halsey Institute Of Contemporary Art, Motoi Yamamoto, Return To The Sea, Saltworks, Spoleto Festival Usa