Last week, I dragged the Art Mag queen Olivia over the Cooper River, for dinner at High Thyme on Sullivan's Island. High Thyme is one of my go-to spots for people watching and Sunday brunch on the porch, but I had never dined there after dark. I am ever so glad we did.
The restaurant is tucked right in the center of the dining and shopping of the laid back, yet simultaneously upscale, sea island. The dining room and porch were bustling, especially for a humid Wednesday evening. Our fellow diners were clearly locals, and in great spirits. Whether it was a celebratory dinner or just a night out with friends, they all seemed to know one another. Owner Kenny Jones, a Charleston food and beverage veteran, greeted his loyal patrons as the old friends that they are.
buy aygestin online https://buynoprescriptiononlinerxx.net/aygestin.html no prescription
Local artist John Duckworth's panoramic scenes of the surrounding Sea Islands hung on the main wall of the dining room. Duckworth's work is a seamless fit for High Thyme–the best of the Lowcountry with a modern, clean aesthetic, a visual allegory for the food. High Thyme is a more upscale option–think resort casual, but they're still kid-friendly and very welcoming.
High Thyme's chefs make everything from scratch daily. The menu changes regularly, about every four months, but crowd favorites like the Yellowfin Tuna will weather the winds of change.
The dishes were tantalizing even on paper, with cohesive, complementary flavor profiles, refined without being fussy. The menu features a lengthy list of appealing seafood and land-bound choices, and enough vegetarian options to make your decision really difficult. (IDEA: Tuesday Tapas–get little bites of all their biggest hits!)
buy bactroban online https://buynoprescriptiononlinerxx.net/bactroban.html no prescription
The Dinner
DRINKS:
La Marca Prosecco ($7 glass/$35 bottle). An easy bubbly, not too sweet like Proseccos of the past.
Sass Pinot Noir from the Williamette Valley ($11 glass/$43 bottle) is a smooth pinot, and excellent complement for the dinner.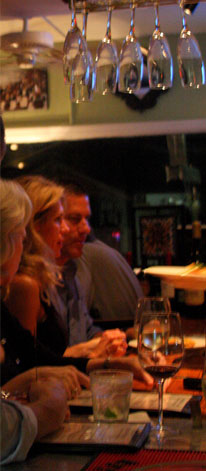 APPETIZERS:
Grilled Scallops over Truffled Parsnip Puree, with roasted pears and cherry balsamic vinaigrette, plus dried cherries garnishing the plate ($14). The jumbo scallops were nicely cooked; the parsnips were an interesting pairing. BEST BET: get a trifecta of scallop + parsnip mash + grilled pear on your fork at once, insert in mouth and enjoy.
Wasabi Pea Crusted Seared Yellowfin Tuna over ginger Soba noodles with a sesame aioli (13). This cold appetizer is the perfect "Hot Summer Night" dish, light with great flavor, could easily be an entire 'skinny-girl' meal. The tuna was seared and sliced over the noodles, and aided by everyone's favorite sriracha and the sesame aioli.
Baked Four Cheese and Cauliflower Dip with crusty French boulle ($8) is a warm, hearty dip, with a nice texture from the pureed cauliflower.
buy benicar online https://buynoprescriptiononlinerxx.net/benicar.html no prescription
WHAT I'M ORDERING NEXT TIME: Beet salad over arugula with goat cheese, crispy prosciutto with truffled lemon vinaigrette and balsamic reduction ($12) and Steamed PEI mussels in a chili coconut broth with grape tomatoes and fresh basil ($11).
ENTREES:
Grilled Beef Tenderloin over Grumpy Goat Yukon Gold mashed potatoes and grilled asparagus ($29), ordered medium-rare. The beef had a nice crust and was cooked just one tiny hair more than I personally like, but the accompanying vegetables more than made up for it. The Goat-Gold combo had a subtle flavor with a pleasing texture of a homemade mash rather than overly pureed. The asparagus was colossal, and the slightly charred, smoky stalks kept me eating well beyond max capacity.
Pan Seared Tilefish with smoked Gouda grits and haricot verts (special, market price). The Gouda grits made an ideal base for the fish, a firm, white meat and mild flavor, excellently prepared. The haricot verts (extra tasty, slender, fancy green beans) were buttery and crisp, thank goodness. No over cooked, soggy veggies here. Hallelu.
WHAT I'M ORDERING NEXT TIME: Pan Seared Salmon over roasted garlic sweet potatoes, with roasted brussel sprouts and bacon-cider gastrique (fancy name for sauce, $24), Beef, Pork and Veal Bolognese Lasagna with freshly grated Parmesan and basil ($18), Pan Roasted Poulet Rouge over dirty farrotto with grilled asparagus and pan jus ($24)
Our server Laura's favorite dish: Roasted Mushroom and Asparagus Risotto with shaved Parmesan and white truffle oil ($17). Top it with chicken, salmon, shrimp or scallops for a little extra. When the staff recommends a dish personally, you should trust them. I'll order that the time after next!
DESSERT:
Disclaimer: This is where the review looses focus. The meal heretofore was simply too delicious to just take small bites, so we were full as a pair of stuffed Christmas turkeys. Please pardon the lack of details, but the palate does lose sensitivity after so many mouthwatering dishes.
Butterscotch Creme Brulee was extra-sweet, well prepared, with a thick carmelized sugar top and cool, smooth custard underneath (but much too sweet for me). They change the creme brulees regularly, so when one is 86'd, expect a new incarnation to take up the mantle immediately.
Bourbon Soaked Bread Pudding with nuts and vanilla ice cream, a la mode, was a heavy sweet balanced by the cool of the ice cream. Its only flaw in my esteem were the nuts. (I really am the pickiest eater to ever cover a culinary assignment. Don't know whose brilliant idea that was but I'll take it.)
Writing this review on an empty stomach was the worst idea ever. I'm starving. Get the keys, we're going back.
WHEN YOU GO TO HIGH THYME:
Tuesday Tapas, 5:30 – 10 pm
Dinner, Wednesday & Thursday, 5:30 – 10 pm; Friday & Saturday, 5:30 – 10:30 pm
Sunday Brunch, 10:30 am – 2 pm, and now with music on the deck! Helloooo Sunday Funday.
High Thyme
2213-C Middle Street, Sullivan's Island
843.883.3536
highthymecuisine.com
words: Stacy Huggins
Please forgive these iPhone snapshots, never looks nearly as good at the real thing!
Posted on July 24, 2012 by Art Mag.
Categories: Culinary, Review
Tags: Charleston Restaurant, High Thyme Cuisine, High Thyme Restaurant Review, John Duckworth, Restaurant Review, Sullivans Island Dining