The City of North Charleston has named Kristy Bishop as the new Artist-in-Residence for the year 2012-2013. From Charleston, Bishop graduated from the College of Charleston with a degree in Studio Art in 2008, after which she moved to Las Vegas, Nevada. There her painting transitioned gradually into working with various fabrics and fibers, and by the time she returned to Charleston, Bishop was a full-fledged mixed-media fiber artist. Since then she creates pieces made out of hand-dyed silks, which she arranges to show off the range of colors and evoke a range of emotions.
As Artist-in-Residence, Bishop is available for 12-15 hours a week of visual art residencies at North Charleston schools, and will also be able to host community workshops. You can also see her exhibition titled Pinned Down at Stems in downtown Charleston, August 17-28. Additionally, Bishop's work will be on exhibit during January 2013 at the North Charleston City Gallery, including a free reception from 5 pm – 7 pm on January 3.
Teachers and schools, contact the North Charleston Cultural Arts Department soon to place your requests to have Bishop share her work with you, as the requests will be considered on a first come, first serve basis.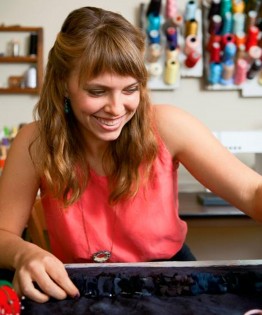 words: Cara Beth Heath
City of North Charleston Cultural Arts Department, 843.740.5854, culturalarts@northcharleston.org
Posted on August 24, 2012 by admin.
Categories: Visual Art
Tags: Artist-in-residence, CIty Of North CHarleston, Cultural Arts, Fiber Art, Kristy Bishop, North Charleston, North Charleston City Gallery, Stems, Studio Art