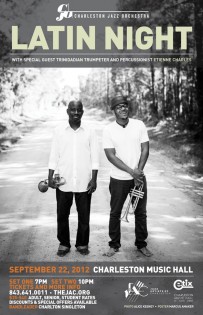 It's an inspiring day when you see organizations like Jazz Artists of Charleston and Charleston Jazz Orchestra growing literally before your eyes.
The CJO has just wrapped a very entertaining AND educational long weekend of events. And the coolest part of it all? It's ACTUALLY MY JOB to attend these fantastic events. More than my job, it's by far and away my pleasure.
Thursday | JAC(K) Talk with CJO bandleader Charlton Singleton, special guest musician Etienne Charles, drummer Quentin Baxter, and jazz writers Dr. Al Fraser (I'm ordering his book To Be or Not To Bop about Dizzy Gillespie as we speak) and Herb Frazier. It was moderated by Adam Parker of the Post & Courier, and was a really interesting opportunity to get a LOT of insight from the experts on jazz in Charleston, the many multi-cultural influences, differences in music from abroad, and much more. Thanks to Barsa Tapas and Lounge for hosting.
buy renova online https://rxnoprescriptionrxbuyonline.com/renova.html no prescription
Friday | Swing Out welcomed 325 Charleston County School Students–from tiny tots to legit teenagers–to the Charleston Music Hall for the JAC/CJO's very first community and youth outreach event. It was so exciting to watch hundreds of students learning…more than just learning, captivated by the music. They were clapping to the Calypso rhythms Charles taught them. Singleton tested their knowledge of tunes like The Charleston and our national march, Stars and Stripes Forever, and the title tune from Pink Panther. A+ kids.
buy revatio online https://rxnoprescriptionrxbuyonline.com/revatio.html no prescription
Parker wrote a really nice review in the P&C here.
Saturday | Latin Night at Charleston Music Hall. First off, I love these images from photographer Alice Keeney. They really give you a feel for the passion and the movement, the charisma and the love that Etienne Charles put into this show. (The CJO doesn't allow photography or filming during their shows, but thankfully they employ some very talented photogs to capture it all for posterity, and my reviews)
buy sinequan online https://rxnoprescriptionrxbuyonline.com/sinequan.html no prescription
Charles debuted several pieces, and most importantly, Holy City, a thoroughly moving piece of music that evokes hundreds of years of life in the Lowcountry. I can not tell a lie, I definitely dropped a couple of tears at the sounds of our beloved city as told by Charles. I will be hounding him to record that song, simply so I can relive that performance.
The CJO has two more shows in their 2012 season, Jazz on the Stage Oct 27 and Holiday Swing Nov 21. Remember: Holiday Swing is only one set, so don't miss out when it sells out!
Save the Date: Jack McCray Tribute Concert on Oct 7, Memminger Auditorium, 56 Beaufain Street, from 4 – 7 pm. Doors open at 3 pm. Tickets start at $25 and I guarantee this will be an amazing, moving, heartfelt performance that is not to be missed.
words: Stacy Huggins
Visit the Charleston Jazz House at 185 St. Philip Street or email jac@jazzartistsofcharleston.org or visit www.thejac.org for more info!
Posted on September 25, 2012 by Art Mag.
Categories: Performing Arts, Review
Tags: Al Fraser, Charleston Jazz Orchestra, Charlton Singleton, Etienne Charles, Jazz Artists Of Charleston, Latin Night, Quentin Baxter