Mark your calendars! This Thursday, October 25, The American College of the Building Arts will be hosting the fourth annual RED Party fundraiser! Being the only college in the U.S. dedicated to the introduction of classic artisan building techniques, ACBA will be celebrating the educated artisan and raising awareness about classic building and artisan craft in today's society.

The historic Old Charleston City Jail will be transformed into the Emerald City, fit for an exciting costume party and night of fundraising fun! The Wizard of Oz theme, conceptualized by Cortney Bishop Design, includes the VIP Emerald City Lounge, Tin Man Bar, Under the Rainbow dance area, Yellow Brick Road, and live entertainment provided by The V-Tones and Entropy Ensemble.
There will also be a live auction hosted by television meteorologist and charity auctioneer extraordinaire, Tom Crawford. Live auction items include: fighter pilot flying session, a week rental in San Miguel, space camp experience at Cape Canaveral, a custom-planned dinner by chef Robert Carter and you for 10 in the private room of Carter's Kitchen and more.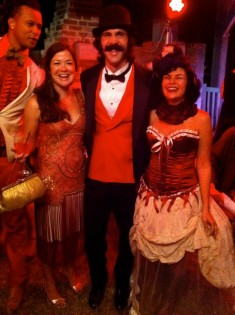 Specialty Cocktails featuring Larceny Bourbon and Pama Pomegranate Liquor developed by HoM and The Cocktail Club will be served along with amazing food prepared by some of Charleston's top establishments: Oak, O-Ku, HoM, Jack's Cosmic Dogs, Muse, Fresh Berry and Carter's Kitchen.
The event will be held at 21 Magazine Street, Thursday, October 25 from 7:00 p.m. to 11:00 p.m. General Admission tickets are $65 in advance until Tuesday, October 23 at 11:59 p.m. through http://www.showclix.com/event/3705216. On the day of the event, general admission tickets go up to $85. The VIP tickets are available for $150 and include access to a private lounge, plus early enterance and preview of auction items at 6:30 p.m., an exclusive bar, specialy hors d'oeuvres and VIP gift bags.
words: Blayne Planit
Posted on October 24, 2012 by Art Mag.
Categories: Philanthropy
Tags: Acba, American College Of The Building Arts, Cortney Bishop Design, Entropy Ensemble, The Red Party, The V-tones, Wizard Of Oz