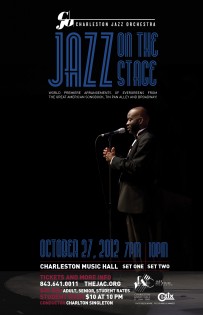 After a long day of professional development seminar, I headed to the Charleston Music Hall Saturday night for the Charleston Jazz Orchestra's performance of Jazz On The Stage, presented by the Jazz Artists of Charleston. With the day of gray skies, wind, and rain courtesy Hurricane Sandy, it seemed like some folks were staying in for the night. Charlestonians nearly refuse to go out in inclement weather (Charelston, we've got to talk about this. Come on!).
Maestro Charlton Singleton led the band in all original arrangements by local musicians, many of whom were on stage. They pulled from Broadway hits, both the epic standards, and some deeper cuts as well.
The show opened with Singleton sitting down at the piano and singing One for My Baby, a tune by Harold Arlen and Johnny Mercer, arranged by Singleton. It was an intimate opener that the crowd enjoyed very much. As the rest of the band filled the stage and prepared for the show, it was an interesting picture of all the little rituals and steps they take. Perhaps I just had a better view this time, as we were seated in the balcony stage right, but I really enjoyed this unusal opening.
There were a lot more vocals, as fitting that these songs were all composed for musical theatre, and my only sadness was that Singleton only picked up his trumpet for about 1/3 of the songs. On the plus side, we were treated to a lot more Leah Suarez than usual, and Singleton sang the riotously funny Fats Waller tune Your Feets Too Big. Bless the poor soul that song was about.
Tyler Ross's arrangement of I Got Rhythm was a personal favorite of the evening. I really enjoyed the emphatic use of the baritone saxophone, played by Jason Bellack, complemented by other strong, deeper instruments like the stand up bass, as the forward notes of the song. Ross is a guitarist who plays with the CJO frequently, adjust professor of music at College of Charleston, and guitarist of Faces For Radio, a favorite group that plays at Voodoo Lounge a good bit. His arranging skill is growing, growing; this is one musician to keep on your radar.
Everyone loves the Wizard of Oz round here lately. The most unusual piece for the evening was Jon Phillips arrangement of If I Only Had a Brain, for four vocalists. Singleton on trumpet, Suarez, Phillips on alto sax, and Stephen Spaulding on trombone took front and center, singing in unison and each soling in turn. The arrangement of If I Only Had a Brain was a well choreographed take on a song that many know and love.
Another stand out tune was Tradition from Fiddler on the Roof, written by Jerrold Lewis "Jerry" Bock, and arranged by drummer Quentin Baxter and tenor sax Mark Sterbank.  Tradition was an excellent presentation with an outstanding trumpet solo by Chuck Dalton, and the song as a whole was very tight.
Pianist Gerald Gregory also deserves a special shout out. I've seen this young man play all over town, and with the CJO frequently. It has been a fascinating observation to watch his progress over the years. Gregory's skill continues to develop and he brings a pleasant, positive, and slightly playful quality to the big band.
There was a standing ovation from the crowd at the close of Love For Sale, featuring a strong solo by Stephan Berry on trumpet. Berry has always been one of my favorites musicians at CJO performances, and he never disappoints. Suarez urged the band into an encore performance of everyone's favorite Charleston, and Singleton was clearly pleased with his band's performance, jumping off stage and taking a seat in the front row. If there was ever a song that would get this crowd moving, the Charleston is it.
The Charleston Jazz Orchestra continues to be one of my most favorite ways to spend an evening, in a city literally filled to the brim with quality cultural arts performances. If you haven't seen, as Suarez often says, "YOUR Big Band, the Charleston Jazz Orchestra," join them for their final performance of 2012. Holiday Swing will feature the Nutcracker Suite by Billy Strayhorn and Duke Ellington, plus back-by-popular-demand recaps from the season on November 21, at Charleston Music Hall, 7 pm. Tickets are on sale now, visit www.thejac.org or call 843.641.0011.
Posted on October 29, 2012 by Art Mag.
Categories: Performing Arts, Review
Tags: Charleston, Charleston Jazz Orchestra, Charlton Singleton, Gerald Gregory, Holiday Swing, Jason Bellack, Jazz Artists Of Charleston, Jazz On The Stage, Leah Suarez, Mark Sterbank, Quentin Baxter, Stephan Berry, Tyler Ross