This was an epic weekend, as per usual, in Charleston.
Olivia participated in the Women of Wisdom III seminar with Jean Houston at The Sophia Institute, an intensive, weekend long seminar. Houston is considered a preeminent teacher, and these weekend seminars are reported to be life changing. I've not gathered the courage to have my life changed by the powerful speakers at The Sophia Institute yet, but hopefully one day…
Janae has spent her weekend performing with Theatre Marvelosa in Dead of the Night at PURE Theatre. See Dead of the Night on October 26, 27, and 31 at 8 pm! Our budding actress was also recently cast as Ariel in the Crabpot Players upcoming production of The Little Mermaid!! We're quite proud.
Meanwhile, I was all over the place. Thursday night I stopped by Billy Reid for a performance by musician Charlie Mars, before heading up to Stars, the newest restaurant on Upper King Street, for their rocking Friends and Family Night. This is easily one of the coolest new spaces with impeccable quality food to back it up. Chef Nathan Thurston and his entire team are working harder than one-armed paper hangers for you. Check it out ASAP, after you read about it in Art Mag!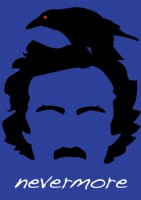 Friday evening welcomed the opening of Pulse Dome Project: Art and Design by Don ZanFagna at the Halsey Institute of Contemporary Art, which was so much fun I didn't want to go get ready for the next event! Then I headed to the Dock Street Theatre for Charleston Stage's opening night of Nevermore, based on Edgar Allen Poe's life and works. As the performance progressed, the actors seemed to really gain momentum, and this original work written and directed by Julian Wiles is a great mood-setter for your Halloween festivities. Post-show, we headed to Cypress for an amazing dinner. All I have to say is: Bacon Jam. Every bit was devoured.
Saturday morning I got up early for Race For The Cure on Daniel Island, which I completed…and given that I am a devoted yogi and most decidedly NOT a runner, I consider this to be quite the achievement. After I finally rested and recovered enough, I joined my girlfriends for some King Street wandering/shopping. I'm quite happy to report that there are many great new shops up and down, and far fewer dark, vacant windows. What recession?
Saturday evening we headed to Memminger Auditorium for the Chamber Music Charleston's performance A Celebration of Italy, where they performed works by Puccini, Respighi, and Verdi. It was an incredible performance, and executive director Sandra Nikolajevs gave enlightening, informative introductions, which were quite helpful in getting a better sense of what the beautiful music was conveying. The string quartet, two violins–Frances Hsieh and Jenny Weiss, a viola–Ben Weiss, and cello–Tim O'Malley, were accompanied for the Respighi piece by soprano Suzanne Fleming Atwood. We continued in the Italian vein with dinner at Il Cortile del Re, then over to Charleston Grill for jazz with Tommy Gill Trio. Brilliant day.
—Stacy
Posted on October 22, 2012 by Art Mag.
Categories: Culinary, Performing Arts, Visual Art
Tags: Billy Reid, Chamber Music Charleston, Charleston Art, Charleston Grill, Charleston Stage, Charlie Mars, Dock Street Theatre, Halsey Institute Of Contemporary Art, Il Cortile Del Re, King Street, Live Music, Nevermore, Pulse Dome, Race For The Cure, Sophia Institute, Theatre Marvelosa