Wisdom, a vase  by artist Tara Winslow, was selected as the 2012 City of Charleston Mayor's Purchase Award at the 33rd  annual Piccolo Spoleto Crafts Show in May. Dorida Harmon of the Fine Craft Shows Charleston recently met with Mayor Joseph P. Riley Jr. to donate the vase which will be on display in the Mayor's office for the next year.
Equivalent to "best in show," this award is given to the artist that displays the best craftsmanship and how well the piece appears in the booth. This was a special triumph for Winslow considering this was the first time she exhibited her work in a craft show. After the piece is chosen for the award it is purchased by the show's management and donated to the City of Charleston's Art Collection, a tradition since the show started.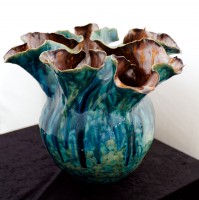 The Piccolo Spoleto Crafts Show takes place the first two weekends of the Piccolo Spoleto Festival every year in Wragg Square. Applications to submit work can be found on Fine Craft Shows Charleston's website.
words: Jillian Cunningham
Posted on November 2, 2012 by admin.
Categories: Visual Art
Tags: City Of Charleston Mayor's Purchase Award, Fine Craft Shows Charleston, Piccolo Spoleto Crafts Show, Tara Winslow, Wragg Square