As some of you may know, we've been swamped getting the Winter 2013 issue off to print–get excited, I sure am! So, better late than never, here is my review of Charleston Jazz Orchestra's Holiday Swing. Thanks to photographer Alice Keeney and the JAC for the stellar images!–Stacy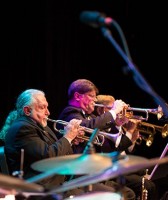 Now, there is a bittersweet reward to missing Thanksgiving with my family because of our production schedule. I was able to attend the Charleston Jazz Orchestra's performance of  Holiday Swing at Charleston Music Hall. Definitely helped lessen the sting of being away from family on the holidays.
As is tradition, they opened the first set with Duke Ellington and Billy Strayhorn's jazz redux of The Nutcracker Suite. As a former ballerina and burgeoning jazz lover, you simply can not go wrong with Ellington and Strayhorn's re-imagining of this magical piece of music. Personally I imagine the all different instruments as the dancers, navigating their way through the notes, chords, solos, and other instruments deftly.
If you haven't checked out this holiday tradition yet, add Holiday Swing to your MUST list for next year, or you'll end up on the Naughty List!
Holiday Swing breaks the CJO's 2 shows-1 night format, with only 1 show and 2 sets. After some happy run-ins during intermission and acquiring a fresh glass of wine, it was back to our seats for the rest of Maestro Singleton's favorites from the 2012 season.
Singleton (trumpet), Leah Suarez (vocals), Jon Phillips (alto sax), and Stephen Spaulding (trombone) revived Phillips arrangement of "If I Only Had a Brain" from Broadway's Very Warm For May, made famous by the iconic film The Wizard of Oz. This song was so much stronger the second time around. The soloist transitions were smoother and tighter, it was altogether a much improved piece.
I was completely thrilled that the CJO played "We Got Your Back Jack," a tribute to the late Jack McCray, composed by Tyler Ross. Pianist Gerald Gregory had an outstanding solo. Singleton, Mark Sterbank (tenor sax), and Phillips also gave exceptionally strong solos. This moving piece of music really captures the spirit of McCray, a founding member of the Jazz Artists of Charleston, patron of the CJO, writer, advocate, and friend to many. Bravo, folks.
"Tradition" from Fiddler on the Roof, performed originally during Jazz on the Stage, was another exemplary piece of music. This was a stand out piece the first time around, and it definitely improved with age–fine wine style. Kudos to Chuck Dalton on trumpet for a solo that merited 'three checks' in my program notes!
Robert Lewis's arrangement of "Toreador's Song" from Symphonic Swing was a welcome return. Great drum solo by Ron Wiltrout, especially since he didn't get much time to shine elsewhere. Phillips also delivered on the sax solo. The solo is a welcome time to feature the gifts of an artist, where you can really get to know their musical identities, their style and strengths. The joy of improvised live music is embodied by the CJO–as you sit in the audience, remind yourself that you are the exceedingly fortunate witness to a completely unique work of art.
My other sweet spot of the night: the revival of Junior Walker's "Shotgun," with vocals by Singleton, from Swingin' Soul. It was just one of those performances that I couldn't get enough of. I had downloaded the original song from iTunes before I even left Swingin' Soul, and couldn't be more thrilled that Singleton selected that to revisit during Holiday Swing. It just makes me want to get up and move.
You can't ever go wrong with this crowd when you close with "The Charleston." Obviously.
Holiday Swing is one of the best holiday-oriented performances around, put on by the unbelievably talented Charleston Jazz Orchestra. As Leah Suarez, executive director of Jazz Artists of Charleston, always reminds us, "this is YOUR Charleston Jazz Orchestra," and oh how luck we are.
The 2013 season is looking super tight and exploring some new realms (Atomic Basie?! Porgy & Bess?! World of Bebop?! Yes, Please!). Did I mention that season tickets to the CJO are exactly what the Editor in your life would love for Christmas?! I'm sure your friends and family will love them too.
Check it out folks. Visit the Charleston Jazz House at 185 St. Philip Street in downtown Charleston. Visit Jazz Artists of Charleston online at thejac.org–where you can find a calendar of live music around town too! Or give them a ring at 843.641.0011.
Posted on November 29, 2012 by Art Mag.
Categories: Performing Arts
Tags: Billy Strayhorn, Charleston Jazz Orchestra, Charlton Singleton, Chuck Dalton, Duke Ellington, Gerald Gregory, Holiday Swing, Jack Mccray, Jazz Artists Of Charleston, Jon Phillips, Leah Suarez, Mark Sterbank, Robert Lewis, Ron Wiltrout, Stephen Spaulding, The Nutcracker Suite