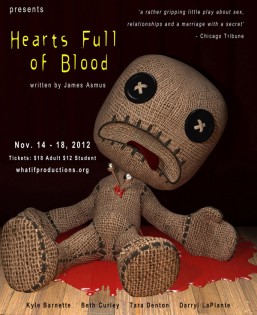 Sometimes it's much more fun going into a play knowing nothing about the plot. If you are planning to see this production, I wish you would not read anymore of this until you have seen it for yourself. Otherwise you're going to ruin the very best part of Hearts Full of Blood.
What If? Productions have brought another original play from The New Colony, their sister theatre in Chicago. Having a like-minded cohort in the Windy City has proven very fruitful for both groups. After What If?'s production of Five Lesbians Eating a Quiche, artistic director Kyle Barnette informed me that three more productions have been launched across the country. And it sounds like there are more Hearts Full of Blood shows to come elsewhere too. Imitation is the sincerest form of flattery.
James Asmus has written Hearts Full of Blood and scarily, it's based on true events. What If?'s production is the east coast premiere; the script was first produced in Chicago, 2009. In 2010, Hearts Full of Blood received the Award for Overall Excellence in Playwriting at the NYC Fringe Festival. Well deserved. It's so easy to make characters like these four, Jacob, Allison, Kirk, and Sue Ellen, into overwrought caricatures, but fortunately Asmus has finely crafted four people that you can easily relate too. Only to a point, hopefully…
You know what? I'm not even going to tell you what happens with the plot. Suffice to say, it is shocking. Truly, horrifically, tragically, disgustingly shocking. And I want you to have the same shock the rest of the audience and I did last night.
Also, I highly recommend you take a moment to look around at the other faces in the audience. Even better, have three of your close friends sitting across the way from you, and watch their faces. Just don't burst out laughing at a totally inappropriate moment like I did. (thanks a lot, Colleen, Saramel, and Anne Trabue)
Kyle Barnette, Beth Curley, Tara Denton, and Darryl La Plante star. In an unusual move, the talent self-directed. Letting experienced artists pave their own path was an artistically rewarding decision. Barnette and Curley give incredible, emotional performances. I am amazed that they have anything left at the end of the show. I think I would have needed a few hours to recover from portraying such tragic characters as well as these four actors did.
The entire production is well executed, and everything, from the music between scenes to each object in the set, is carefully chosen and beautifully crafted to uphold the artistic integrity of the production.
What If? Productions kills it again with Hearts Full of Blood, a compelling production that you must find time to attend. There are only three more chances. Don't miss out.
words: Stacy Huggins
84 1/2 Society Street. November 16, 17 at 8 pm. November 18 at 7 pm. $18 adult; $12 student. whatifproductions.org. 843.793.1972
Posted on November 16, 2012 by Art Mag.
Categories: Performing Arts, Review
Tags: Beth Curley, Charleston Theatre, Darryl La Plante, Hearts Full Of Blood, James Asmus, Kyle Barnette, Tara Denton, The New Colony, Theatre Review, What If Productions